Minneapolis officer on trial for shooting at car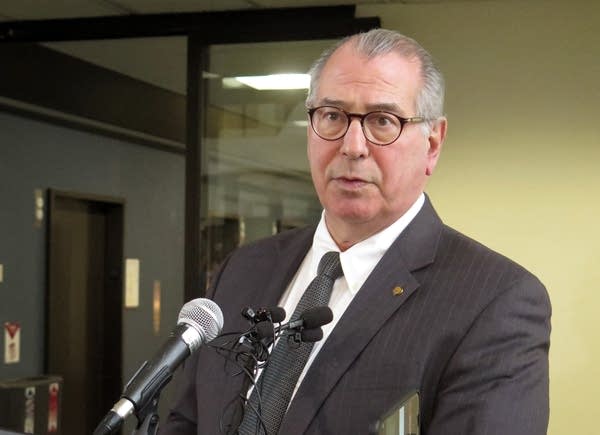 "This is not a 'whodunnit', but a 'whydunnit,' " said defense attorney Fred Bruno during his opening statement in front of a jury in Hennepin County court Wednesday.
Bruno told the jury of nine men and five women that officer Efrem Hamilton, 43, acted reasonably when he fired a bullet into the back of a BMW during the early morning hours of Nov. 19, 2016. And he asked jurors to consider the circumstances which led up to Hamilton's use of deadly force.
None of the six people in the car was hurt. But Hamilton is facing one count of assault and two weapons charges. All are felonies.
Bruno said Hamilton, who had just finished an off-duty shift at a downtown bar, could have just gone home. He was in full uniform and in a squad car when he heard a call on the radio that 30 to 50 gun shots were fired not too far from him. "All hell is breaking loose," said Bruno. "He went to help his brothers and sisters."
Grow the Future of Public Media
MPR News is supported by Members. Gifts from individuals power everything you find here. Make a gift of any amount today to become a Member!
The call described the suspect vehicle as a grey, Cadillac sedan that was going the wrong way down a street near the Pyrmd nightclub in the Warehouse District. Bruno said Hamilton saw a car matching that description back rapidly toward him.
In a matter of two seconds, Bruno said, Hamilton felt the impact of the car hitting his squad. When he jumped out of his car, Hamilton heard the other car's engine revving. Bruno said Hamilton feared the car would try and hit him again so he fired one bullet at the rear driver's side of the car.
But assistant Hennepin County Attorney Tara Ferguson-Lopez said Hamilton's use of force was "excessive." She pointed out that Hamilton didn't take the time to notice that six people filled the four-door BMW, even though the windows of the car were rolled down.
Ferguson-Lopez said the bullet came close to striking one of the back seat passengers.
"This case is about the unreasonable, excessive force used by the officer," said Ferguson-Lopez.
The trial is expected to last into next week. Body camera footage from the officers as well as video from Hamilton's squad car will be shown during the trial.
Hamilton is the second Minneapolis police officer in recent months to stand trial on assault charges. Last December, former officer Chris Reiter was sentenced to six months in the workhouse after a jury found him guilty of assaulting a man during an arrest in 2016.
Correction (Feb. 8, 2018): Efrem Hamilton's age was incorrect in an earlier version of this story.
Correction (Feb. 9, 2018): The name of Pyrmd nightclub was misspelled in an earlier version of this story.