Appetites: Good fungi! Local mushrooms for a winter feast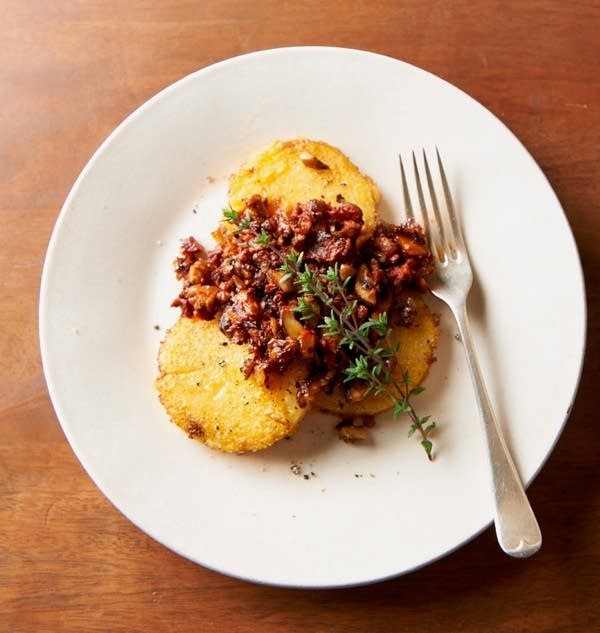 Written by Chef Beth Dooley
Now that our co-ops offer such a wide variety of locally grown fungi, try using a mix of mushrooms in any of your favorite mushroom recipes — portabellas, shiitake, large-stem oyster, lion's manes, chantrelle, porcini, and others — from our organic mushroom farmers — Mississippi Mushrooms, Cherry Tree Mushrooms, and Forest Mushrooms.
Store mushrooms in a paper bag in the refrigerator. Avoid plastic bags or containers that trap in moisture and make mushrooms soggy, expediting decay. The big debate when preparing mushrooms is whether or not to rinse before cooking. They are like sponges, sucking up water, which makes them difficult to saute and brown. It's best to clean mushrooms with a damp paper towel, or dust off the dirt and grit with a pastry brush. When sauteing mushrooms, don't overcrowd the pan. You want enough room for the liquid to evaporate so they don't steam.
Polenta with mushroom duxelles makes a wonderful meal; but the two components are terrific in other dishes as well. So, double the recipes to enjoy now and again on another day.
Polenta (the easy way)
Serves 4 to 6 (easily doubled)
You can double this recipe to have leftover polenta. Just spread it in a pan to store in the refrigerator, covered for four to five days, so that it's ready to cut into cakes or triangles. If you don't have time for the mushroom duxelle, simply top the polenta with a little butter and grated sharp cheese.
1 cups coarse ground polenta
2 teaspoons salt
1 quart water
2 tablespoons butter
Fill the bottom half of a double boiler, or a large pot, with 4 to 6 inches of water and set over medium-low heat to bring to a simmer.
In the top pot of a double boiler, or a smaller pot, stir together the polenta, salt, and water. Set over high heat and bring to a boil. Stir and then remove this pot and set into the larger pot of simmering water. Cover the polenta and cook, and stir once or twice, until smooth, shiny, and slightly sweet, about 1-1/4 hours. Taste for doneness, if it's a bit bitter, cover and continue to cook.
To make the polenta cakes: turn the polenta into a baking dish or pan and spread to ½-inch thick. Using a round biscuit cutter or juice glass, cut rounds of the polenta for patties. Melt the butter in a skillet over medium-high heat. Sear the cakes until nicely browned, about 4 to 6 minutes per side.
Mushroom Duxelles
Serves 4 to 6 (easily doubled)
I've taken some liberties with the classic duxelles recipe by adding tomato paste for color and a splash of wine for tang. Duxelle will store for about a week in the refrigerator and in the freezer for three months.
2 tablespoons unsalted butter
¼ cup finely chopped shallot
2 cloves garlic, chopped
1 pound assorted mushrooms (shiitake, cremini, Portobello, etc), stem ends trimmed, and finely chopped
1 tablespoon chopped fresh thyme or 1 teaspoon dried
2 tablespoons tomato paste
¼ cup dry white wine
Salt and freshly ground black pepper, to taste
In a medium skillet set over medium heat, melt the butter and saute in the shallot, garlic, mushrooms and thyme. Stir as the mushrooms release their juices and continue stirring until the pan becomes slightly dry, about 7 to 10 minutes. Stir in the tomato paste and cook until it begins to brown slightly, about 1 minute. Stir in the wine, scraping up any of the bits that have clung to the pan, and cook until the liquid has reduced to a glaze. Season with salt and pepper to taste. Serve over the polenta.
Your support matters.
You make MPR News possible. Individual donations are behind the clarity in coverage from our reporters across the state, stories that connect us, and conversations that provide perspectives. Help ensure MPR remains a resource that brings Minnesotans together.