Report: MNLARS chief knew of license system's woes, failed to fix them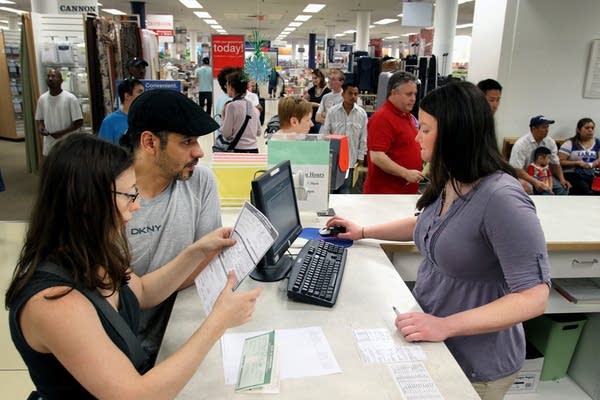 An outside investigator hired by the state's information technology department found the official in charge of Minnesota's troubled vehicle licensing system knew there were numerous defects prior to its launch last summer but failed to address them.
The report says Paul Meekin, who was officially fired from his job at Minnesota IT Services last month, fell short of expectations related to pre-launch testing and several key management responsibilities, including communication and staffing.
The $93 million Minnesota Licensing and Registration System (MNLARS) was rolled out on July 24, 2017, replacing a 30-year-old system. There were immediate problems, including delays in the processing of license and title transactions.
Meekin had been notified that testing might not be complete before the launch, but he "did not exercise reasonable diligence in addressing the concern," according to the report.
Grow the Future of Public Media
MPR News is supported by Members. Gifts from individuals power everything you find here. Make a gift of any amount today to become a Member!
The law firm Everett & VanderWiel delivered its 108-page investigation into Meekin's performance to officials at Minnesota IT Services in early February, a month before the agency fired him. Meekin had been on leave from his position as chief business technology officer since November.
MPR News obtained a redacted copy of the report through a data practices request.
Read the full report:
Investigators concluded that Meekin failed to provide "meaningful oversight," fostered an environment where "decisions could not be questioned or challenged" and failed to have an adequate number of state employees who could work with contractors and "discharge managerial functions relating to MNLARS."
On the staffing point, the report described it as "not in keeping with the expectations resting on him as an IT executive."
Meekin disputes the report and its conclusions.
"The underlying premise that fueled this investigation — that the success of a large-scale IT project like MNLARS rests in the hands of one person — is fundamentally flawed," Meekin said in a statement. "This report underscores the Governor's office and Legislature's unwillingness to look at the real and serious systemic issues that plague State IT projects."
"Making one person a fall guy only perpetuates these IT disasters," he added.
Investigators interviewed Meekin for more than five hours. They also interviewed 20 other people whom they refer to as witnesses, but their names and positions were redacted from the released copy of the report, making it unclear who else was involved in MNLARS missteps.
Meekin acknowledged that MNLARS code was flawed but denied having any pre-launch knowledge of the flaws. "There were a lot of surprises when problems started surfacing," he is quoted as saying in the report.
But Meekin also told investigators that fewer than 70 defects were identified before the launch. He said people were "genuinely enthusiastic" by the count, which he described as "a low number in the industry."
An unnamed witness was also critical of Meekin's approach to repairs after the launch, saying "it amounted to an exercise in Whack-A-Mole."
Several witnesses were critical of Meekin's management style and his deference to an unnamed manager.
"Meekin may have maintained an aloof posture toward staff and distance from them so as not to expose his own lack of knowledge," a witness said.
There were also several criticisms of the MNLARS release without "full regression testing," a process of making sure software still performs as it had after changes are made. One witness said such tests are "no brainers" in the IT world and not doing them is "professionally embarrassing."
Meekin had IT responsibilities for two large state departments, public safety and corrections. The report noted that the Legislature had pressured Minnesota IT Services to cut down on the number of chief information officers.
Meekin defended his performance on MNLARS. He told investigators that he was stretched thin, received inadequate support from his superiors and made the best decisions he could with the information he had.
Meekin said it is not fair to blame him for the failings of MNLARS given the layers of people involved in making decisions.
Minnesota IT Services has made key changes since Meekin's departure. Gov. Mark Dayton appointed Johanna Clyborne as commissioner in January to replace Tom Baden, who retired due to health issues. Joan Redwing, the agency's chief enterprise architect, is now leading the MNLARS effort.
Clyborne said she reviewed every page of the report.
"I was disappointed by its findings, and am personally committed to improving the management and performance of MNIT Services," Clyborne said. "These findings do not reflect the expectations that we have of a chief business technology officer or any leader."
Meekin said in a statement last month about his firing that he was considering his legal options.