Historic blizzard winding down slowly
Ah, the joy of removing a foot-plus of dense snow with ice and slush at the bottom. I hope that your back handled the task better than mine did.
This storm produced so much snow for several reasons:
It has been a huge and very powerful mid-latitude cyclone

It tapped into a massive plume of sub-tropical moisture from the Gulf of Mexico

Cold air was already in place at the surface, so most of the precipitation fell as snow rather than rain

It has plodded along very slowly
Grow the Future of Public Media
MPR News is Member supported public media. Show your support today, donate, and ensure access to local news and in-depth conversations for everyone.
Snow continues to fall as I type late this wintry Sunday afternoon.
So far, many reports of 11 to 17 inches of snow across the metro area have come in. More reports will arrive as the snowfall ends and weather observers make their measurements, often 24-hour readings taken in the early morning.
The local National Weather Service has an interactive snowfall page where you can zoom or click on locations to check snowfalls.
Record snowfall
The official Twin Cities snowfall is measured at MSP Airport for the National Weather Service every six hours. The reading taken at 1 p.m. on Sunday pushed the storm total up to 13.2 inches. Continuing snowfall will certainly push the number up past the record April storm of 13.6 inches set on April 14, 1983.
We already have set a record for the snowiest month of April in the Twin Cities. The snowfall amount is in excess of 22 inches and still climbing.
The real bullseye of heavy snow was in southwestern Minnesota. Amounts of around 20 inches have been reported around Granite Falls, Marshall and Lake Wilson.
Almost lost in the shuffle is that the Twin Cities record for coldest high temperature for this date, 32 degrees, is being taken down to defeat. The "warmest" I have seen today has been just 28.
Continuing but diminishing snowfall
Bands of snow, triggered by embedded disturbances, will continue to track westward out of Wisconsin tonight. Some winter weather advisories continue into the evening in central to southeastern Minnesota, including the Twin Cities metro area.
Winter storm warnings continue into the evening to the north and southeast of the metro as well as most of Wisconsin.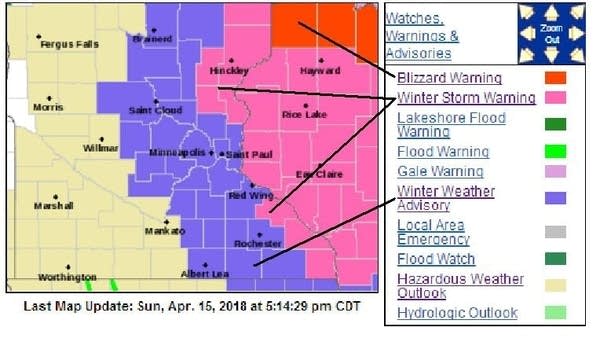 Heavy snow is likely to continue tonight along the North Shore. A winter storm warning has been posted until 7 a.m. Monday from Duluth up through Two Harbors and Silver Bay.
Here are some of the snowfall amounts forecast for Sunday night:
Do not expect this deep snowpack to melt rapidly. High temperatures Monday should be just low 30s to low 40s. Tuesday will be a bit warmer for better melting.
More snow?
It looks like a rather narrow swath of fairly heavy snow could fall somewhere in southern Minnesota from Tuesday night into Wednesday.
Hurray.