Health law clinic guides patients through broad legal hurdles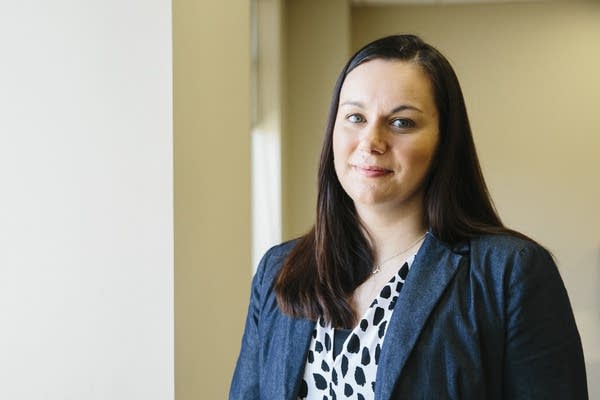 Several days a week at United Family Medicine, professor Ana Pottratz Acosta and a student from Mitchell Hamline School of Law sit in a small, makeshift office, with several chairs, and a dentist-style chair on one side of the room.
Since 2015, they have served more than 300 clients who have visited the United Family Medicine clinic and needed help with legal advice.
"A lot of it is Social Security related, disability insurance, a fair amount of our clients are either homeless or close to homeless," student Joseph Williamson said. "So even issues like ten dollar filing fees may be a burden they have to overcome and a barrier to them getting into a Social Security program."
Williamson and other students help clients obtain waivers and making sure the forms are filled out correctly.
In the process, Williamson and other law students learn about all the things that can affect health. For example, they might help a client take on a landlord who isn't dealing with black mold.
While the students gain experience and knowledge, the clinic benefits, too.
Before you keep reading ...
MPR News is made by Members. Gifts from individuals fuel the programs that you and your neighbors rely on. Donate today to power news, analysis, and community conversations for all.
"It was a couple of our providers who noticed the need in the community and were like, 'Wow, there's just certain things that we just can't do as doctors," said Lisa Stein, director of advancement for United Family Medicine. She says doctors wanted to offer more to patients, who often have to navigate complicated bureaucracies.
The partnership is getting recognition, too. In April, United Family Medicine and Mitchell Hamline received Ramsey County's Public Health Award.
The health law clinic model isn't new. In fact, there are about 45 law schools — including the University of Minnesota Law School — doing similar work around the country. This is the only one serving a Ramsey County health care facility.
Sonia Miller-Van Oort is an attorney and current president of the Minnesota State Bar Association. She took part in a legal clinic during law school in Indiana. She says the experience is extremely helpful.
"Clinics are a huge and very important part of a law students' experience and really put people in a better position to step into the real world of practice," Miller-Van Oort said.
At the Mitchell Hamline Health Law Clinic, Pottratz Acosta said students end up addressing a variety of issues, such as immigration status.
"What we really have here is a poverty law clinic in a health care setting," she said. "And the whole idea behind the medical-legal partnership program and the health law clinic is that we are addressing social determinants of health and hopefully improving patient outcomes by addressing those other factors that are going on in their lives."
She says the clinic gives students an understanding of how all kinds of government policies affect people.
"So you can have a theoretical discussion in class about the legal merits of the travel ban case, but when you're face to face with someone who is not able to bring a family member into the country because of where they happen to be from, that is a huge difference and really sheds light on the importance of a lot of the things that you're studying in school," she said.
For second-year student Julie Le, getting real, in-the-field experience is great. But personal experience also drives her.
"I used to be in their shoes. I used to have to go beg people to help translate," she said. "I used to be the one sitting on the other side receiving all these benefits. So now it's a great feeling to be sitting on the other side to help people."
As students take summer break, Pottratz Acosta said she manages the caseload and intake for the clinic with the help of one student.