Most of the action of the play "High Fidelity" takes place in a record store. So it didn't take long for the creative team at Minneapolis Musical Theatre to hit upon the idea of producing the show, appropriately, in a record store.
They chose the Electric Fetus, a pillar of Minneapolis' local music scene for 50 years.
"The amazing thing, I think, about the Electric Fetus is that people love it here," said the show's director, Sara Pillatzki Warzeha. "And it's obvious that the people that come here are dedicated to this store and what it has to offer. And I think that setting our show here gives it this crazy energy that you wouldn't necessarily have in a regular theater."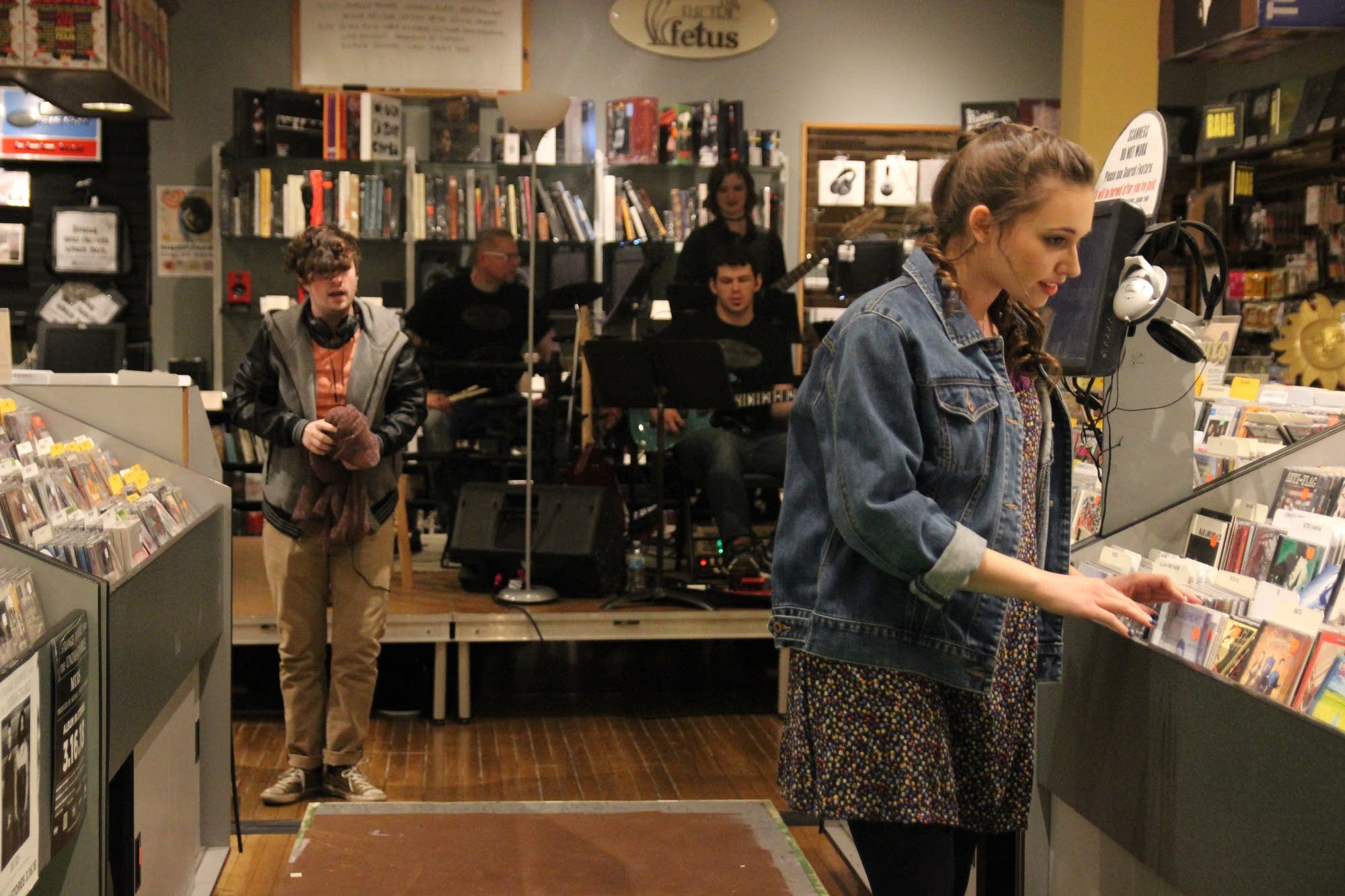 "This isn't a show that had a huge critical success when it was on Broadway," she added. "I think in many ways it works much better here than it ever would in a regular theater."
"High Fidelity" tells the story of Rob, a guy who's pretty awful to his girlfriends and who has an obsession with mixtapes and top five lists. He owns a record store that's staffed by some equally immature characters who appear to value their taste in music over everything else.
In other words, it's staffed by the sort of people that Aaron and Stephanie Meyerring, the owners of the Electric Fetus, wouldn't want working in their store.
"'High Fidelity' actually comes up fairly often in our training sessions as an example of what not to do as an employee at a record store," Aaron Meyerring said. "We constantly are preaching, 'We're not High Fidelity, that's not the record store we want to be.' We don't care if you're in here to buy Ariana Grande or Di Angelo — whatever you like, you like!"
Meyerring said the store hosts live music all the time, but this is a first.
"Yeah, we host in-store performances on bands confined to a stage that we set up, but there are usually at the most six or seven band members," he said. The cast of "High Fidelity" is 14 actors, plus a four-piece band.
Performances take place after the store's normal operating hours. The audience stands for the two-hour performance, and is encouraged to move about. The Minneapolis Musical Theatre has placed platforms in the aisles, as well as wooden crates for cast members to stand on so that they're easier to spot in the crowd.
"High Fidelity" was inspired by the book by British author Nick Hornby, written in 1995. The show definitely feels like a throwback to a different time, when off-color jokes got a pass and the standards for acceptable male behavior were ... well, lower. But at its heart, the show is all about the love of music.
Ed Gorgen, a regular at the Electric Fetus, came to the opening weekend of "High Fidelity." He said he had a fabulous time. "It was really, really great to be in such an intimate setting for such a dynamic, fantastic play," he said.
After the show, Gorgen and others did some record-shopping while the cast and crew packed up their stuff. "High Fidelity" runs through May 20.