Art Hounds: Syed Hosain's beautiful paintings of conflict and violence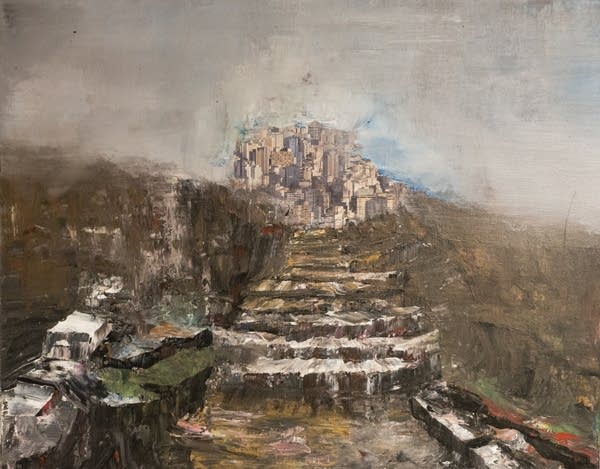 Artist and photographer Christopher Selleck was blown away by Syed Hosain's solo exhibition "Across from Paradise" at Soo Visual Arts Center in Minneapolis.
Hosain paints landscapes that feel familiar but defy recognition. While some are lush and serene, others depict horrific scenes with an almost frenetic brush stroke. On view through June 2, with a closing reception and talk by the artist June 1.
High school drama teacher Lori Constable is a longtime fan of The Moving Company. The theater troupe is remounting a hit from last year called "Speechless."
True to its name, it's a show without words, instead using movement and music to explore emotions and tell a story. Constable says the show was born of the 2016 elections, and like all Moving Company shows, she's sure this one will leave her with lots to think about. Performances run through June 10 at The Lab Theater.
Lanesboro Arts' Kara Maloney recommends Commonweal Theatre's production of "Silent Sky." It tells the story of astronomer Henrietta Leavitt.
At a time when women couldn't vote, Leavitt and her female colleagues were making discoveries that would forever alter how we view the universe. Maloney says the play brings to light the work of an oft-overlooked scientific pioneer. On stage through June 23.
Correction (May 18, 2019): Syed Hosain's name was misspelled in an earlier version of this story.
Gain a Better Understanding of Today
MPR News is not just a listener supported source of information, it's a resource where listeners are supported. We take you beyond the headlines to the world we share in Minnesota. Become a sustainer today to fuel MPR News all year long.