How loneliness may be killing us
The piano is slightly out of tune in the community room at Heritage Commons senior public housing building in Minneapolis' Harrison neighborhood.
That doesn't stop Jim O'Brien and Caitlin Heaney from holding regular concerts there — usually just for themselves and on this day for a visiting reporter.
Their favorite is "Danny Boy," which O'Brien, 80, plays from memory while Heaney, 27, sings with a commanding voice.
The two have become fast friends. He attended her wedding last year and they often enjoy their monthly get-togethers at a nearby Perkins restaurant, always ordering decaf coffee, a plate of fries with honey mustard and a muffin.
Grow the Future of Public Media
MPR News is supported by Members. Gifts from individuals power everything you find here. Make a gift of any amount today to become a Member!
The unlikely pair met a few years ago through a volunteer program called Little Brothers-Friends of the Elderly, which pairs older people with younger volunteers with the specific goal of relieving loneliness.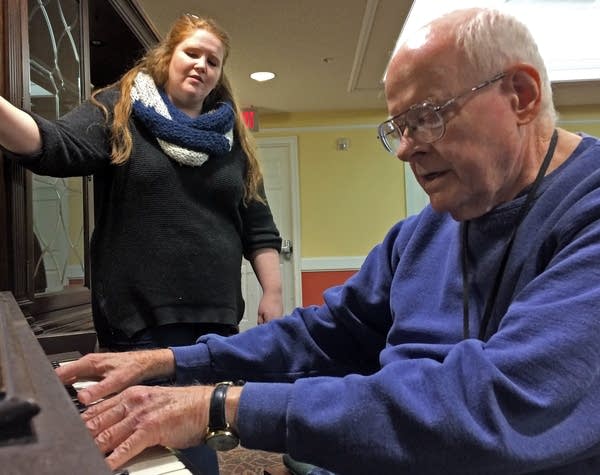 O'Brien has lived his life as a bachelor, part of a generation of LGBTQ people for whom marriage was not an option. His eight siblings don't live nearby.
He now finds himself as part of a trend that some have called an emerging epidemic in America: Loneliness.
Some even worry it might be killing us.
Akin to smoking 15 cigarettes a day
The "silver tsunami" of aging Baby Boomers, coupled with technology designed to connect people but that many argue is disconnecting folks, are two reasons why experts have recently started using the word "epidemic" when referring to loneliness or social isolation.
More than 42 million adults over the age of 45 are estimated to be suffering from chronic loneliness, according to a 2010 loneliness study by AARP.
Researchers have been studying loneliness and isolation for decades and have found health links to heart disease, depression, diabetes and suicide, among others.
"We already have evidence a majority of Americans don't recognize that this is an important health issue."
Consider:
• Loneliness can have similar health ramifications as smoking 15 cigarettes a day, former U.S. Surgeon General Vivek Murthy has said.
• Loneliness increases the likelihood of mortality by 26 percent, according to a 2015 study published in the Association for Psychological Science.
• Loneliness is associated with an increased risk of developing coronary heart disease and stroke, according to a 2016 study published in the online journal Heart.
• Lonely people have a 64 percent increased chance of developing clinical dementia, according to the 2012 Amsterdam Study of the Elderly.
Politicians and public health officials on two continents have used the research to draw attention to the issue.
Murthy, the former U.S. surgeon general, started using the word "epidemic" when discussing loneliness. It's a conclusion he drew from visiting communities across the country during his tenure during the Obama administration.
"What I heard everywhere I went was that people were, in fact, struggling with loneliness," he told NPR in October 2017. "They used different words to describe that feeling and that experience, but the experience was often the same."
In England, Prime Minister Theresa May created the Cabinet post of Minister of Loneliness in January 2018 on a recommendation by a commission to study the issue in that country, where more than 9 million people said they often or always feel lonely.
"I want to confront this challenge for our society and for all of us to take action to address the loneliness endured by the elderly, by carers, by those who have lost loved ones — people who have no one to talk to or share their thoughts and experiences with," May said in a press release at the time.
Raising awareness is first step
There's a distinction between loneliness and the term "social isolation" that are used in studies on the topic. Isolation is an objective measure of a person's proximity to other people. Loneliness is subjective. It's the perception you have that you don't have enough social connection in your life.
People can be isolated without being lonely, and vice versa. For example, if your idea of a perfect vacation is hiking and camping alone for a week along the Superior Hiking Trail, you will be isolated during that week but probably not lonely. If you're a freshman who's just moved onto a campus with thousands of people — but you don't know any of them — you're not at all isolated but you might feel lonely.
Researchers also attempt to wrap the essence of isolation and loneliness into the term "social connections." Having social connections is as important to your health as brushing your teeth and eating fruits and vegetables, they say.
"We have good evidence that lacking social connection carries a significant risk," said Julianne Holt-Lunstad, a Minnesota native who studies social relationships at Brigham Young University.
There are pragmatic reasons why that is, she said. One would be that people forget to take important medicine because they don't have a friend or family member around to remind them.
"Loneliness, living alone, carries a risk that exceeds the risk associated with obesity," she said.
And as more research of loneliness is conducted, more evidence has been found of adverse health effects, Holt-Lunstad said.
John Cacioppo, a neuroscientist at the University of Chicago, equates loneliness with biological urges like hunger and thirst, which is the body's way of telling us to eat or drink to stay healthy. Loneliness should be thought of as a similar urge that tells us to do what humans have evolved to do: Be social creatures.
"Chronic loneliness is harmful," Cacioppo told the Guardian. "But short-term loneliness can be positive and necessary because it highlights the need for social connections."
For now, the biggest challenge to addressing loneliness is making people aware of it, researchers said.
"We already have evidence a majority of Americans don't recognize that this is an important health issue," Holt-Lunstad said. "We know there's a lack of awareness."
She also noted the challenge of pride and stigma — acknowledging loneliness is hard for people who don't want to be seen as weak.
'Trying to tough it out'
That pride is on display most days for the Joneses, a retired couple who volunteer for Meals on Wheels, delivering hot meals in the Brooklyn Park area.
John Norton, the first stop on the Joneses' route, isn't about to admit he's lonely to the reporter when asked.
Judy Jones, a former orthopedic nurse, knows differently.
"He says to me all the time: 'I just don't have anything to do all day,'" she said. "He's not able to do a lot of things he used to be able to do."
That's actually a pretty common thing to hear, said Brad Kerschner, who's along for the ride. He works for Community Emergency Assistance Programs, which operates Meals on Wheels in Brooklyn Center and Brooklyn Park.
"People don't think they're lonely and they won't say they are. I think part of that is a generational thing, trying to tough it out," he said.
A few stops later, Jones and her husband Steve pulled into the driveway of Donald and Elaine Lange.
The Langes are both 80 and have been married 62 years. Elaine Lange now has early-onset dementia but manages well with a cane. Their house is filled with sheep-themed items, an homage to Elaine Lange's father, who was a foreman on a sheep ranch in northern Minnesota.
After a busy life of working at General Mills and raising kids, followed by years of volunteering in retirement, Donald Lange gets a little wistful at the fact they aren't as social as they used to be.
"I wish we could do more volunteering, but you gotta learn to accept it," he said. "I didn't feel old until I hit 80."
For the Langes, the Meals on Wheels delivery is "about our only touch with the public anymore. We look forward to it daily."
For an organization like Meals on Wheels, the mission isn't just about delivering hot meals. The deliveries are a chance for volunteers to check in on others who might otherwise not see someone on a given day.
Metro Meals on Wheels is the association of Meals on Wheels programs that serves nearly 7,000 people in the Twin Cities area. And for nearly half of their clients, the deliveries are the only human contact they have for days.
"I know there are drivers who will specifically put someone last on their route because they know they're going to chat with them for an hour," Kerschner said. "The people we work with are primarily seniors. Some have mobility issues or trouble getting out. It's easy to forget that they might be lonely and you get caught up in your own life," Kershner said.
1-800-Lonely
Other organizations also see loneliness in the work they do, even if it's not a core function.
The Senior LinkAge Line is an 800-number that seniors or their families can call as a one-stop-shop kind of call for several services.
Calls are answered in a nondescript building along Highway 36 in North St. Paul, in between shopping malls. There, at the Metropolitan Area Agency on Aging, a few dozen operators are lined in cubicles in two main parts of the ground floor.
They answer calls to help folks find nursing homes or other housing, in-home caregivers and also help people sign up for health benefits like Medicare or its prescription drug benefit.
But sometimes, callers just want to talk to someone.
"We have a particular caller who calls here on a daily basis — sometimes more than once a day — and it's always about the same thing," noted one of the operators, Maylee Vue. "He just wants somebody to understand him, listen to him, acknowledge that he's dealing with all these things. And he usually leaves the call much happier."
But for the organization that paired the piano duo of O'Brien and Heaney, loneliness is its sole focus. Little Brothers is an international organization that's had a presence in the Twin Cities for 46 years.
Not just an age issue
Researchers caution against branding isolation and loneliness as an issue for older America. "Older adults are less lonely than college students," said researcher Daniel Russell of Iowa State University. His research dates to his time in the 1970s at UCLA where he helped develop the Loneliness Scale. The scale was an attempt to help researchers put a measurement on the amount of loneliness or isolation a person experiences.
Part of why Russell's research finds college students and young adults more lonely is one of perception: The idea that one should have more friends or a larger social circle. A person with five good friends on a college campus of 2,000 might feel that's not enough and feel lonely.
College students with several friends also feel lonely if they don't have a romantic partner, Russell said, whereas older people know their social circle is shrinking by attrition and adjust their expectations. "They may understand that is part of what happens when you get older."
"I can definitely see that," said Kadey Seeger, a junior in the social work program at St. Catherine's University and the University of St. Thomas. "Everyone watches those movies of how college is supposed to be and when you actually get on a college campus and it's not that — you're sitting in your dorm by yourself with no friends — the loneliness can set in."
Seeger, 20, is an intern at Little Brothers-Friends of the Elderly and is interested in working on gerontology, even as she sees parallels to life on campus.
"You might be surrounded by people and even have a roommate, but you can still be lonely."
Murthy, the former surgeon general, has connected his work to discuss loneliness as an epidemic for all people, with the need for workplaces to be part of the solution.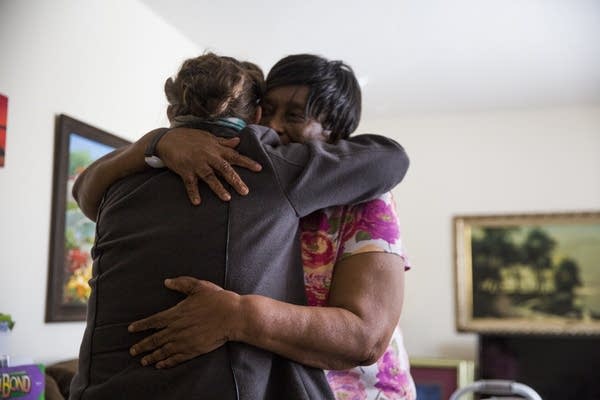 It might not seem intuitive that a company should be responsible for helping stave off your loneliness.
"But if you're an employer," he told NPR, "you want to make sure that people in your workplace are feeling connected, so that they can be happier, more productive, healthier and have reduced health care costs and, ultimately, so you have a community that's thriving instead of a community that's groaning under the yoke of stress."
A problem for government or all of us?
Holt-Lunstad, the Brigham Young researcher, argues there is a place for government intervention when it comes to combating loneliness.
"When I first went down this line of research, some of the pushback I'd get was flippant remarks that gave a sense of 'this is something that's personal and in essence, there's no place for policy.'"
"I think that's short-sighted," she said.
She pointed to one step in Congress last year that may not on its face seem like it targets loneliness. Legislators passed a law to make some hearing aids, which are not covered by Medicare, available over-the-counter. Lawmakers who sponsored the measure pointed to loneliness as a reason for its importance. People who don't treat their hearing loss are at risk for becoming more socially isolated and lonely, they argued.
There was even an effort at the Minnesota Capitol this year, though it didn't offer any policy. Instead, the bill would have created a working group to study the issue of isolation and loneliness.
It focused on older people and didn't pass.
Who helps whom?
Back at Little Brothers-Friends of the Elderly, executive director James Falvey would also like to see loneliness reframed.
Caring for others shouldn't be a burden, he said.
"How do we look at that neighbor, not as someone with a deficit but an asset? Older people have such rich experiences, they're treasure chests to be opened."
Caitlin Heaney couldn't agree more, as she prepared to sing another song at the piano with Jim O'Brien.
"I didn't sign up for Little Brothers because I thought I was going to relieve an elder's loneliness," Heaney said. "I signed up because I felt there was a hole in my life."
Resources
• Senior LinkAge Line : 1-800-333-2433
• Little Brothers-Friends of the Elderly: 612-721-6215
• Meals on Wheels: 612-623-3363
Correction (May 31, 2018): In a previous version of this story Caitlin Heaney's name was spelled incorrectly. The story has been updated.