U of M board to vote on tuition increase at the Morris, Twin Cities campuses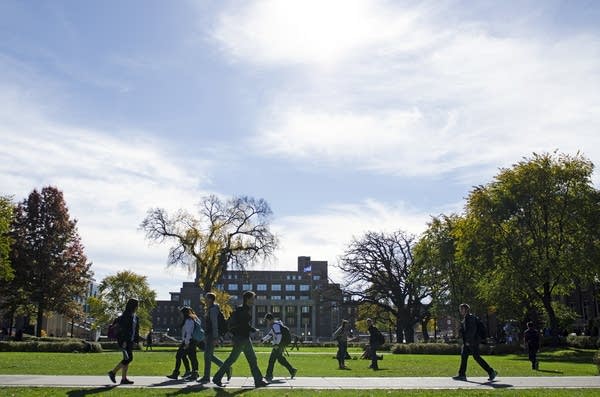 Leaders at the University of Minnesota vote Friday on increases in undergraduate tuition for in-state students at the University of Minnesota's Morris and Twin Cities campuses next fall.
The Finance and Operations Committee of the university's Board of Regents Thursday approved a 1 percent tuition increase for Morris and a 2 percent rise for the Twin Cities.
The matter goes to the full board for a vote Friday.
With the expected hike, annual resident undergraduate tuition at the Twin Cities campus would be $13,058. But tuition costs would be flat at the Crookston, Duluth and Rochester campuses.
The tuition vote comes as regents and University of Minnesota president Eric Kaler offer very different perspectives about how much debt students are taking on to get a university degree.
Some regents on the finance committee argued for a 1 percent system-wide tuition decrease or limiting the Twin Cities increase to 1 percent. Regent Randy Simonson wanted a cut.
"One thing for sure the cost of higher education is increasing faster than the growth of wages for people with degrees," he said. "And that's a major concern for me."
Regent Ken Powell, the former CEO of General Mills, said a 2 percent tuition increase is not sustainable. He proposed a 1 percent rise.
"We're not seeing wage growth take off," he said "I don't think the average family is flush with cash. "
But other regents on the subcommittee saw things differently.
Regent Richard Beeson said he doesn't want to restrain tuition revenue so much that it could impair the university.
"Our predecessors put in place increases annually of 10 to 15 percent," he said. "But we are the beneficiaries of this. Everything around this university is the result of smart investment of those dollars," Beeson said.
Simonson said a student intern at his company graduated from the university with $80,000 in debt. Kaler retorted that the student must have been living the "high life."
The university president said that 43 percent of Twin Cities campus students graduate debt-free. And those who've borrowed to pay for the education have an average debt of about $25,000.
But regent Darrin Rosha questioned those figures.
"The debt numbers we continue to throw around are just simply not credible," he said. "There are so many different types of debt, whether it's a second mortgage for parents or private loans and so on. They're not reflected in these numbers. .... I really wish we would start talking about doing all we can to make [the university] affordable while being excellent."
The University of Minnesota Law School came under criticism, too.
Regent Michael Hsu said that if the university is looking to save money it should consider cutting its subsidy of the law school, which has seen a big dip in enrollment.
"If you look at the 10-year cost of subsidizing the law school, you're looking at close to $100 million," he said.
The regents are weighing how best to help the law school while not taking too much from the university's other programs.
According to numbers provided by the university, applications to law schools nationwide fell 36 percent between 2010 and 2017. But they fell by 53 percent at the U over that same period.
Through that decline, the U of M was faced with a difficult decision — increase the number of students, or keep their admissions standards high and accept smaller classes
The U chose to maintain its standards and continues to be ranked in the top 20 law schools in the country.
Since 2012, the U of M's central administration has been helping the law school with a yearly subsidy.
MPR News reporter Peter Cox contributed to this story.