Archdiocese needs $40M for sex abuse settlement. Here's where it's looking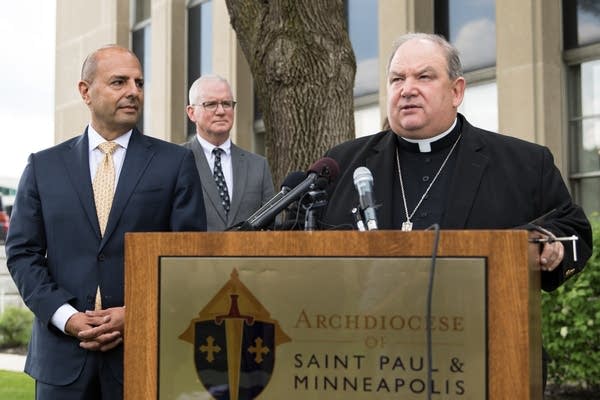 The Archdiocese of St. Paul and Minneapolis is crafting a plan that leans on budget cuts, property sales and the generosity of Catholics to help the church emerge from bankruptcy and move beyond a clergy sex abuse scandal that has plagued it for years.
The archdiocese has committed to pay $40 million of the historic $210 million settlement with clergy abuse survivors that isn't covered by insurance.
Explore the full investigation Clergy abuse, cover-up and crisis in the Twin Cities Catholic church
Grow the Future of Public Media
MPR News is supported by Members. Gifts from individuals power everything you find here. Make a gift of any amount today to become a Member!
Officials on Friday shared the basics of their proposed payment plan with MPR News. Other details were gleaned from interviews and a review of court documents. The archdiocese hopes to present its final proposal to the bankruptcy judge within the next month.
While the numbers might shift, it's clear Twin Cities Catholics will be paying for the sins of the church for years.
The plan includes $5 million paid out from the archdiocese over five years, $4 million from three prominent Twin Cities Catholic high schools and a $3 million "voluntary contribution" from the nearly 200 Twin Cities parishes that operate under the archdiocese. That's on top of nearly $9 million raised already in land and asset sales.
The archdiocese also plans to tap money sitting in a fund it uses to pay health care costs for its employees.
Hard to avoid layoffs
Officials within the archdiocese have been meeting privately over the past two weeks to discuss budget cuts, according to one person with knowledge of the meetings who asked not to be identified.
On the day Archbishop Bernard Hebda publicly announced the settlement, he privately told employees that they should expect "belt-tightening."
The archdiocese cut 20 percent from its operations prior to the bankruptcy filing in 2015.
Under the settlement with survivors, the archdiocese is required to pay $1 million a year over the next five years, said archdiocese chief financial officer Tom Mertens. Leaders of the organization are looking now at how to manage the costs "and will do everything they can to avoid layoffs," he added.
That will be difficult, said Charles Zech, a professor at Villanova University in Pennsylvania who has studied diocesan bankruptcy settlements around the country. "That's where the primary financial hit is going to be," he said.
The archdiocese has already sold $8.8 million in assets.
It's also selling the property of three Twin Cities Catholic high schools — Benilde-St Margaret's in St. Louis Park, Totino-Grace in Fridley and DeLaSalle in Minneapolis — to each respective school for a total price of $4 million.
It isn't certain how the schools will finance the cost. Officials with Benilde and DeLaSalle did not return calls seeking comment. Craig Junker, president of Totino-Grace, responded but declined comment.
S. Steven Prince, an attorney representing the schools, confirmed an agreement has been reached with the archdiocese but declined to offer specifics until the plan is filed in bankruptcy court.
The archdiocese is tapping other funds. Mertens said the institution will rely on $9.2 million in unrestricted cash accounts and board designated funds.
They will also take $4 million from a collective health insurance fund that is used for workers at the archdiocese and local parishes.
While the payment could result in higher health care costs for teachers, bookkeepers and other archdiocese employees, Mertens said there is enough money in the fund to operate the program as determined by their health insurance consultant.
The board of trustees operating the fund agreed to the payment as a response to U.S. Bankruptcy Court Judge Robert Kressel's request "for all Catholic entities to participate in the settlement, whether legally required to or not," he added.
The archdiocese is also relying on $6 million from a general insurance fund that parishes and the archdiocese pool together.
Tapping such insurance funds worries some parish trustees.
Bernie Hesse, a parish trustee at St. Columba in St. Paul, said employees paid into the health insurance fund with the expectation their health care costs will be kept low. He also worries that cuts to the archdiocesan budget will result in less outreach to immigrant communities and low-income people.
"As you look at bankruptcies, it's not often the people who have the most need get taken care of first," Hesse said.
Mertens said the archdiocese also has $10 million in legal bills that will be paid through the $210 settlement.
Attorneys representing the victims of clergy abuse are also expected to take a third of the payout.
'Largest contribution we can afford'
Parish priests are also looking within their respective church budgets to see if they can make a voluntary contribution to the settlement. The archdiocese is booking $3 million from such payments, although that could prompt church officials to defer other necessary costs to keep a parish operational.
Kevin Finnegan, a parish priest at Our Lady of Grace in Edina, said the archdiocese is not requiring parishes to contribute to the settlement.
"It's a voluntary thing, and I would say by and large they are responding in a magnanimous way," he said.
Seventeen parishes owe more than $100,000 in back payments to the archdiocese, bankruptcy records show. Mertens said the archdiocese is not planning to increase such annual assessments on the local parishes for two years.
In some instances, such payments aren't easy.
Michael Byron, a parish priest at St. Pascal Baylon in St. Paul, said his east side church has contributed despite recent struggles to keep the parish school open and budget problems caused by a $3.5 million debt from a new church construction in 2002.
"I told our people that I have consulted with our leadership and I have decided to make what is probably the largest contribution that we can afford to make — which probably pales in comparison with other places," Bryon said, adding, "but it's something."