Line 3 opponents girding for fight over approved pipeline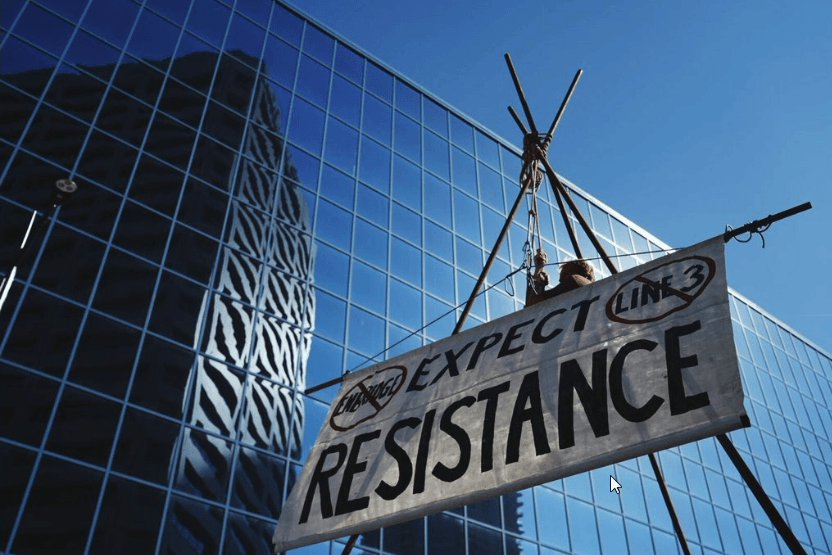 Opponents of a new pipeline across northern Minnesota wasted little time encouraging resistance to the plan approved Thursday by state regulators.
After the Minnesota Public Utilities Commission voted unanimously to allow Enbridge Energy to replace its aging Line 3 along a new corridor, they urged people to show up Friday morning near where the line will cross into Wisconsin.
• Podcast: Listen to all of Rivers of Oil
• Subscribe on Apple Podcasts
• Twitter
• Full coverage of the Line 3 debate

Grow the Future of Public Media
MPR News is supported by Members. Gifts from individuals power everything you find here. Make a gift of any amount today to become a Member!
The PUC decision came after more than three years of public meetings, and studies, and hearings, and testimony, and tens of thousands of public comments.
And as Commissioner Katie Sieben admitted, it wasn't easy.
"For me it's so tough because there's no good outcome, where I can rest easy at night, knowing I made the right decision with the facts available," she said.
For several of the commissioners, it was an emotional decision. Chair Nancy Lange broke down at one point and grabbed a handful of tissues.
"At the end of the day, I had to ask myself how would I feel if I woke up in five years and I had said no to this pipeline and there was a leak somewhere that implicated natural resources or human life or cultural resources," she said. "It's just too great a cost for me to have accepted."
Both Lange and Sieben were unwilling to accept the risk of allowing Enbridge's existing Line 3 to continue operating. That aging pipeline is corroding, and cracking. Commissioner Matt Schuerger said it was in "horrific condition."
But they don't have authority to shut it down. And Enbridge had said it would continue to operate it for at least another 11 years if the state rejected its plan.
So instead, commissioners approved a new, safer pipeline, but also one that will carry nearly twice as much oil along a new route across northern Minnesota.
And that was a bitter pill for some of the commissioners to swallow.
"It feels like a gun to our head," said Commissioner Dan Lipschultz. "That somehow compels us to approve a new line because of the real risks of that existing pipeline and the problems that could occur, but when I think about that, all I can say is the gun is real, and it's loaded."
Lipschultz and other commissioners sympathized with the argument that approving the pipeline would exacerbate climate change. And they said Minnesota refineries didn't need the oil. But they said Enbridge showed there is global demand for the oil Line 3 would carry from Canada and there's not enough space on the current pipeline to meet that demand.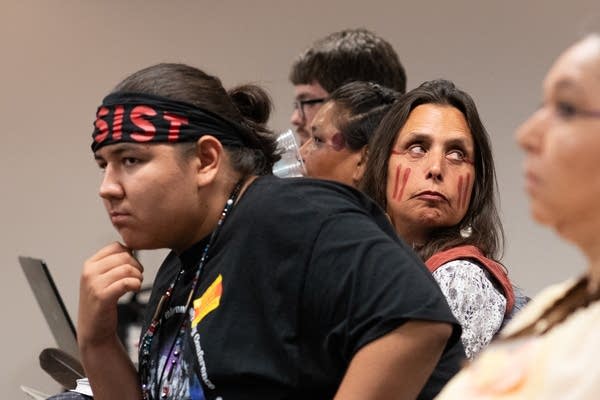 But if the decision was hard for the commissioners, it was much tougher for opponents of the pipeline.
"Shame on you!" yelled Akilah Sanders-Reed at the commission when it became clear they would approve the plan. "Shame on you cowards!"
Sanders-Reed is one of the so-called "youth climate intervenors" who petitioned to be an official party in the Line 3 proceedings. "The way that those commissioners looked us in the eye, and said they didn't have the guts to make a good decision right now, that they might in the future, but they couldn't do it today, and that it was up to us to do more work, is absolutely unacceptable," Sanders-Reed said.
She said they're going to stop this pipeline one way or another. Those words were echoed by Winona LaDuke, executive director of the group Honor the Earth.
"Minnesota did not want Standing Rock, but this is their Standing Rock. They will have it," she said. "They could have done the right thing, and they would not have this conflict. But be prepared, because we are preparing."
LaDuke has purchased land near Park Rapids where people can camp, where she says they'll "provide educational workshops on the value of our water and Ojibwe culture."
Bob Schoneberger with Minnesotans for Line 3 is calling on LaDuke to close any camps that might host protesters who try to stop future construction work on the pipeline. But he said he was pleased with the commission's decision.
"For those of us who support this project, it gives us hope that as long as you do the right thing, you can get it done," he said.
In a statement, Enbridge said replacing Line 3 is first and foremost about safety. The company plans to have the new $2.9 billion pipeline in service by the end of 2019.
But the new pipeline isn't a done deal yet. The Fond du Lac Band of Lake Superior Chippewa has already announced it plans to appeal. Others are also expected to challenge the decision.
And the project still needs several local and federal permits before construction can begin, although none are expected to be as challenging as the approvals granted Thursday by the PUC.