Storms across Minnesota make for soggy Fourth of July holiday
Updated: July 5, 6:44 a.m. | Posted: July, 11 a.m.
Road conditions were improving in southwestern Minnesota on Wednesday, a day after flooding led to road closures and a travel advisory.
However, authorities are still urging caution on the roadways following the storms that brought flash floods and up to 11 inches of rain, according to one report.
Mandi Lighthizer-Schmidt with the Minnesota Department of Transportation said the travel advisory for Murray County has been lifted.
Highway 14 east of Lamberton in Redwood County still has water over the road.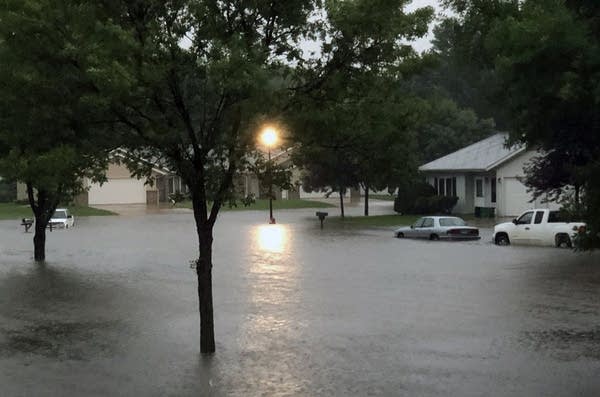 "We are still telling people to drive with caution because we do have areas where water is coming up over the road. We're watching culverts. We're doing some work on the shoulders with some areas where we've had washouts," Lighthizer-Schmidt said.
She said travelers should never drive through water. Drivers can check MnDOT's 511 website for road condition updates.
More storms were passing through the region Wednesday morning, prompting a severe thunderstorm alert for at least two counties.
Murray Co.: Water levels remain high
In Murray County, residents were still dealing with high water levels Wednesday.
Volunteer crews were sandbagging around homes and businesses, particularly near the region's lakes, said Murray County community relations coordinator Christy Riley.
"Our main concern right now is just making sure that our sandbagging efforts are continuing and getting those sandbags out to those people to stop further damages into their homes," she said.
Riley said the area received large amounts of rain earlier in the season and lakes are saturated.
Bemidji: Tornado causes storm damage
The National Weather Service in Grand Forks said preliminary information reveals that an EF1 tornado struck Bemidji early Wednesday morning.
Beltrami County Emergency Management posted photos on social media of fallen trees and power lines and damage to buildings and vehicles from the storm, which hit at about 6:30 a.m.
"One resident reported it 'sounded like a train,'" the county's Facebook post read.
"At least one garage was lifted from its foundation and twisted. Roofing material and shingles were pulled off roofs and thrown about. Several trampolines were blown across yards and one was even lodged and entangled in a tree top."
Most of the damage was concentrated in an area just west of Bemidji State University, said Christopher Muller, Beltrami County's emergency management director. He said the storm brought wind gusts in excess of 60 to 70 mph.
Residents are urged to stay away from downed power lines as crews work to restore power.
"Anytime that you see downed power lines, we want people to assume those are hot and active lines," Muller said. "We don't want to have any injuries. We've been fortunate that we haven't, so far."
Muller also warned that trees left standing after the storm might be weakened from damage or unstable due to saturated soil.
Lake Shetek: Soggy campgrounds, closed lake
Would-be swimmers and boaters at Lake Shetek State Park in southwestern Minnesota may be disappointed this Fourth of July. The park's beach and boat landing are closed after heavy rain Tuesday brought high water.
Campgrounds at the park are open, said park manager Roseann Schauer. She said additional rain forcast for the holiday shouldn't be a problem for those facilities.
"They're going to be a little soggy, but the main part of the park sits much higher, so we're not worried about any flooding, any public danger," Schauer said.
Part of a paved state trail near the park is also closed due to flooding. Schauer said hiking trails, playground equipment and other activities are still available.
"Within the last couple of weeks we had gotten almost a foot of rain. The waters were still high from before, so with this additional rain it just made things much worse," Schauer said.
Cannon River: Wastewater spill slows tubing, canoeing
Early Tuesday morning, a broken pipe at Northfield's water treatment plant caused flooding and forced staff to release treated and untreated wastewater into the Cannon River. The public was advised to avoid direct contact with the river.
Normally, this is one of the busiest weeks of the summer for companies that offer tubing and canoeing trips on the Cannon River downstream of Northfield.
But some companies along the river have had fewer takers than usual this Fourth of July, saying business is down after Tuesday's spill, which authorities estimate at a million gallons of wastewater that spilled into the river.
Olivia, Minn.: Driver escapes from sinkhole in road
A 16-year-old driver had to climb out the back window of his car after he drove into a sinkhole following heavy rains.
WCCO-TV reports that the Renville County Sheriff's Office says the sinkhole formed after a culvert under the road washed out. The driver wasn't injured in the Tuesday accident.
The driver's grandmother, Candace Leopold, says the teen had gotten his driver's license last month and only had the car for a few weeks. She says he had been going to work at a farm near Redwood Falls, a city about 115 miles west of Minneapolis.
The damage to the car wasn't immediately clear.
MPR News newscaster Mike Moen and The Associated Press contributed to this report
Your support matters.
You make MPR News possible. Individual donations are behind the clarity in coverage from our reporters across the state, stories that connect us, and conversations that provide perspectives. Help ensure MPR remains a resource that brings Minnesotans together.