Swanson launches negative TV ad in DFL race for governor
Within a week of the primary election, Attorney General Lori Swanson began airing a television commercial in heavy rotation Thursday that says U.S. Rep. Tim Walz has not been an effective opponent to President Donald Trump because the six-term congressman has been distracted by his run for higher office.
Swanson and Walz are locked in a three-way battle for the DFL nomination for governor with state Rep. Erin Murphy.
"Say 'no' to no-show Walz," the ad concludes, accusing the congressman of missing 60 percent of House votes this year.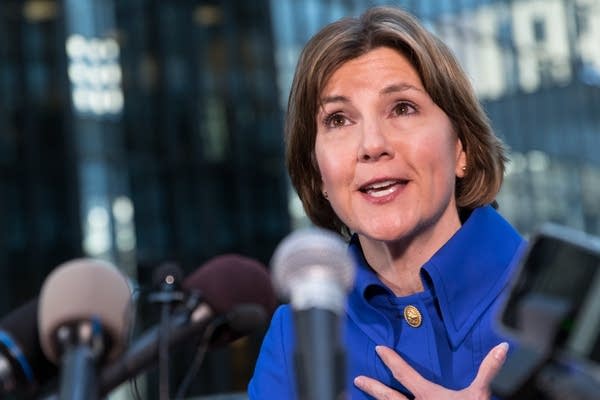 Potential DFL voters have also started receiving mailings from a pro-Swanson independent group that makes the same case. They use the same statistics and argue that Walz has a habit of missing work while still being paid by taxpayers.
Grow the Future of Public Media
MPR News is supported by Members. Gifts from individuals power everything you find here. Make a gift of any amount today to become a Member!
Swanson's campaign didn't make her available to comment Thursday, and she had no public events.
She has been in a strong position in the race, given that she's widely known and has been elected statewide three times.
The strategy to attack Walz could be a sign that dynamic has changed. The missed-votes message is one some Republicans were also testing out earlier this year, so it appears the Swanson team sees it as resonating with certain voters.
At the Dakota County Fair where he was campaigning Thursday, Walz said it was disappointing that Swanson went on the attack. The attention suggests that momentum is on his side and his rival is trying to slow it, he added.
Walz didn't dispute that he has missed votes in Congress this year, but he said he has been doing his job by providing input on a new federal farm bill and veteran affairs oversight.
"No one has ever accused me of not being a hard worker. No one has ever accused me of not delivering," he said, adding that there's a risk involved with Swanson going negative.
"The public is not in any mood for nonsense. They're in a mood for solutions; they're in a mood for seeing things get done. And trying to play one group off another or trying to wedge this issue probably doesn't work."
The race for Republican gubernatorial nomination has been more combative than the one on the DFL side. Former Gov. Tim Pawlenty and Republican-endorsed Hennepin County Commissioner Jeff Johnson have been tangling for weeks over who is the most conservative and supportive of Trump.
Murphy, who has the DFL endorsement for governor, said she's not sure why Swanson launched the attack now but indicated that Walz's congressional attendance is fair game.
"All of our records, our participation in the work that we're doing is subject for the voters to consider," she said. "I have shown up to do my job at the state Capitol and am showing up all over the state of Minnesota to earn the vote and the trust of the people of Minnesota."
Murphy, Swanson and Walz are set to appear Friday in a 11 a.m. debate sponsored by MPR News.