Minneapolis officials pledge action to help residents of homeless encampment
Minneapolis officials said Thursday that the number of people at a homeless encampment on the city's south side has doubled in a week — and the city outlined steps it plans to take to help the camp's residents.
Calling it an unsafe environment, the city and various community nonprofit organizations are teaming up to help the 120 people living in tents near East Franklin and Hiawatha avenues. Mayor Jacob Frey and other officials said the goal is to get everyone out of what's being called the Franklin-Hiawatha Encampment by the end of September.
Frey told a crowded room of community members Thursday at the Minneapolis American Indian Center that the homeless encampment has become a risk to public safety and health, with instances of drug trafficking, and disease associated with exposure to hazardous materials such as used needles.
He said an off-site facility is being constructed now, which will include bathrooms and showers, along with a sheltered area where people can find resources to get temporary housing. But Frey stressed that creating more affordable housing is the long-term key to helping hundreds of homeless people get a fair chance at improving their lives.
MPR News is Member Supported
What does that mean? The news, analysis and community conversation found here is funded by donations from individuals. Make a gift of any amount today to support this resource for everyone.
"We collectively are perpetually keeping them as homeless, and that's wrong, that is not right, we have to step up — and I tell you what, we're going to. We will be pushing for more funding for housing at that 30, 20, 40 percent of area median income levels which is what we need so desperately right now, and that's part of the issue — is because they don't have that next rung on the ladder to help pull themselves out and I think we have an obligation to help provide it," he said.
Residents say the encampment is comprised mostly of Native Americans. The Minnesota Department of Transportation owns the land where the encampment sits, but some Native American community members, including Greg Franson, point out the land first belonged to his people.
"I think it's a joke. And all they do is talk. This, to me, is a publicity stunt," he said after the mayor spoke.
Franson said his son is living in the encampment. He visits him daily with an organization called Natives Against Heroin.
"He's on heroin, and there's nothing I can do. His mom died of an overdose. You'd think that would make someone want to quit — but then you have so much guilt and shame that it doesn't matter," he said.
Minnesota's opioid epidemic is continuing to hit Native American communities especially hard. Franson and other community members are urging the city to consider opening more temporary shelters, as soon as possible, so that residents of the encampment can get access to addiction treatment and other services.
"How do you get sober and try to live a good life if you ain't got nothing there, you ain't got a roof over your head," Franson said.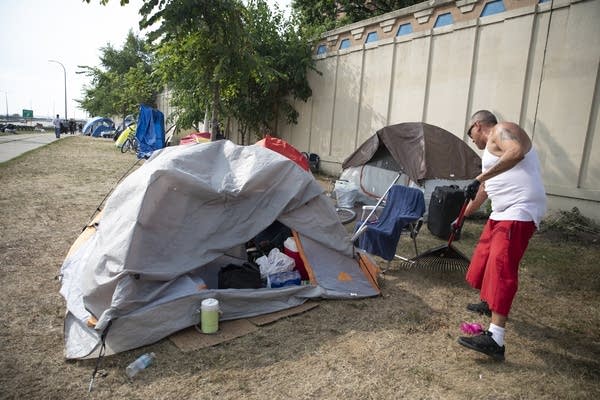 Frey said Thursday that creating more affordable permanent housing is the best long-term solution to homelessness.
"Housing is a right and we will be putting our money where our mouth is," he said.
The group Metropolitan Urban Indian Directors has started a website where people can give monetary donations to help organizations get immediate help for the people in the tents. City officials asked that people don't try to bring supplies or food directly to the encampment because of safety concerns.