Trump-Omar feud ratchets up as her critics seek ethics probe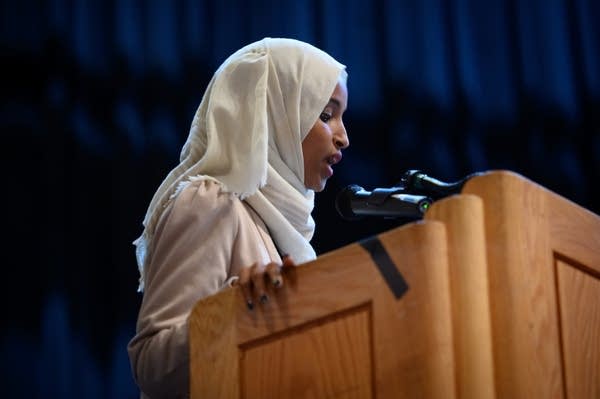 President Trump and Minnesota U.S. Rep. Ilhan Omar lobbed more criticism at each other Tuesday, with the president suggesting the feud would pay off politically for him next year.
The two have spent much of the past week in a charged dispute that has riled up their respective political bases. Meanwhile, a Republican state legislator and a conservative group made separate but similar calls for a House ethics investigation into Omar.
Collectively, it offered more proof that Omar has gained outsized attention — and become a lightning rod for the political right — in only seven months in Congress. Trump tweets often about Omar, questioning her patriotism. He drew criticism last week for tweets and for not stopping the audience at a recent campaign rally from chanting "send her back" about the former Somali refugee.
Trump spoke dismissively Tuesday about Omar and a few of her close House allies in remarks to Turning Point USA, a summit of conservative teens gathered in Washington.
Grow the Future of Public Media
MPR News is supported by Members. Gifts from individuals power everything you find here. Make a gift of any amount today to become a Member!
"Your other friend from an incredible state, right, a state that I'm going to win, Minnesota. You know that one, right?" Trump said of Omar, eliciting cheers. " You know why I'm going to win the state? Because of her."
Democrats in Minnesota, including Gov. Tim Walz, wrote on Twitter that Trump won't prevail.
"Minnesotans came out in record numbers to reject your messages of fear and division," Walz wrote of Trump, referring to a Democratic surge in the state in 2018. "And in 2020, they will do it again."
No Republican has won Minnesota's presidential vote since 1972, but Trump narrowly missed out in 2016. The Republican Party hasn't prevailed in any statewide race in more than a decade.
Earlier in the day, Omar accused Trump of inflaming racial tensions and vilifying minorities with comments and actions that stretch back decades.
"Right now even when we are talking about the president, people will say, you know, his remarks are racist, and we'll forget the inherent racism that has always been part of him," Omar said at a political conference centered on political involvement by Muslims.
Omar offered no comment through a spokesperson about another development.
Minnesota state Rep. Steve Drazkowski, R-Mazeppa, and the conservative Judicial Watch separately asked the U.S. House Committee on Ethics to investigate Omar.
Accusations of wrongdoing related to Omar's first marriage, tax filing and campaign spending have lingered for years. Drazkowski said they deserve a deeper look by the House.
"The mounting evidence here is getting to the point where it's just hard to not see the fact that there is something solidly, completely wrong here," said Drazkowski. "The people get it."
Omar has previously refuted the most serious allegation that she married a brother to assist with his immigration into the United States, where she became a citizen at age 17. She is the first Somali-American in Congress.
In recent weeks, she paid a fine levied by state campaign regulators over past spending. Questions remain over tax records she acknowledged correcting.
The House ethics panel doesn't take all cases, and it typically says little during investigations that can last for many months.