Tips for spotting the northern lights, from an aurora devotee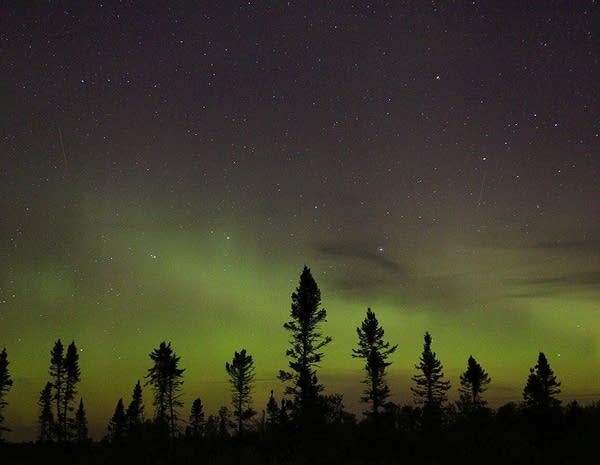 The northern lights can be sparked by geomagnetic storms.
And for all the years I've been in Minnesota, those shimmering lights in the night sky have been a magnetic force, coaxing me away from the comforts of home at all hours of the night.
I've stood on a frozen lake in the depths of winter, hoping my camera batteries would hold on for just a few more photos.
I've nudged my car down remote roads in the dark, trying to find a new viewpoint, a different perspective.
Grow the Future of Public Media
MPR News is supported by Members. Gifts from individuals power everything you find here. Make a gift of any amount today to become a Member!
I've had to explain to sheriff's deputies — more than once — why I was parked on the side of a rural highway at 2 a.m.
And more often than anywhere else, I've stopped along the edge of a pasture north of Duluth with a broad, clear view to the north, and watched the aurora borealis dance across the sky as cattle softly lowed in the distance.
Like sunrises and sunsets, no two displays of the northern lights are alike. There can be different shapes and colors. Scattered clouds can add an interesting dimension to the view.
Sometimes the aurora is a low, green arc sitting still on the horizon. Sometimes it visibly ripples across the sky, like moving pages of a book. Sometimes it pulses here, then there, then over there — like an ethereal game of whack-a-mole.
I'm not an expert in astronomy and physics; I'll leave it to others to explain the science behind the northern lights. But I have spent many a night out looking for and photographing the northern lights, and have some tips for anyone who wants to give it a try.
1. Do some scouting in advance
You need to find somewhere away from city lights, with a clear view to the north. Lakes are one of the best options, if you can find a viewpoint along the southern shore. Farm fields and pastures are another option (though maybe not corn fields at this point in the growing season). Make sure you respect private property.
If you're in the Twin Cities, you may need to drive quite a distance to escape the city lights. That light pollution can wash away the northern lights, so the farther away you can get, the better.
2. Identify a few trusted sources who can provide alerts when auroras are possible
There are a bunch out there; here are a few:
NOAA's Space Weather Prediction Center
Astro Bob blog by former Duluth News Tribune photo editor and Minnesota astronomy expert Bob King
University of Alaska Fairbanks' Geophysical Institute's aurora forecast
When there's a predicted chance for the northern lights, social media can provide real-time, from-the-field reports. On Facebook, the Great Lakes Aurora Hunters page has devoted followers who share their photos from around the region when the northern lights are visible.
3. Check the weather conditions
A 100-percent chance of amazing auroras won't mean a thing if skies are completely overcast. Check before you head out. If it's cloudy where you are, see if there might be clearing in a certain direction, and head that way. It's possible to enjoy the northern lights even if it's just through passing clear patches in an otherwise gloomy sky.
4. Get out there!
Simple enough — but sometimes hard to do when it's late, or cold outside.
5. Remember that the aurora is notoriously hard to predict!
All the forecasts may point to an aurora display — and then nothing happens. Or there may be nothing to suggest the northern lights will appear — and then they burst into view. They may appear for an hour just after sunset, then disappear, then surge back at 3 a.m.
Bottom line: The northern lights are fickle. They're elusive. They laugh at forecasts that proclaim they're a sure thing. Be prepared to be disappointed — but hope for the best. And don't give up on trying to spot them the next time around.
6. If you're going to try taking photos, use a tripod
To capture good images of the northern lights, you'll need the camera to stay still for a long exposure. A tripod (and remote shutter release) are a must. I use a Canon digital SLR camera; I've never tried using a phone camera to take northern lights photos. An online search will turn up many websites with more tips on how to take aurora photos.
7. Put the camera aside from time to time
I've been guilty on occasion of having been too focused on getting photos, and not taking enough time to just enjoy the show. Photos are great, and it's a fun challenge to take aurora pictures — but they can't beat the human eye for capturing the detail and motion of the lights.
It's an awe-inspiring experience to watch a brilliant aurora display rippling overhead; make sure you give yourself plenty of time to just soak it in. And not just the northern lights, but the whole scene — the wind rustling through the trees, the crickets chirping, the frogs croaking. Maybe you'll catch an owl hooting in the distance, or a coyote or wolf howling.
And if you're lucky enough to spot the aurora, share the experience with others — so that maybe they'll be inspired to catch the magic, too.
Andrew Krueger is weekend editor for MPR News; find more of his photography on Twitter, @akpix.