At Walker, a black artist's complex look at beauty, stereotypes, racism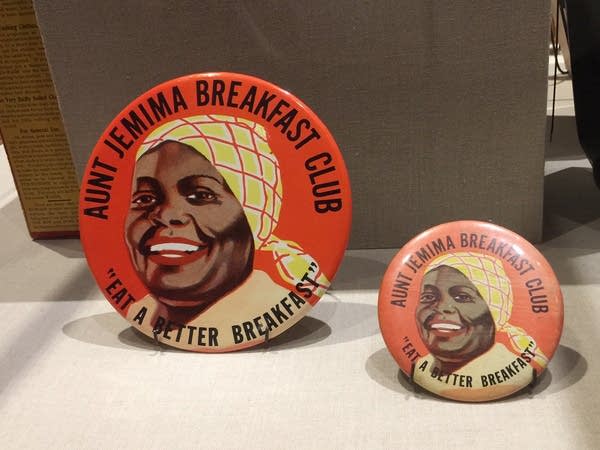 Victoria Sung, assistant curator at the Walker Art Center, thinks carefully on how to describe Theaster Gates' work.
"I would say he is a world maker," she said.
Over the past few months, Sung has worked closely with the artist to select books, pottery, furniture and other items for the exhibit, "Assembly Hall."
Gates uses thousands of pieces brought from his Chicago studio to create immersive scenes for the new show in Minneapolis.
Grow the Future of Public Media
MPR News is supported by Members. Gifts from individuals power everything you find here. Make a gift of any amount today to become a Member!
"Describing him as a sculptor or a painter or a ceramicist is not enough," she continued. "He kind of does it all and more, and I think in this exhibition we are trying to give visitors a hint of that world making."
Assembly Hall consists of four connected rooms — each quite different. In one room, projections of black and white glass slides used for art history classes splash across the walls as soundtracks from instructional films play in the background.
In another, a luxurious reading room with earth-toned '60s furniture and elegant African art is a reproduction of part of the Johnson Publishing Company's Chicago headquarters. Johnson Publishing once produced the magazines Ebony and Jet, which celebrated the black experience. A third room is lined with thousands of ceramic bowls, plates and vases from Gates' studio.
The fourth room features antique vitrines all holding a host of racist objects from the 19th and 20th centuries.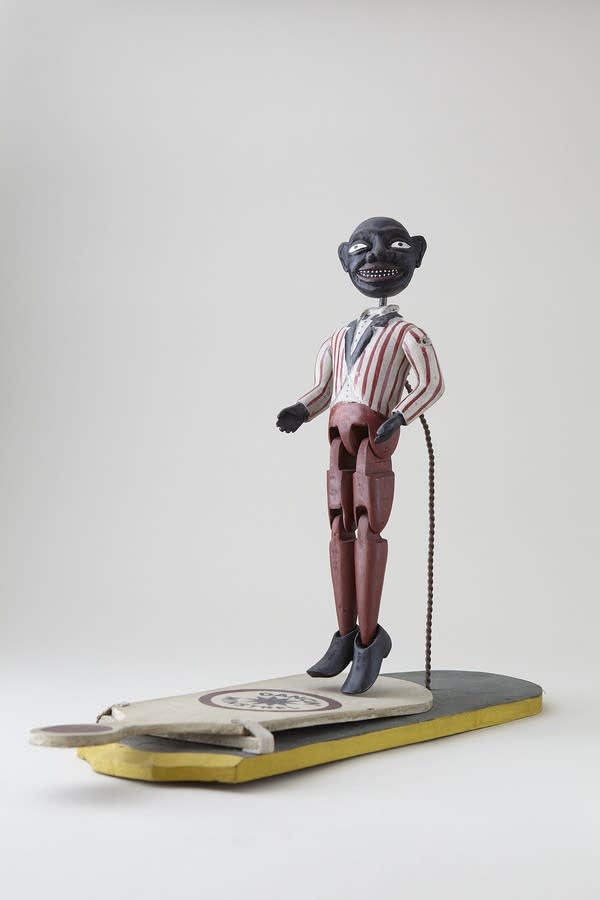 There are once-popular children's books and cookie jars, cocktail sticks and savings banks all featuring black stereotypes. There are several well-known and similarly adorned commercial products. Theaster Gates acknowledges viewers will find them disquietingly familiar and confusing.
He says that's by design.
"They will have questions about agency, and who has the right to show all these racist objects," Gates said. "And why do I have to be exposed to them?"
He calls the show a reflection space. Visitors will wander from the powerful beauty of the publishers office to the discomfort of popular cultural depictions. They'll be surrounded by Gates' ceramics, then confront art school photographs in which African culture is barely depicted, and when it is the arts is described as primitive.
"What I love about that moment where you go from one experience to another is that you are actually in the brain of an artist," he said. "You are a co-participant in my imagination and in the things that I own. And it feels like that gives me permission to allow the complexities of these objects to reign without apology."
There's another Gates piece in the show, even though it's actually outside in the Sculpture Garden. Installed a couple of years ago, "Black Vessel for a Saint" is a kind of secular sacred space. It's a tower built of reconstituted black bricks surrounding a statue of St. Lawrence, recycled from a demolished Chicago church. Gates says St. Lawrence was a champion of the oppressed, as well as a patron saint of archivists and librarians.
"In some ways, St. Lawrence and Black Vessel expand the conversation we are having in the museum out into the garden," he said.
Sung, the curator, said most of Assembly Hall is made from repurposed objects — a reflection of Gates' principles.
"He feels that there are already so many objects and things that exist in the world, that you don't necessarily need to make new things," Sung said, "but it's about giving things that already exist a new purpose or a new meaning or a new value."