Family, friends in mourning, seeking answers after man dies in Richfield police shooting
Updated: 4:58 p.m. | Posted: 5:55 a.m.
Brian Quinones uploaded and promoted his new music album on Facebook around midday Saturday.
His family said the 30-year-old Richfield man spent time that day with his son, having a good time together.
But hours later Quinones was dead, fatally shot by police officers after a vehicle pursuit he streamed live on Facebook, as his family desperately tried to reach him.
As news of the shooting spread, Quinones' friends and relatives sought answers to questions: Why did Quinones take actions that seemed to indicate he wanted to end his life? And why did the encounter with police end with a fatal shooting?
"I just think that (police) could have done better. At least tase him with a Taser," his younger brother, Joshua Quinones, said Sunday evening at a candlelight vigil at the shooting scene in Richfield. "But really, shoot him, in between four police officers? That's just too much."
Vigil, march in Richfield to protest police shootings
18 of 18
1 of 18
2 of 18
The vehicle pursuit started after Brian Jesus Quinones, whose full legal name was Brian Jesus Quinones-Rosario, reportedly ran a red light in Edina at about 10:20 p.m. Saturday, and ended a few minutes later near the corner of 77th Street East and Chicago Avenue in Richfield.
MPR News is Reader Funded
Before you keep reading, take a moment to donate to MPR News. Your financial support ensures that factual and trusted news and context remain accessible to all.
The video appears to show Quinones exit the vehicle with a knife in his hand. About 15 seconds later, officers can be heard yelling — followed within seconds by two volleys of gunfire, totaling about 12 shots. Officers can be seen firing their weapons, but Quinones is not visible on the video at that point.
He died at the scene.
The Star Tribune, citing police dispatch audio, reported that officers yelled "Drop the knife!" immediately before the shooting. Authorities have not said whether the Quinones was armed.
Joshua Quinones said his brother had reached out shortly before the pursuit and shooting.
"He sent me a message yesterday saying, 'So sorry.' I told him, 'Brian, what's going on, are you OK.' He didn't answer my message, so I called him (and) I heard the sadness in his voice," Joshua recounted Sunday, saying his brother "had suicidal thoughts, that was it. He had it all planned out."
Joshua said he asked his brother several times during the call if he was OK, and then Brian hung up the phone and turned it off.
"I told my sister, we've got to go to his apartment and see if he's OK. We went over there and he wasn't there. And then that's when my sister went on Facebook and he had the Facebook Live. And my sister was texting him like, 'Don't do anything stupid.' He was just tired, he was just tired," Joshua Quinones said, with emotion in his voice as it trailed off.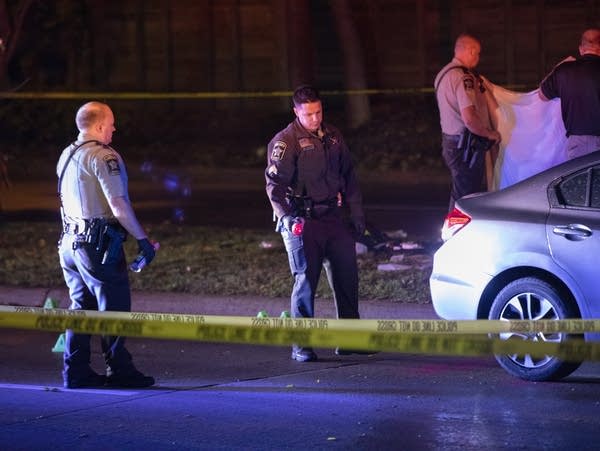 The Hennepin County Medical Examiner reported Sunday night that Brian Quinones died from multiple gunshot wounds. The Hennepin County Sheriff's Office is handling the investigation; the sheriff's office declined further comment on Sunday when contacted by MPR News.
It was not immediately clear how many officers fired their weapons, and which department they were from. Authorities did not say whether the officers were wearing body cameras.
Joshua Quinones said his brother lived just a few blocks from the shooting scene. He was married and his son is 12 years old. In addition to being an aspiring hip-hop artist, he was a barber and painter, and worked at General Mills. Quinones was originally from Ponce, Puerto Rico.
"He was just such a humble person," Joshua said. When it came to his music and art, "he did not care about being famous; he just wanted to be heard."
In sharing the link to his new album on Saturday, Brian Quinones — who recorded music as "Blessed the MC" — had written: "I Pray You Treasure It... My Hearts Inside It."
Hector Figueroa of Eagan said he knew Quinones for seven years.
"I spoke to him yesterday — he seemed completely normal. It's a big surprise to all of us," Figueroa said. "This man had the purest heart I've ever known. Selfless. Always cared more about others than about himself. He always worried about the well-being of others — his wife, his son, me."
Figueroa and Joshua Quinones were among a crowd of more than 100 people that gathered for a candlelight vigil at the shooting scene on Sunday evening. Relatives of other people killed by police in the Twin Cities in recent years also attended and spoke. They remembered Brian Quinones and prayed for him.
After about an hour, the vigil evolved into a march up 77th Street East to Portland Avenue. After pausing, the group of several dozen marchers made their way down an on-ramp onto westbound Interstate 494. State troopers had blocked westbound traffic before protesters got on the highway.
Authorities shut down both directions of traffic on the freeway for about a half-hour as the marchers walked down the interstate and then up the off-ramp to Nicollet Avenue. By that point dozens of state and local police cruisers were on the scene, blocking the protesters from getting back on the freeway.
The group then circled back to the shooting scene via city streets, chanting as they marched, and calling for justice for people killed in encounters with law enforcement.
Sean Gormley, executive director of Law Enforcement Labor Services union that represents police officers in Richfield and several other departments, said in a statement that "it's too early to know all of the facts in this case. We need to allow the investigators to do their jobs."
"We do know this was a tragedy. We know family and friends of the deceased are grieving. We know lives are changed forever. These are some of the most difficult scenarios officers will ever face in their careers. No officer ever reports for duty hoping to be involved in something like this."
The city of Richfield issued a statement Sunday evening saying "our thoughts are with the family of the deceased, the officers involved and their families, and our community. The loss of life in any shooting is a tragedy."
"We are cooperating with the Hennepin County Sheriff's Office investigation and are committed to a transparent process. We request your patience as the investigation continues."