Police officer in 'critical but stable' condition after shooting in Waseca
A suspect in the case is being treated for non-life-threatening injuries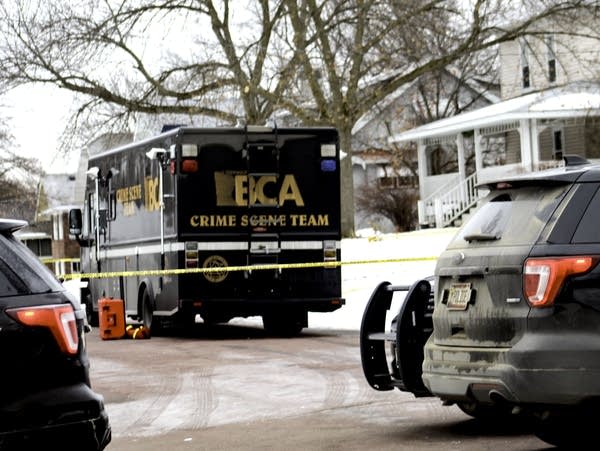 Updated: 1:40 p.m.
A police officer and a suspect were wounded in a shooting Monday night in the south-central Minnesota city of Waseca.
The Waseca police officer, Arik Matson, and the suspect were taken to North Memorial Health Hospital in Robbinsdale for treatment.
According to the Minnesota Bureau of Criminal Apprehension, Matson was shot in the head and gravely injured. He is in critical but stable condition. The suspect is being treated for non-life-threatening injuries.
The incident occurred as police were responding to reports of a "suspicious person in the backyard" of a house on the 900 block of Fourth Avenue Southeast just before 8 p.m., according to BCA Superintendent Drew Evans. Investigators aren't sure yet why the suspect was in the yard.
"It was not his home," Evans said.
According to the BCA, four Waseca Police Department officers responded to the incident, and located the suspect nearby. "At one point during the encounter with him, Officer Matson was shot," Evans said. Officers then shot the suspect.
"Multiple shots were fired," Evans said. "We're still working through the crime scene to determine how many."
Both were transported by air to North Memorial. Both remain hospitalized.
Waseca police officers do not wear body cameras, Evans said, and the BCA is still in the process of determining whether the officers' dash cameras captured the details of the incident. No further details have been reported.
Police say the suspect has not been charged but is in custody. Authorities say the suspect had an active warrant for drug-related charges, though officers did not know that when they encountered the suspect at the scene, Evans said.
Waseca Police Chief Penny Vought said Matson, 32, has been with the department since 2013. He is a member of the department's patrol unit and of the South Central Drug Investigative Unit, which serves Steele, Freeborn, Waseca and Faribault counties. And, she said, he is a "much-beloved Waseca PD DARE officer."
The Waseca Public Schools activities organization posted a tweet Tuesday morning, saying, "Officer Mattson is an important part of #BluejayNation serving as a DARE officer for our district."
In addition to his law enforcement duties, Arik Matson serves on the City Council in Freeborn, Minn., where he has also been a volunteer firefighter for seven years.
Fellow Freeborn City Council member Jim Beach said it's a somber day for the town of 300.
"I think it's kind of rallying the community together," he said. "You see people talking more than they usually do, I think, and I'm sure that's what it's about. It's about Arik, and wondering what's going to happen and how he's doing. Everybody's wondering for the latest update."
Earlier Tuesday morning, Rep. Jim Hagedorn, R-Austin, tweeted about the incident, saying "I communicated with Arik's father, retired Officer Tim Matson, overnight. On behalf of all southern Minnesotans, I offered our deepest concerns and prayers for Arik and his family."
According to the Albert Lea Tribune, which profiled Arik Matson and his father, Tim, when they worked side by side on the night shift — the younger Matson as a new patrolman with the Freeborn County Sheriff's Office and his father as a corporal with the Albert Lea Police Department — Arik Matson began his law enforcement career in Freeborn County in 2010.
He told the paper at the time that his interest in law enforcement came, in part, from his family's experience. His father had joined the Albert Lea police force in 1985. "You get the bug, you do," Tim Matson told the paper.
A GoFundMe account set up to raise money for the Matson family raised more than $30,000 by early Tuesday afternoon.
Vought said this is the first time a Waseca police officer has been shot while on duty.
"This is the worst nightmare that a law enforcement agency can face, and we're living it right now," she said.
Evans said investigators have not yet spoken with the other officers who were at the scene, but that the BCA continues to investigate the incident.
Your support matters.
You make MPR News possible. Individual donations are behind the clarity in coverage from our reporters across the state, stories that connect us, and conversations that provide perspectives. Help ensure MPR remains a resource that brings Minnesotans together.