Suspect charged in Waseca shooting; officer remains in critical condition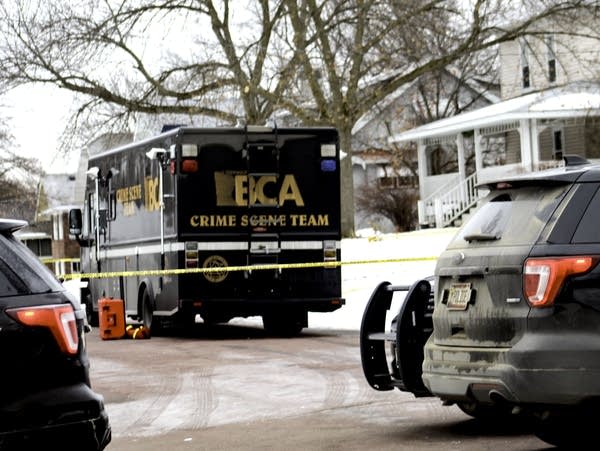 Updated: 6:22 p.m.
The man accused of shooting and seriously wounding a police officer this week in south-central Minnesota is now facing charges of attempted murder.
Prosecutors charged Tyler Robert Janovsky, 37, with three counts of attempted first-degree murder of a police officer in Waseca County District Court on Wednesday.
Officials with the Minnesota Bureau of Criminal Apprehension, which is investigating the incident, said that Waseca police officer Arik Matson, 32, was shot in the head during an encounter with Janovsky Monday night. Janovsky also is accused of shooting at two other officers during the incident.
Matson, who has been an officer in the Waseca Police Department since 2013, was airlifted to North Memorial Health Hospital in Robbinsdale, Minn., where as of Wednesday afternoon he was listed in critical condition.
According to the BCA, officers responded to reports of a suspicious man with a flashlight in the backyard of a home in a Waseca neighborhood. When they arrived at the scene, they encountered Janovsky, who had an active warrant against him. Officials said the officers did not know about Janovsky's warrant at the time.
BCA Superintendent Drew Evans told reporters at a news conference Tuesday that officers shot Janovsky after he shot Matson.
Janovsky was also airlifted to North Memorial where investigators said Tuesday he was being treated for non-life-threatening injuries. The hospital declined to share an update on Janovsky's status Wednesday.
Janovsky has several previous convictions, including for burglary, drug crimes and for making terrorist threats. He was listed on the Minnesota Department of Corrections' list of active fugitives as of mid-December, stemming from a 2017 conviction on burglary charges.
Communities in and around Waseca have offered an outpouring of support for Matson and his family.
By all accounts, Matson is heavily involved in the local community: He serves on the City Council and as a volunteer firefighter for the city of Freeborn, Minn., where he lives with his wife, Megan, and two young daughters.
He is a greeter at Hope Church and active in the CrossFit community in Albert Lea, where he grew up and where his father, Tim, served for more than two decades as a police officer.
Matson began his law enforcement career in Freeborn County in 2010.
In addition to his work as a patrol officer, Matson is a member of a multi-county drug task force and is the Waseca Police Department's "much-beloved" D.A.R.E. officer, police chief Penny Vought said Tuesday. D.A.R.E. is a drug-prevention partnership between police departments and schools.
On Tuesday, the Waseca Public Schools posted a resource guide for families talking to students about what happened to Matson.
"Officer Matson has been our D.A.R.E. Officer the last several years and has had sustained contact with our students in this role," the district wrote. "Many of our students know him well."
The district said counselors would be available at the school to help any students who need it. The Waseca Bluejays activities department changed its Twitter profile picture to a logo of a bluejay with "Matson Strong" overlaid, and tweeted its support for Matson. The boys and girls basketball teams signaled their support for the injured officer during their games Tuesday night.
Matson's family is declining interview requests, but offered an update through their church. In a video posted to Hope Church's Facebook page Tuesday night, Pastor Kaleb Hurley called Matson "a beloved brother" and said that Matson had undergone a successful surgery.
"With every hour up to this point, Arik's condition has been getting better, and he's better than what the doctors thought that he would be or what they anticipated," Hurley said. "There's still swelling, and there's a lot of things that will be made known as the swelling goes down as to what's going on inside of his body where those wounds took place."
Hurley said his church is planning to hold a community night of prayer for Matson and his family Thursday night at 6 p.m. in Albert Lea, Minn.
"We know that Arik has been lifted up in prayer," Hurley said. "We know that he's still alive. We know that surgery was actually very successful. And we know that there is still a long journey ahead of Arik in recovery."
A GoFundMe account set up to raise money for the Matson family was nearly halfway to its $250,000 goal by Wednesday afternoon.
Your support matters.
You make MPR News possible. Individual donations are behind the clarity in coverage from our reporters across the state, stories that connect us, and conversations that provide perspectives. Help ensure MPR remains a resource that brings Minnesotans together.