Protesters force cancellation of Klobuchar campaign rally in St. Louis Park
Updated: March 2, 8:55 a.m.
Sen. Amy Klobuchar canceled a homecoming campaign rally in Minnesota on Sunday night after protesters took over the stage in a high school gym where she hoped to rev up supporters.
Several dozen protesters took the stage at St. Louis Park High School with chants including "Black Lives Matter" and "Free Myon," in reference to the case of Myon Burrell, a black teenager who was convicted of murder while Klobuchar was Hennepin County Attorney and who maintains his innocence.
Meanwhile, music played and supporters of the Democratic presidential candidate milled in the gymnasium, holding campaign signs. About 40 minutes after the scheduled 8 p.m. start time, the rally was canceled.
Protest at Klobuchar rally
8 of 8
1 of 8
2 of 8
"They have known about these allegations. Her supporters haven't held her accountable. Sometimes this is the price you pay," said Nekima Levy Armstrong, a community activist with the Black Lives Matter movement.
Grow the Future of Public Media
MPR News is supported by Members. Gifts from individuals power everything you find here. Make a gift of any amount today to become a Member!
"We wanted somebody to acknowledge Myon Burrell on the stage, and who he is - so that the people didn't just think that we were out here protesting for nothing. And they denied it," said Leslie Redmond, president of the Minneapolis NAACP.
Klobuchar campaign manager Justin Buoen said the campaign "had negotiations, and had an agreement with the organizers of the protest to meet with the senator on-site. She was in the room, ready to meet with them, and then they changed the terms."
He said Klobuchar has agreed to meet with the family of Myon Burrell and the organizers of the protest at some point in the future. Klobuchar has previously called for a fresh review of the case.
Many Klobuchar supporters in the crowd were annoyed by the disruption, but some voters said the case raises legitimate questions about her ability to unite the Democratic Party.
"Yes, this issue for Amy does concern me because we need to get the minority, the black and the brown vote as well. We need a united front," said teacher Barbara Spencer, who wore an "Amy" sticker but said she was still mulling over her options. "This worries me a lot because it is a real issue."
Spencer said she'll back the Democratic nominee no matter who that is in November. "Anything but [Trump] is who I'm voting for," Spencer said.
Landscape business owner Margi MacMurdo-Reading was frustrated that the protest overshadowed the political task at hand.
"This is a waste of energy, which is very typical of the left to get into a purity politics contest," she said. "Now people who want to beat Trump are walking away because these people are screaming about a case they probably do not know the details of."
Liz Nuytten, of Plymouth, who held an "Amy K" sign in front of those being held by protesters, said "it was frustrating only one side was heard tonight. We know that Amy does great things for us here in the state of Minnesota and we know that she will do great things for us in the White House. We need her there. It was unfortunate we didn't get to hear her speak, but our voices will be loud on Tuesday."
Klobuchar's stop in her home state was part of a whirlwind weekend of travel, with stops in nearly a dozen states ahead of Super Tuesday.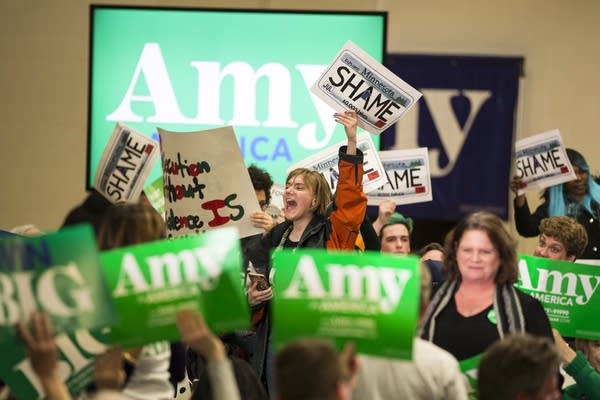 Klobuchar led in the only public polling done ahead of the Minnesota primary, but fellow Sen. Bernie Sanders of Vermont was fighting hard for a repeat win. He cruised to victory in the state's 2016 caucuses and planned a last-minute stop Monday to fire up his devoted base.
Klobuchar has yet to notch a win in the Democratic caucuses and primaries so far, finishing a distant sixth in the last two. Her shining moment was a strong third-place showing in New Hampshire, putting her ahead of former Vice President Joe Biden and Sen. Elizabeth Warren of neighboring Massachusetts.
Anticipating a Biden blowout this weekend in South Carolina, Klobuchar's campaign focused its efforts in the past week hitting most of the 14 states that will vote on Tuesday, when one-third of all pledged Democratic delegates will be awarded. She arrived in Minnesota after speaking in Alabama.
Also throwing a late wild card into the mix was former South Bend, Ind., Mayor Pete Buttigieg's exit from the race Sunday night. His campaign advertised in Minnesota but had a minimal presence.
Seventy-five of the state's Democratic delegates to this summer's party convention in Milwaukee will be decided based on Tuesday's outcome. Many will go to the winner of the statewide vote, while others depend on how candidates do in each congressional district.
Sanders and former New York City Mayor Mike Bloomberg made a hard push for Minnesota. Sanders counted on the backing of Attorney General Keith Ellison and U.S. Rep. Ilhan Omar, who was joining the senator at Monday's rally, among others.
Some of Klobuchar's top surrogates, including Minnesota Gov. Tim Walz, hit the road for her over the weekend. Walz held events in Virginia while state House Majority Leader Ryan Winkler appeared on her behalf in Oklahoma. Sen. Tina Smith and DFL members of the congressional delegation fanned out across Minnesota.
Klobuchar intends to return to Minnesota on Tuesday to await election results. She'll host a party at a hotel in downtown St. Paul where she reveled in her three Senate wins.