Minnesota health officials say state's first coronavirus patient had minimal contact with others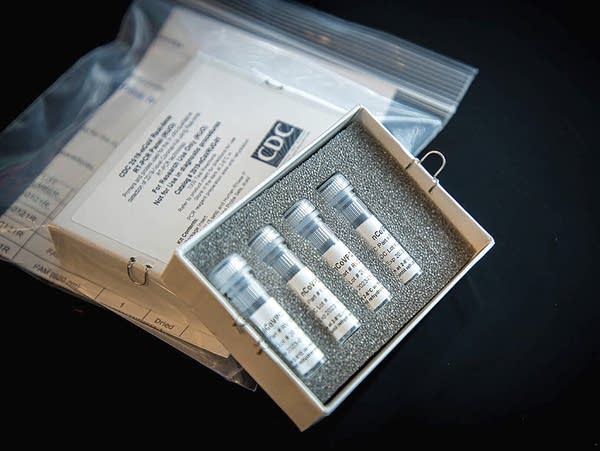 Updated: March 8, 12:30 p.m.
Minnesota health officials reported Saturday that they've determined the state's first confirmed patient with coronavirus had minimal contact with others while they were sick.
And they did not report any new confirmed cases of coronavirus after the initial confirmed case reported on Friday.
That first patient — described as a resident of Ramsey County over the age of 65 — apparently contracted the virus while on the Grand Princess cruise ship on the West Coast. They disembarked from the ship on Feb. 21, and began showing symptoms on Feb. 25.
Kris Ehresmann, director for infectious diseases at the Minnesota Department of Health, said Saturday that officials have determined "there were no community exposures of concern from this individual. What that means is, there were no exposures that lasted longer than 10 minutes that were within 6 feet of another person. ... which is wonderful news."
Ehresmann said the patient stayed home while ill, and proper precautions were taken when they sought medical help.
"Within the health care system there was one exposure that happened, however the health-care worker was masked and the patient was masked. So that is considered very low-risk. The facility did everything right with this patient," she said Saturday. "In terms of this patient and the potential impact on Minnesota, we have only positive things to say — and that is that we don't have concerns now about community exposure."
Before you keep reading ...
MPR News is made by Members. Gifts from individuals fuel the programs that you and your neighbors rely on. Donate today to power news, analysis, and community conversations for all.
Ehresmann said the patient is showing mild symptoms and is self-quarantined.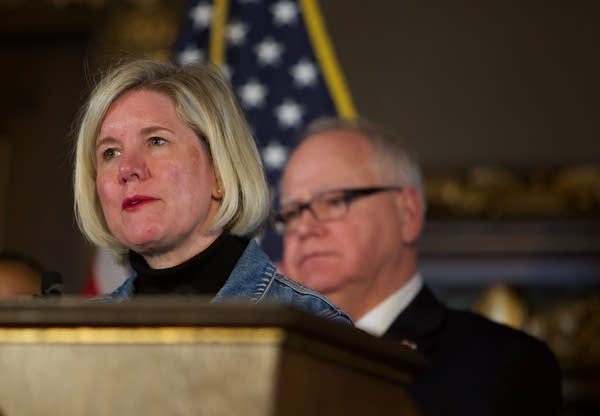 The state health department received a list of the 26 Minnesotans who had been on the Grand Princess and disembarked on Feb. 21, to see if anyone was showing symptoms and should be tested. Two people were tested — the patient who tested positive, and another who tested negative for the virus.
The tests were all done in the state lab, which is now able to do many more tests than it had been doing when it was sending samples to the federal Centers for Disease Control. That was initially necessary because the CDC's original test kits sent out to states did not work.
But Ehresmann said state labs now have kits that will allow testing of about 800 patients.
"They are able to run tests, like yesterday they did three runs and tested at least 36 patients and we got those results all within the day. So we're able to get results hours after a test has been run as opposed to days," Ehresmann said Saturday.
---
If you are one of the Minnesota passengers aboard the Grand Princess — or you know someone who is — we'd like to hear from you. Please email newsroom@mpr.org.
---
She said that lab testing companies are expected to have COVID-19 testing available for patients within the next few days, and that the state lab will also be getting more test kits.
The Grand Princess went on another sailing after the first group of passengers left, and state officials said Saturday that there now are about 42 Minnesotans who are quarantined on the ship, offshore from California.
Passenger Barb Harris of Minnetonka told KARE 11 that it's been "a little weird" for passengers being quarantined in their staterooms, with a lack of information about what comes next.
"When we can plan on being home with our families, and that kind of thing -- the uncertainty is uncomfortable," Harris told KARE.
Ehresmann said the CDC is the organization tasked with how best to deal with those passengers, though Minnesota will keep tabs of what happens next for the state residents who are aboard.
The state Health Department has established a hotline for Minnesotans who have concerns about the COVID-19 virus. The hotline number is 651-201-3920.
Twin Cities Catholic churches make changes
Coronavirus worries are bringing changes to the way Mass will be celebrated at Catholic churches in the Archdiocese of Saint Paul and Minneapolis.
Archbishop Bernard Hebda made recommendations to clergy, parish staff and those attending Mass intended to help minimize the spread of the coronavirus in Minnesota.
He's suggested several temporary changes to elements of the Mass, including not doing the Sign of Peace, or recommending that people greet each other without touching; asking that people not hold hands during the Our Father prayer; and suspending Communion directly from the chalice.
Hebda also encouraged churches to empty holy water fonts, to place hand sanitizer where parishioners can access it before receiving the Eucharist, and to remind those offering communion to sanitize before and after the distribution of the Eucharist.
He's also asking parishioners to stay home if they're sick, and reassured Catholics they are relieved of their Sunday obligation to attend Mass if they are ill or caring for someone who is sick.
University of Minnesota updates
Instructors at the University of Minnesota are being asked to start thinking about how they might move their coursework for the spring semester online, if such a step is needed.
In a campus-wide email, university President Joan Gabel wrote that she's established a leadership policy committee to manage the university's preparation and response to the virus.
"I have also requested units, departments, colleges, and campuses across our system to share their respective COVID-19 contingency plans and preparations. The information they have provided is invaluable to our work to ensure that all members of our University community remain healthy in every sense," Gabel wrote. "In that same spirit, I echo the Spring Break message I sent to students on the Twin Cities campus yesterday in stressing the importance of taking steps to prevent the spread of any respiratory virus by practicing good hygiene, including by washing your hands."
Insurance companies waive fees
Two Minnesota-based insurance companies have announced that they will not charge for costs for testing for possible cases of the coronavirus.
Blue Cross and Blue Shield of Minnesota said it will cover the "full cost of medically necessary diagnostic tests for COVID-19."
UCare is waiving all copays, coinsurance or deductibles for doctor-ordered COVID-19 tests.
In a statement, Blue Cross Blue Shield said it will cover the cost where it is not covered as part of a public health service response. It's also expanding access to telehealth and nurse/provider hotlines.
Blue Cross Blue Shield said it will waive early medication refill limits on all 30-day prescription maintenance medications, and is encouraging members to use their 90-day mail order benefit.