Periods of showers and thunderstorms Sunday and Sunday evening
Severe weather possible
Let's start with the fog. Light winds allowed temperatures to fall to the dew point in many areas overnight, and some spots have dense fog. A dense fog advisory continues until 9 a.m. this Sunday for the gray-shaded areas on this map:
Here are details of the dense fog advisory:
URGENT - WEATHER MESSAGE National Weather Service Twin Cities/Chanhassen MN 447 AM CDT Sun May 24 2020 MNZ051>053-061-063-069-070-076>078-083>085-092-093-WIZ014-023-024- 241400- /O.CON.KMPX.FG.Y.0004.000000T0000Z-200524T1400Z/ Sherburne-Isanti-Chisago-Anoka-Washington-Scott-Dakota-Le Sueur- Rice-Goodhue-Blue Earth-Waseca-Steele-Faribault-Freeborn-Polk- St. Croix-Pierce- Including the cities of Elk River, Cambridge, Center City, Blaine, Stillwater, Shakopee, Hastings, Le Sueur, Faribault, Red Wing, Mankato, Waseca, Owatonna, Blue Earth, Albert Lea, Osceola, Hudson, and River Falls 447 AM CDT Sun May 24 2020 ...DENSE FOG ADVISORY REMAINS IN EFFECT UNTIL 9 AM CDT THIS MORNING... * WHAT...Visibility one quarter mile or less in dense fog. * WHERE...Portions of northwest and west central Wisconsin and central, east central, south central and southeast Minnesota. * WHEN...Until 9 AM CDT this morning. * IMPACTS...Hazardous driving conditions due to low visibility. PRECAUTIONARY/PREPAREDNESS ACTIONS... If driving, slow down, use your headlights, and leave plenty of distance ahead of you.
Thunderstorm chances
The thunderstorms that were over southwestern Minnesota early Sunday morning are expected to spread eastward as we go through the morning hours. Another batch of thunderstorms is possible late this afternoon and this evening.
The National Oceanic and Atmospheric Administration's North American Mesoscale (NAM) forecast model shows this potential rain pattern Sunday morning through Sunday evening:
The morning batch of thunderstorms may contain some areas of heavy rainfall and hail, along with strong wind gusts. Some of the late afternoon and evening thunderstorms may become severe.
The National Weather Service Storm Prediction Center shows a slight risk of severe weather Sunday and Sunday night in portions of southern Minnesota and the southern edge of the Twin Cities metro area. Slight risk means that scattered severe thunderstorms are possible. The slight risk area is shaded yellow in this NWS graphic:
The remainder of the metro area plus parts of southern and central Minnesota and western Wisconsin are in a marginal risk of severe weather Sunday and Sunday night, which means that an isolated severe thunderstorm is possible.
_______________________________________________________________________________
Mid-morning update
The NWS Storm Prediction Center's updated severe weather outlook no longer shows a slight risk of severe weather today or this evening in southern Minnesota. The updated outlook shows a marginal risk of severe weather from the southeastern part of the Twin Cities metro area into southeastern Minnesota and western Wisconsin: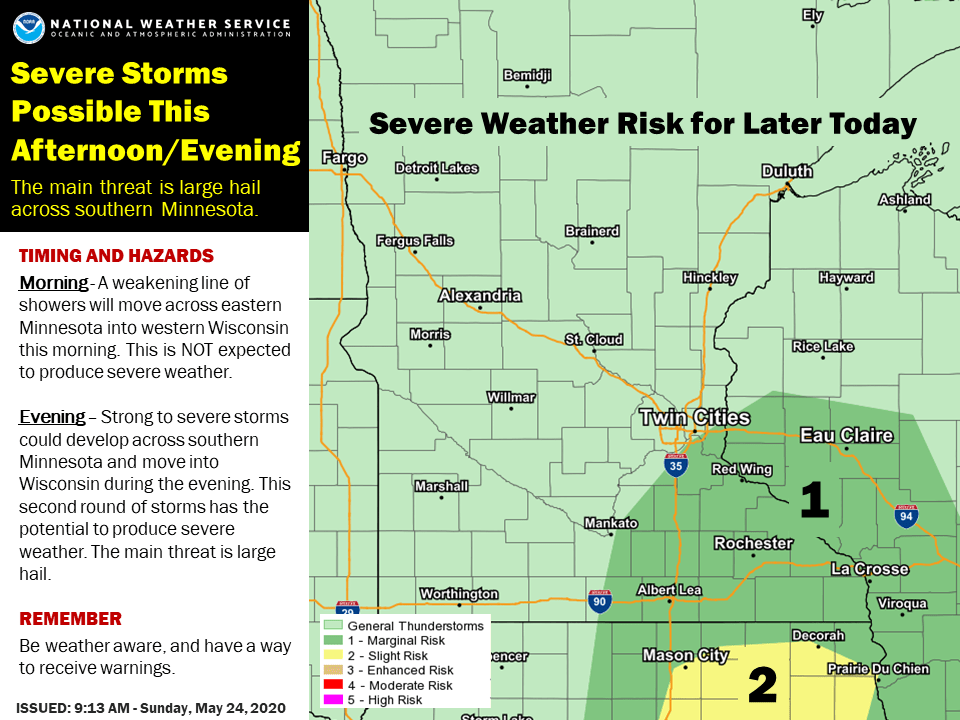 Marginal risk means that an isolated severe thunderstorm is possible.
________________________________________________________________________________
You can hear updated weather information on the MPR network, and you'll see updated weather info on the MPR News live weather blog.
Temperatures
Sunday highs will be mainly in the 70s:
A few spots in southeastern Minnesota and western Wisconsin may top 80.
Dew point temperatures will be in the sticky 60s Sunday afternoon across much of central and southern Minnesota and western Wisconsin:
Updraft will be updated by around 10 a.m. with a look at Memorial Day and the week ahead.
Programming note
You can hear my live weather updates on MPR News at 7:35 a.m., 9:35 a.m. and 4:35 p.m. each Saturday and Sunday.