Twin Cities mosque bomber gets 53 years in prison
Updated: 8:33 p.m.
The leader of an Illinois anti-government militia group who plotted the 2017 bombing of a Minnesota mosque was sentenced Monday to 53 years in federal prison.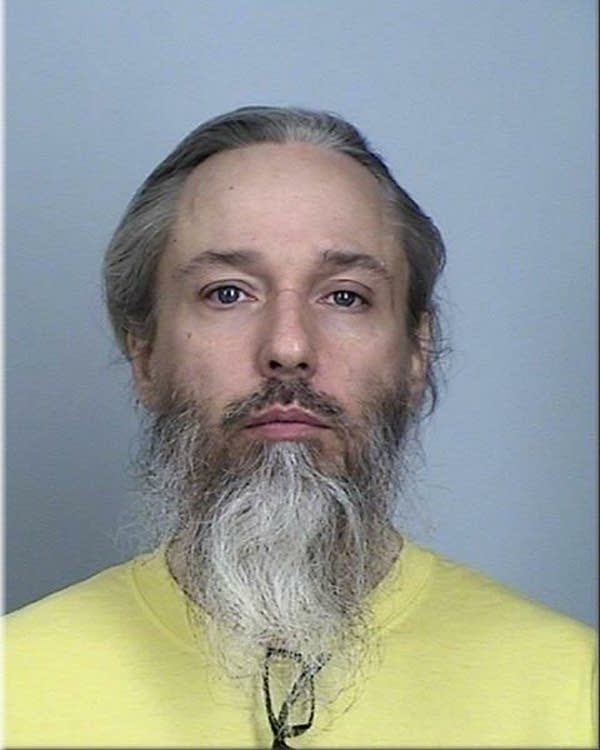 A federal jury had convicted Emily Hari, previously known as Michael Hari, last December of hate crime and explosives charges for the firebombing of the Dar Al Farooq Islamic Center in Bloomington.
While no one at the mosque was physically injured, Dar Al Farooq leaders and congregants on Monday spoke of the emotional scars that remain. Prosecutors were seeking life in prison.
Mohamed Omar, an imam and the mosque's executive director, was behind a brick wall in the room next door when the bomb went off. At a news conference after the hearing, Omar said he's happy with the 53-year sentence.
Grow the Future of Public Media
MPR News is supported by Members. Gifts from individuals power everything you find here. Make a gift of any amount today to become a Member!
"I got a second chance to stand up for justice and to make sure that our community, my community and communities of faith live in this country with honor and [dignity] and not be terrorized," Omar said.
"We came out of here with a lot of hope to move forward to keep building our community and to keep being resilient," said Abdulahi Farah, an organizer with the Muslim Coalition of Isaiah.
Omar and Farah were among nearly two dozen people who gave statements during the daylong sentencing hearing. Mosque members and others in the Twin Cities Muslim community said the psychological trauma from the bombing is still fresh.
Amal Said, whose children attend a charter school in the same building, told the court, "I worry about strangers walking in the neighborhood, about cars driving behind us. I didn't feel like my daughters and I were safe at home anymore."
Outside the courthouse, acting U.S. Attorney Anders Folk, whose office handled the three-and-a-half-year prosecution, praised those who testified.
"We heard from 21 community members in court today — men, women, children — who all highlighted the pain, who all highlighted, perhaps more importantly, the suffering they have felt since that day. They exemplified courage and strength in response," Folk said.
U.S District Judge Donovan Frank said he was compelled to take Hari's intent into account. "It was clearly an act of domestic terrorism against a religious group," Frank said.
In a brief statement before sentencing, Hari, 50, described the mosque bombing victims' statements as "heartbreaking," adding, "I want to wish them God's richest blessings in Christ Jesus."
In court documents filed since the conviction, Hari's attorney Shannon Elkins said her client has gender dysphoria and uses the legal name Emily.
In court Monday, Elkins said the defense wasn't blaming gender dysphoria for the mosque bombing but that online "misinformation" and Islamophobia, combined with Hari's mental health issues led Hari to attack Dar Al Farooq.
The judge said he was prepared to recommend that Hari be sent to a women's prison. He noted that a federal Bureau of Prisons panel will evaluate Hari, but that the bureau is not required to follow the prison recommendations of judges.
After the sentence came down, Elkins told reporters Hari plans to appeal.
The jury in the case found Hari of Clarence, Ill., guilty of all five counts, including hate crime and explosive charges. Prosecutors said Hari planned the attack and built a pipe bomb using black powder. They also say Hari recruited two men to drive along from Illinois to attack the mosque. Michael McWhorter, 32, and Joe Morris, 26, pleaded guilty. They have not been sentenced.
Shrapnel from the 10-pound bomb pierced chairs and desks inside Dar Al Farooq. The attackers also tossed in a container of gasoline and diesel fuel at around 5 a.m.
The bombing caused many members of the congregation to leave, and the mosque became the focus of white supremacists across the country, added Omar, the mosque's executive director. "This is where everybody should feel safe when they come to worship."
Frank set a restitution hearing for Oct. 4.