Three ex-cops' trial in Floyd killing enters second week
Updated 2:20 p.m.
Testimony continued on Monday morning from Minneapolis police Inspector Katie Blackwell in the federal trial of three former Minneapolis police officers. Blackwell testified last week that the defendants had not followed department training or policies in restraining Floyd and failing to intervene with Derek Chauvin.
Defense attorney Robert Paule played training videos Monday, which explained the concept of "excited delirium" to officers and showed officers repeatedly using their knees to restrain individuals. Blackwell said the videos were meant to help officers identify "excited delirium," not to demonstrate how officers should restrain people.
Defense attorneys questioned Blackwell on why training materials showed officers restraining people by kneeling on their back and necks. They also pressed her on where the department draws the line in its duty to intervene policy.
Prosecutors will likely bring more policing and medical experts to the stand this week. The U.S. Attorney's Office is seeking to convince jurors at the federal courthouse in downtown St. Paul that the former officers abused their authority and violated George Floyd's civil rights.
Grow the Future of Public Media
MPR News is Member supported public media. Show your support today, donate, and ensure access to local news and in-depth conversations for everyone.
Floyd was killed in police custody in May 2020 after one of the defendants' colleagues, Derek Chauvin, knelt on the handcuffed man's neck for more than nine minutes.
Testimony last week began with body camera footage showing police confronting Floyd and then taking him to the ground as bystanders begged for them to release him. It ended with testimony from a Minneapolis police inspector who said the three former officers didn't comply with their training or department policies.
Tou Thao, J. Alexander Kueng, and Thomas Lane are all charged with failing to provide medical treatment for the dying man. Thao and Kueng are also charged with failing to intervene as Chauvin used excessive force.
"You'll hear that the medical aid that would have saved George Floyd's life was as simple as that, turning George Floyd on his side so his heart kept beating," prosecutor Samantha Trepel said at the beginning of the trial.
Floyd's killing was captured in a bystander video, Thao's attorney Robert Paule said the video that went viral doesn't show what led up to the officers' actions.
"The death of Mr. Floyd is indeed a tragedy, as the death of any human being is a tragedy as well," Paule said last week. "However, a tragedy is not a crime."
Kueng's attorney Thomas Plunkett said Floyd's death was due to the Minneapolis Police Department's failure to provide training and support.
"This case is about a tragic tale, about a rookie officer less than three shifts into his career as a Minneapolis police officer, that was confronted with a complex, rapidly unfolding set of circumstances," Plunkett said of his client.
On police body camera footage, Lane is heard asking twice whether officers should flip Floyd over. Later footage shows Lane performing CPR in an ambulance. Lane's attorney Earl Gray told jurors the government's prosecution of the former officer was a "perversion of justice."
"Mr. Lane, from the beginning of the time that he came into contact with George Floyd to the time that he walked out of that ambulance, he was totally concerned and did everything he could possibly do to help George Floyd," Gray told jurors.
Prosecutors played video of the officers' confrontation and detention of Floyd after staff at a corner store pointed Floyd out as the person suspected of paying for cigarettes with a counterfeit $20 bill. Lane taps on a vehicle's window, visibly startling Floyd. Lane demands to see Floyd's hands, then the officer quickly draws his gun.
After handcuffing him, Lane and Kueng lead Floyd across the street and attempt to force him into the back seat of a squad vehicle. He doesn't comply, telling officers that he is claustrophobic.
On the video, Chauvin arrives and takes Floyd to the ground on the other side of the squad with his knee on Floyd's neck. Kueng and Lane position themselves on Floyd's back and legs. Floyd repeatedly tells them he can't breathe and begs to be let up. A group of bystanders gather and tell officers that Floyd is dying and plead for the officers to get off of him. Thao keeps them back.
South Minneapolis resident Charles McMillian was the first bystander to witness the incident. He testified that he begged the officers to "leave him breathe," because a friend died in the back of a squad car, "and I didn't want that to happen to George Floyd."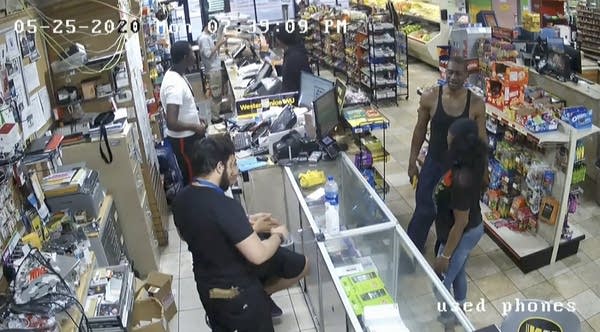 A 911 dispatcher also testified that she was so alarmed by surveillance camera footage of the officers on Floyd that she called the police sergeant on duty.
Prosecutors also called a paramedic and an emergency room doctor who both testified that Floyd never showed signs of a regular pulse.
Defense attorneys highlighted a controversial condition called "excited delirium," which paramedic Derek Smith said is defined by a lack of compliance with orders and "superhuman" strength.
Dr. Bradford Wankhede Langenfeld said "excited delirium" is controversial because it's almost always used in cases where law enforcement restrained a person of color. Langenfeld said he concluded Floyd had "too long a period of time with inadequate or no oxygen."
Toward the end of the week, prosecutors called the Minneapolis Police Department's former trainer, Inspector Katie Blackwell, who said that officers are taught to avoid keeping people in the prone position and turn them quickly on their sides "because side recovery helps them breathe better."
Blackwell testified that the three former officers acted inconsistently with department policies and training, including the department's "use of force" and "duty to intervene" policies.
Defense attorneys challenged Blackwell's conclusions, arguing that the training on subjects like "duty to intervene" have been inconsistent or non-existent.
The number of people in the courtroom each day is limited due to social distancing restrictions. U.S. District Judge Paul Magnuson also chose to seat six alternates in case of a COVID-19 outbreak.
Chauvin was convicted of murder in Hennepin County District Court last spring. He pleaded guilty last month to federal charges that he violated Floyd's civil rights. 
The three former officers are also charged in state court with aiding and abetting murder and manslaughter in Floyd's death. That trial is set for June.