Dozens flood Mpls. City Hall with ethics complaints against Mayor Frey
Many are calling for Frey to resign over his handling of the police shooting of Amir Locke
Dozens of Minneapolis residents filled the City Hall rotunda Friday to file ethics complaints and express their disapproval of Mayor Jacob Frey for his handling of the police killing of Amir Locke. Many also called for Frey to resign.
Critics say Frey lied about banning no-knock warrants after the murder of George Floyd for months while he sought reelection in November. In a recent interview with MPR News, Frey addressed the issue, saying "The communication around this, it condensed. There was more brevity."
"That's the part that we just need to own," he continued. 
Following Frey's policy announcement in November 2020 about no-knock warrants, Minneapolis police SWAT reportedly used no-knock warrants dozens of times. And earlier this month, Minneapolis officer Mark Hanneman shot and killed 22-year-old Locke during a no-knock raid at a downtown apartment.
Grow the Future of Public Media
MPR News is supported by Members. Gifts from individuals power everything you find here. Make a gift of any amount today to become a Member!
13 of 13
1 of 13
2 of 13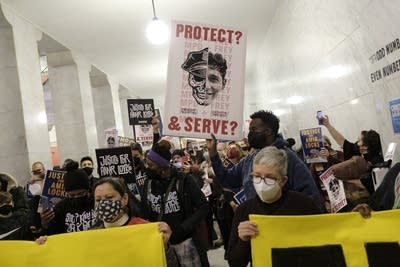 Newly elected council member Robin Wonsley Worlobah, who represents the eastern part of the city, has also called on the mayor to resign.
She told fellow council members this week that Frey should step down because he has not been able to spearhead tangible or cultural changes within the Police Department despite having control over the department for the last five years.
"What City Council can do as a body is [to] resist being silent, and actively challenge an entity that continues to harm our city, and that the mayor allows them to do this," she said.
Activists say they submitted over 1,000 complaints. However, the city said as of late afternoon they'd received 235.
The city says the Minneapolis ethics officer will review the pending complaints and dismiss any duplicates, meaning the Ethics Board will only be dealing with one complaint. If the ethics board finds probable cause, there could either be an offer to remedy the situation like coaching, or a hearing, which would include witnesses and evidence like a trial. 
The City Council has final authority in setting any sanctions against an elected official.