Basketball coach Tamara Moore blazes new path at Iron Range college
Tamara Moore has always been a trailblazer. 
In 1998 she was named the first African American Ms. Basketball in Minnesota as a senior at Minneapolis North Community High School. She played in the Minneapolis inner-city all-star classic game for boys — because there wasn't a game for girls. 
After a long pro career overseas and in the WNBA, including a season with the Minnesota Lynx, she coached a semi-pro men's team and then founded a new men's minor basketball league.
MPR News is Member Supported
What does that mean? The news, analysis and community conversation found here is funded by donations from individuals. Make a gift of any amount today to support this resource for everyone.
And now, in the small Iron Range city of Virginia in northeastern Minnesota, Moore, who's 41, is blazing another trail at Mesabi Range College as the first African American woman — and one of only three women ever — to be the head coach of a men's college basketball program.
"To be able to say that I could make some history and help to turn around a program and be coaching in the college men's ranks — that's how I got here," she said.  
Still, when Moore was hired two years ago, she said she wasn't ready for the crush of interest. She heard from Billie Jean King and several of her former WNBA teammates. She estimates she did 50 interviews, from the Kelly Clarkson Show to BBC World News. "It was nerve-wracking. But I was excited."
'Fun aunt, but disciplinary mother'
Moore admits that before she applied for the job, she had never even heard of Virginia, Minnesota. 
She was coaching the girls' basketball and volleyball teams at Edison High School in Minneapolis when the Mesabi Range volleyball coach called her up to ask about one of her players. 
That coach, it turned out, was her guidance counselor from high school, who told her the college had just posted the men's coaching position. Moore applied and got the job. 
Her first season was canceled because of the pandemic. So this is her first season on the bench of the Mesabi Range Norsemen, who compete as a Division III junior college program — the lowest of seven divisions in college basketball. 
1 of 2
2 of 2
During a recent blowout win over Vermillion Community College from the nearby town of Ely, Moore didn't sit down for the entire first half, issuing a steady stream of instructions and encouragement. 
"Still 17 left on the shot clock!" she shouted. "Knock it down!" she yelled, as one of her players drained a three-pointer. 
Her roster is made up mainly of players from the Twin Cities. Moore said she wants to give more young people from her community a chance to go to college.
Moore said she learned about the police killing of Amir Locke, a family friend, during halftime of one of their games. 
"And I told [the players], that's why I'm happy you're here, because I want you guys to be experienced shooting those basketballs instead of what's happening in the community right now." 
1 of 2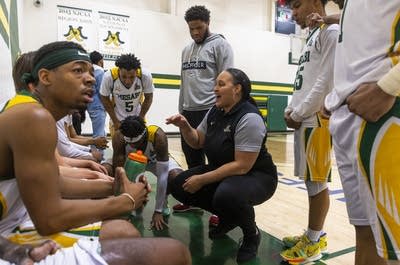 2 of 2
Moore has also recruited student-athletes from around the country, from Florida to Texas to Kentucky. 
She says she's heard all the stereotypes — that women aren't smart enough to coach the men's game, that she wouldn't be able to earn the respect of her players. 
But with both her team and potential recruits, she said her resume speaks for itself. 
"Because as soon as they see I played in the WNBA, as soon as they see I got drafted and I got the chance to play overseas, they're like, 'You've lived the life that we want to aspire to be and be able to play at the highest level.' So they don't care after that," she said.
Moore wears multiple hats at Mesabi Range. She also serves as the school's softball coach and housing director. 
"I see myself as like, the fun aunt, but disciplinary mother," she said. "I can sit down and play Fortnite with my players. I can go and we can play dodgeball in the gym. But if they're sick, if they're hurt, I'm the one that they call, because they are far away from home."
That culture is what attracted Mark Campbell to come play for Moore, after he graduated from Patrick Henry High School in Minneapolis in 2020. 
"It's like a whole family vibe," Campbell said during a recent practice. "She honestly cares. She's a very genuine person. 
His teammate Nataj Sanders from Louisville, Ky., says his dream is to play professionally in Italy. And he believes with Moore's experience, she can help get him there. 
Playing for a woman, he says, is not an issue. "I grew up in an all-woman household," he said. "So it ain't nothing new." 
In fact, Moore isn't even his first female coach. "My mother coached me when I was little," Sanders said, laughing. 
But while it may not be that big a deal to her players, what Moore is doing is extremely rare. 
Nicole LaVoi, director of the Tucker Center for Research on Girls & Women in Sport at the University of Minnesota, said in college athletics, only around two to four percent of all men's teams are coached by women. And that's typically in sports such as cross country, tennis or swimming and diving. 
"Women coaches of color, like Tamara, are in the minority of the minority," said LaVoi. "We rarely, if at all, see women of color being given opportunities to coach men." 
And while she's encouraged that Moore has earned this chance, "the downside is that if she doesn't perform well, we know because of racial and gender bias that people might think that all women, or all black women, cannot coach men at the collegiate level."
'Keep the history going'
Moore's first year has been a challenge on the court. The team has lost about twice as many games as it's won. 
But Moore insists that record doesn't reflect the progress the team has made. Many of those losses have been tight games in which Mesabi Range led within the final ten minutes. The team has already won more games than the year before she took over the program. 
Moore says she dreams of eventually coaching a major Division I program — women's, or men's. 
She's inspired by former WNBA teammates who've also broken coaching barriers, including Becky Hammon, former assistant coach of the San Antonio Spurs, and Teresa Weatherspoon, current assistant with the New Orleans Pelicans. 
"Just to keep the history going, I want to try to get as high into the men's ranks as I can, but I'm always open to a woman's job as well, as long as I get to keep teaching the game and keep coaching the game."
Moore says she's planning to stay for at least two more years on the Iron Range.  After that, who knows? There's always more history to be made.