Very nice on Monday; then warmer temps
Soaking rain continues in southern Wisconsin
It was a beautiful weekend. We had plenty of sunshine, and Twin Cities highs were 75 on Saturday and Sunday. That's appropriate, since 75 is our average Twin Cities high temp this time of year.
Temperature trends
Low temps late Sunday night and early Monday will be in the 40s across most of Minnesota, with a few spots in northern Minnesota dipping into the 30s.
Monday highs will range from the upper 70s in western Minnesota to lower 70s in northeastern Minnesota and the far southeast: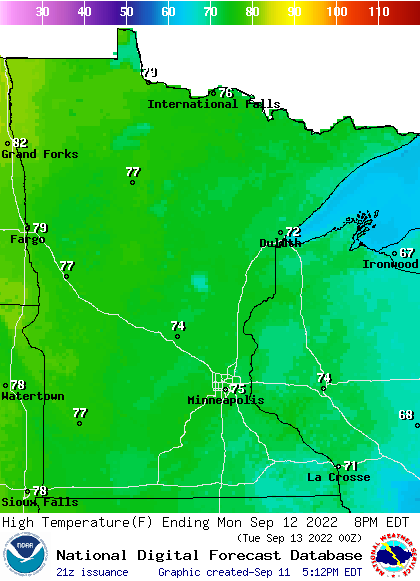 A few spots in the metro area could touch 76 degrees. Twin Cities metro area highs are projected to be around 80 on Tuesday, followed by lower 80s Wednesday through Friday.
We could see metro area highs in the upper 70s next weekend and above-normal temps the following week. The NWS Climate Prediction Center shows a tendency for above-normal temps in Minnesota and Wisconsin from Sept. 19 through Sept. 25:
MPR News is Reader Funded
Before you keep reading, take a moment to donate to MPR News. Your financial support ensures that factual and trusted news and context remain accessible to all.
Above-normal temps doesn't necessarily indicate hot weather in mid and late September; our average Twin Cities high temp on Sept. 19 is 72 degrees.
Soggy in southern Wisconsin
A nearly stationary low pressure system has delivered heavy rain to portions of southern Wisconsin and northern Illinois today. A flood watch covers much of southern Wisconsin Sunday night and Monday:
Additional rain is on the way. The National Oceanic and Atmospheric Administration's North American Mesoscale (NAM) forecast model shows the potential rain pattern from 6 p.m. Sunday to 5 p.m. Monday:
NOAA's High-Resolution Rapid Refresh (HRRR) model shows a similar rain pattern:
Far southeastern Minnesota could see a few passing showers on Monday.
You can track showers and thunderstorms on the new interactive radar on the MPR weather page. You can pan and zoom the radar display on our site to see rain at your location, across all of Minnesota, western Wisconsin and beyond.
We have updated weather information for Minnesota and western Wisconsin on the Minnesota Public Radio News network, and on the MPR News live weather blog.
Programming note
You can hear my live weather updates on MPR News at 7:35 a.m., 9:35 a.m. and 4:39 p.m. Saturday and Sunday.