Scattered showers increasing Saturday; mild but windy Sunday
I hope your rain gauge has been more successful than mine in recent weeks. Mine measured just 11 one-hundredths of an inch (.11) on Friday for a meager total of 29 one-hundredths of an inch (.29) so far this month. The drought continues to expand.
Saturday morning has brought sunny skies to southwestern Minnesota. As we go through the day, cyclonic spin in the atmosphere will generate more clouds and some showers. Already this morning there are showers in the northwestern corner of the state.
Showers will gradually increase in coverage, track southeastward and dampen many areas of northern and eastern Minnesota. The Twin Cities could see rather brief showers by mid or late afternoon. Rainfall amounts are likely to be light.
Most of Minnesota will have afternoon high temperatures in the 60s while the northeast corner lingers in the upper 50s. The Twin Cities high will likely be near 66 with a fairly light southerly breeze gradually becoming northwest by late afternoon.
Windy Sunday
Sunday will be a cheerier but windy day. Look for more sunshine but also a hang-onto-your-hat northwest wind gusting over 30 mph in open areas. Scattered light showers will linger over the Arrowhead.
High temperatures will hold in the upper 50s in the northeast and 60s for the rest of the state. The sunshine should push the Twin Cities to about 68 degrees.
MPR News is Reader Funded
Before you keep reading, take a moment to donate to MPR News. Your financial support ensures that factual and trusted news and context remain accessible to all.
Storm-free week coming
Needed rain will not be coming our way next week. Seasonable temperatures on Monday will cool for Tuesday and Wednesday when the Twin Cities should have highs around 60.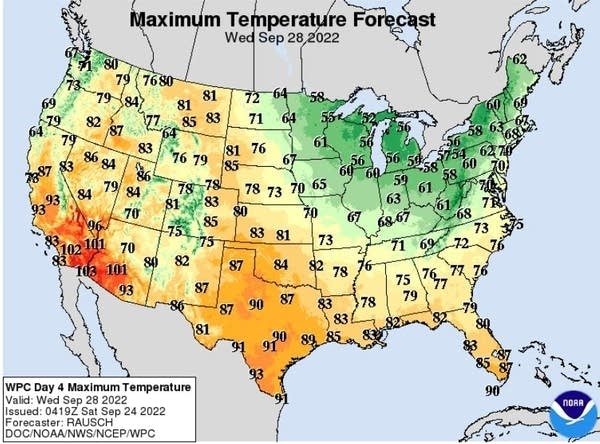 Look for a warming trend for Friday and next weekend.
Busy Atlantic
The Atlantic hurricane season certainly has come to life. Here is the big picture as of Saturday morning:
What was Hurricane Fiona that blasted Puerto Rico and Bermuda is now Post-Tropical Storm Fiona blasting the Canadian Maritime Provinces with heavy rain and powerful winds. Maximum sustained winds this morning are about 80 mph.
Topical Storm Gaston is wandering around the Azore Islands.
Tropical Storm Hermine has formed off the west coast of Africa, a common location for the early development. of tropical storms.
The big boy on the map this week will be what is now Tropical Storm Ian over the Caribbean Sea. Ian is forecast to strengthen into a major hurricane as it curls toward the southeastern United States.
Current forecast models indicate that the eye of Ian is most likely to cross western Cuba and strike Florida around midweek. Forecast intensities and tracks could easily change over the next few days.