Voter guide: See 5th District candidates' stances on police reform, health care, more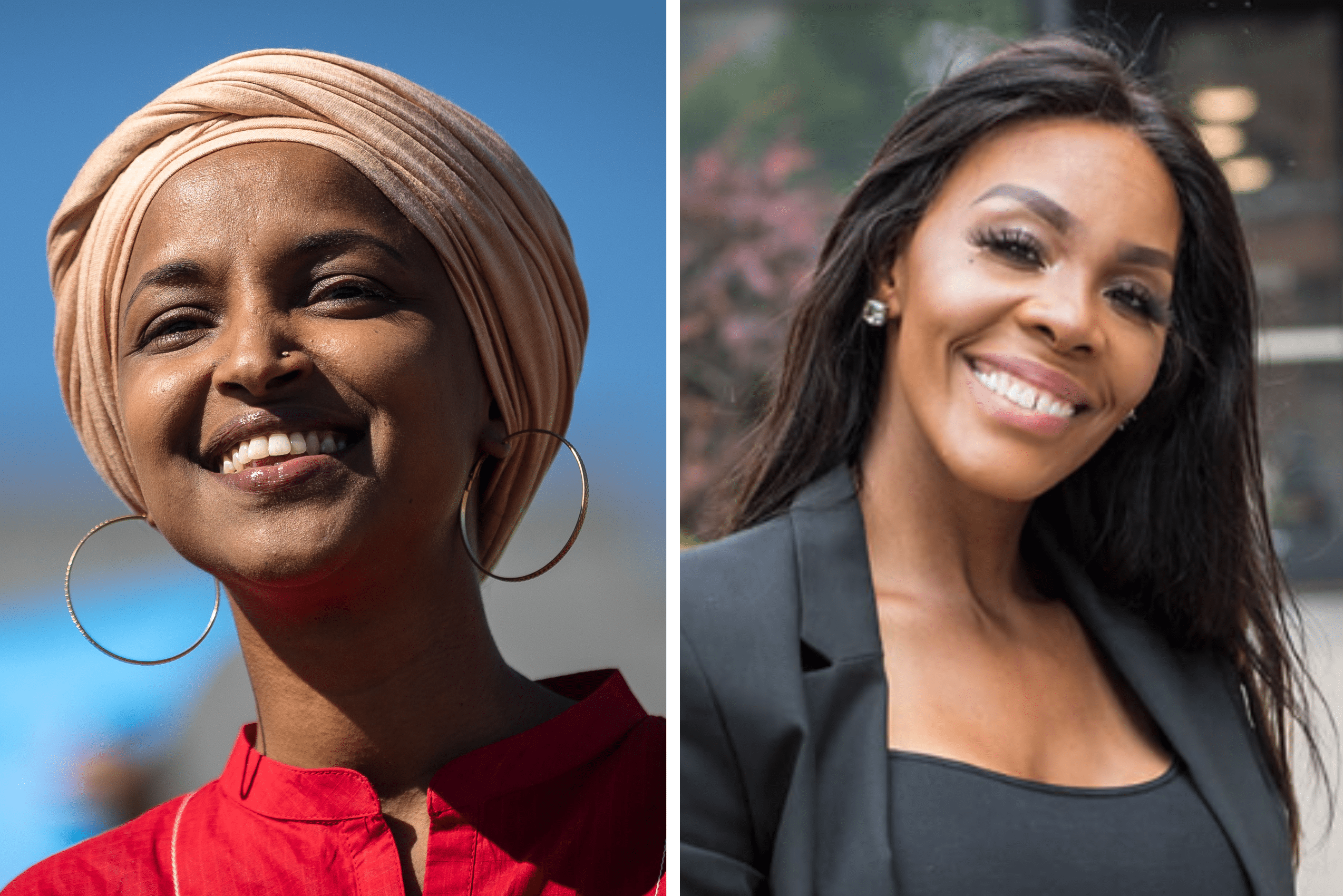 Published: Oct. 6 | Updated: Nov. 4
Minnesota has eight seats in the U.S. House of Representatives, and all of them are up for election this fall. In the 5th Congressional District, Rep. Ilhan Omar, a Democrat, is facing Republican newcomer Cicely Davis.
Omar was first elected in 2018, when she became the first Somali-American lawmaker in the country. She ran against Don Samuels in the primary this year and won by a small margin.
The 5th Congressional District, which covers all of Minneapolis as well as eastern Hennepin County, part of Anoka County and Ramsey County, leans solidly left. Omar won by almost 40 percent in 2020.
Davis recently worked for Blexit MN, a conservative think tank founded by political commentator Candance Owens.
Grow the Future of Public Media
MPR News is supported by Members. Gifts from individuals power everything you find here. Make a gift of any amount today to become a Member!
Here's where each candidate stands on the top issues for Minnesotans.
Abortion
Davis: She told the Star Tribune, "The right to choose is solidified in the Minnesota Constitution. I believe in respecting all life from conception to natural death."
Omar: She supports abortion access and was arrested in Washington, D.C. during an abortion rights protest outside the Supreme Court shortly after Roe v. Wade was overturned. She tweeted, "Our reproductive rights are under assault across the country, thanks to an extremist court with little regard for precedent or our basic rights. I will do whatever it takes, including putting my body on the line, to protect our reproductive rights."
Crime, police and public safety
Davis: On her website, she draws a correlation between rising crime in Minneapolis and the city council's decision in December 2020 to take nearly $8 million from Minneapolis police's $179 million budget. She told the Star Tribune, "Congress should fund local programs for school safety, collective actions and treatment of mental health and overall violence prevention."
Omar: She wants to "demilitarize police departments and push for federal investigations into local departments who utilize practices like arrest quotas." During her time has representative she has supported bills that would create a federal agency responsible for investigating killings by police officers, make it a crime for officers to injure or kill peaceful protesters, restrict no-knock warrants, and replace the city's Police Department with a public safety agency. She supported a 2021 Minneapolis ballot question that would have abolished the city's police department and created a new department of public safety.
Education
Davis: She supports "school choice" and eliminating "critical race theory" from classrooms. She said, "We can't continue to breed new generations of kids that are taught to hate America, which begins early in too many classrooms."
Omar: She has said access to pre-kindergarten and child care must be guaranteed in America and she has been vocal about investing in debt-free college and canceling student debt.
Environment and climate change
Davis: She told the Star Tribune, "I firmly believe in incentivizing the development of cheaper, cleaner energy."
Omar: She is among the most vocal proponents of the Green New Deal, which calls for a new House select committee to draft broad legislation that would make the United States economy carbon-neutral and remove greenhouse gases already in the atmosphere and oceans. She also supports the creation of "green jobs" in Minnesota and introduced a bill help cities invest in zero-waste initiatives.
Farming and rural Minnesota
Davis: MPR News could not find recent public comment on the issue.
Omar: MPR News could not find recent public comment on the issue.
Guns
Davis: She tweeted on Nov. 12, 2021 that "The rioting last year solidified the importance of gun ownership and the Second Amendment. Radicals are afraid of this. That is why Kyle is being attacked and persecuted," referring to Kyle Rittenhouse, who was acquitted after killing two men and wounding another during protests in summer 2020 in Kenosha, Wis. She also told the Star Tribune she thinks there should be tougher penalties for straw gun purchases, which is when someone buys a gun for someone else who is prohibited from possessing one.
Omar: She supports initiatives to require universal background checks for all people buying guns. She wants to close the gun show loophole, where people can buy guns without having to register them; fund grants to communities to improve local record keeping and reporting to the National Instant Criminal Background Check System; and ban the sale of assault weapons and support funding and accessibility to mental health resources.
Health care
Davis: MPR News could not find recent public comment on the issue.
Omar: She supports the proposed expansion of Medicare, also known as "Medicare for All," as well as lowering costs for pharmaceutical drugs and providing "equal access for reproductive health" including abortion access and free contraception for all.
Immigration
Davis: She supports "efforts to secure our southern border and hold illegal immigrants accountable for the laws they break."
Omar: She supports abolishing U.S. Immigration and Customs Enforcement and "ending all inhumane deportation and detention programs." She has been a refugee and criticized President Donald Trump's 2017 travel ban as an attempt "to wrap their hateful policy up in a false story about national security." 
Jobs and economy
Davis: She has said "we need smaller government, less spending and lower taxes." She told the Star Tribune, "Minnesota families are struggling. We need permanent tax cuts to allow families to use their money as they need it."
Omar: She supports expanding employer-provided benefits, improving the living conditions of workers and creating a fair, progressive tax system. She told the Star Tribune, "The Inflation Reduction Act is a great first step. Holding corporations accountable for anti-competitive behavior and making health care, child care and education more affordable are next."
The 2020 Election
Davis: MPR News could not find recent public comment on the issue.
Omar: She said President Donald Trump attempted "to overturn the election results and stop our country's sacred tradition of a peaceful transition of power." She was at the U.S. Capitol during the Jan. 6, 2021 insurrection, which she has called a "coup attempt," and within 24 hours she helped file articles of impeachment to remove Trump from office.
Ask MPR News
Additional Resources
Election 2022: View more voter guides and resources.

Populist: Research incumbents, learn about incumbent records, and see what's on your ballot.

APM Research Lab: See the latest polls and learn about who is contributing to the campaigns.