Updates: Travelers, schools affected as winter storm blankets Minnesota
Updated 5:45 p.m.
Snow started falling Wednesday morning in parts of western Minnesota as the first waves of what's shaping up to be a major winter storm moved into the region.
City, county and state plow crews were preparing for long shifts to clear highways across Minnesota. Many school districts canceled classes or announced they'll release students early on Wednesday. And utility companies were bracing for another round of possible power outages.
13 of 13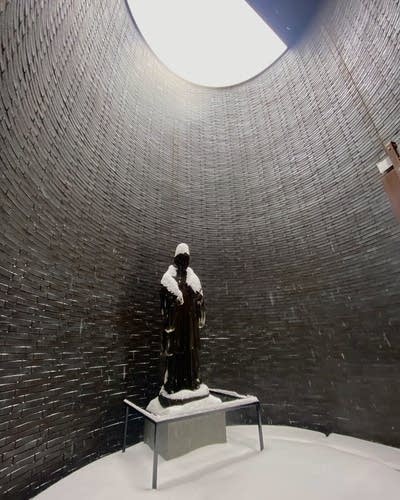 1 of 13
2 of 13
Winter storm warnings went into effect Wednesday across much of southern, central and northeast Minnesota. In many of those same places, blizzard and wind chill warnings will go into effect on Thursday.
The National Weather Service said 5 to 8 inches of snow is expected by late Wednesday in a swath from Mankato and New Ulm north and east to the Twin Cities, St. Cloud and Duluth.
MPR News is Member Supported
What does that mean? The news, analysis and community conversation found here is funded by donations from individuals. Make a gift of any amount today to support this resource for everyone.
Then winds are forecast to pick up Thursday into Friday — gusting as high as 50 mph and causing whiteout conditions and dangerous wind chills.
Forecasters say travel may become impossible in parts of the region.
Army of plows on the road
Ahead of that, an army of snowplows started to fan out on highways across Minnesota on Wednesday morning.
"We do anticipate all crews to really be in action across the state," said Anne Meyer, a spokesperson with the Minnesota Department of Transportation. "So that's 200 plows in the metro area, 400 drivers — and then statewide you're looking at 800 snowplows, 1,600 drivers. That'll help in addressing some of those overnight issues. Many crews will be working 12-hour shifts to keep snowplows on the road 24 hours a day, to really tackle what we're gonna get from Mother Nature."
In addition to MnDOT plows, city and county crews will be out, too. Meyer said drivers should check road conditions on the state's 511 website and should try to avoid driving during the worst of the storm.
No major flight issues yet
Wednesday was expected to be one of the busiest travel days before Christmas this year, as people try to leave for the holidays before the worst of the winter weather moves in.
The airport expected to see around 34,000 travelers through airport checkpoints, which is several thousand more than had been expected to fly today even a couple of days ago.
Minneapolis-St. Paul International Airport spokesperson Jeff Lea said several travelers moved up plans, but through the morning things moved smoothly.
"In many ways, this is a routine sort of holiday operational plan in the sense that we have peak activity and our partners … plan on that and bring in additional staff where needed," Lea said.
As of 5:45 p.m. there had been 13 cancellations and 221 delayed flights out of MSP, according to FlightAware. Many airlines are waiving fees for changing flights scheduled the rest of this week.
The airport saw long lines at security checkpoints early Wednesday. By late morning and into the evening, though, wait times were under 15 minutes at all TSA checkpoints despite many travelers moving up flights to try to beat winter weather.
Twin Cities airport officials said travelers should keep an eye on the forecast and their flight's status, and expect delays on roads near the airport.
10 of 10
1 of 10
2 of 10
Schools announce closures
A number of Minnesota school districts canceled classes on Wednesday, or announced plans to release students early.
Robbinsdale schools canceled classes Wednesday and tomorrow. Hopkins schools also were closed Wednesday — district officials said that's because of the storm and also because many bus drivers were out sick.
Other school districts closed Wednesday included Westonka, Faribault and Milroy.
Prior Lake-Savage, St. Cloud, Becker, Monticello, Sartell-St. Stephen, Eastern Carver County and Big Lake were among the districts releasing students early Wednesday afternoon. Minneapolis and St. Paul public schools were already off this week for winter break. Check with your local district for updates.
Some cities declare snow emergencies
Some Minnesota cities were already declaring snow emergencies Wednesday afternoon as a multi-day winter storm moves into the region.
Snow emergency parking rules are in effect in Minneapolis, St. Paul, Eden Prairie and Richfield. A snow emergency goes into effect late Wednesday in Brooklyn Center, Robbinsdale and St. Louis Park.
Power outage concerns
In central and northeast Minnesota, utility companies that just restored power to tens of thousands of homes and businesses which lost service amid last week's winter storm were preparing for a potential additional round of outages.
Lake Country Power and Minnesota Power said trees and branches that were weakened — but didn't fall — during the previous storm, may now topple onto power lines during this week's heavy snow and strong winds.
"The biggest threat for power outages is expected to come from trees still loaded down with snow from last week's wet, heavy snowfall. High winds, coupled with low temperatures this week that will make the trees more brittle, could lead to more trees and limbs contacting power lines," Minnesota Power reported. The utility said its crews have "been working since last week's storm to pre-emptively remove trees that threaten power lines and could cause an outage."
"Despite the preventative tree removals, power outages are still possible during this storm. Travel and working conditions are expected to be hazardous and difficult at times and could slow any response during what is expected to be bitterly cold and windy weather."
'Madness' at grocery stores
Grocery stores across the state have been seeing a rush of customers who are both preparing for holiday gatherings and trying to beat the storm.
That includes Superfair Foods in St. James, where a winter storm warning was in effect Wednesday.
"It's been — it's been madness since Monday," said Mason Collier, a store manager. "High influx, lots of customers trying to beat the storm. And then on top of the weather is, you know, the holiday, Christmas, coming up. And that just creates madness."
Full parking lots and long checkout lines are being seen at grocery stores in the Twin Cities and elsewhere around the state, too.
Metro Transit activates cold-weather protocol
With temperatures below zero, Metro Transit activated its cold weather protocol Wednesday. People who need a warm place to stay will not be turned away from the Twin Cities' public transportation if they're unable to pay a fare.
But spokesperson Drew Kerr said the agency does not encourage people to use buses, trains or transit facilities as shelter, and should instead use public transit to access warming centers.
Kerr says managers have directed drivers and other staff to watch for anyone in need of help, and to report the information to dispatchers.
Links for more information
Here's how to keep tabs on forecasts, travel conditions and flight updates over the next few days.
Forecast updates
Winter storm watches are in effect from Wednesday through late Friday for southern, most of central and northeastern Minnesota. That includes the Twin Cities, St. Cloud, Duluth, Rochester and Mankato. Wind chill watches and warnings also are in place for much of the region later this week.
Travel conditions
These state transportation departments offer live updates on road conditions and crashes:
For bus and light rail riders in the Twin Cities, Metro Transit offers weather-related updates on its Metro Transit and Metro Transit Alerts Twitter pages, as well as on its website.
Flight updates
If you're planning to fly from Minneapolis-St. Paul International Airport or another airport around the region — or if you are expecting visitors to arrive by plane — airports offer flight status updates online:
Trail conditions
While a winter storm can cause trouble for travelers, it can be welcome news for skiers, snowmobilers and other winter activity enthusiasts.
The Minnesota Department of Natural Resources offers updates on cross-country ski and snowmobile trail conditions at state parks and along state trails around Minnesota.
The Minnesota Ski Areas Association posts updates on snow conditions at downhill ski and snowboard areas around the state.
The Loppet Foundation posts updates on cross-country ski trail conditions in Minneapolis.
SkinnySki.com shares cross-country ski trail updates from across the state.
MPR News reporters Peter Cox, Jacob Aloi and Andrew Krueger contributed to this report.