Former Minnesota Sen. Dave Durenberger dies at 88
Updated 1:15 p.m.
David Durenberger, who rose from central Minnesota to the United States Senate, died Tuesday at age 88, according to his longtime friend and former chief of staff Tom Horner.
Durenberger served 16 years in the Senate, earning a reputation as an expert on health care, environmental policy and other national issues. His father was a coach and athletic director at St. John's University in Collegeville, Minn., and his family lived on the campus.
Born in St. Cloud in 1934, he worked as an attorney and served in Gov. Harold LeVander's office as executive secretary until 1971.
Durenberger, a Republican, was elected to the Senate in a special election in 1978 to fill Sen. Hubert Humphrey's seat after Humphrey died. Durenberger was reelected in 1982 and 1988. He served in the Senate until 1995.
MPR News is Member Supported
What does that mean? The news, analysis and community conversation found here is funded by donations from individuals. Make a gift of any amount today to support this resource for everyone.
Durenberger chaired the Senate Intelligence Committee and a health subcommittee and became an expert on health care policy.
He died of natural causes at his St. Paul home, Horner said.
"Minnesota lost one of its finest public servants. I truly mean that," said former Minnesota Gov. Arne Carlson. "Outstanding individual, well-informed and deeply concerned about the well being of others. It is a huge loss."
Sen. Amy Klobuchar praised Durenberger's work in the Senate, including his efforts to prohibit discrimination against people with disabilities. She called Durenberger "a thoughtful leader, a passionate advocate, and a true friend. We are lucky to have benefited from his good work and his good heart for so many years."
Durenberger and Carlson later became estranged with their party and sometimes backed candidates from across the political spectrum. Carlson said Durenberger enjoyed the role of being an independent later in life.
Censured by the Senate
His time in the Senate also included a scandal.
In 1990, the Senate unanimously voted to censure Durenberger for ethics violations relating to to $100,000 he took in speaking fees and for collecting federal travel reimbursements for stays in a Minneapolis condominium he owned to the amount of $40,055.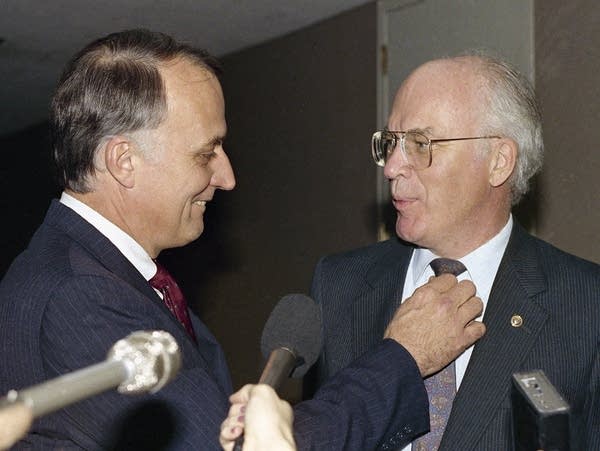 Durenberger stated his respect for the Senate and his colleagues after the vote, according to The New York Times.
"I love this Senate and cherish the ideals it stands for," Durenberger said. "If anyone wants to judge my respect for the body and for each of you, I would suggest they look at my actions over the last 22 months to bring this matter to a conclusion."
Soon after the Senate disciplined him, Durenberger chose not to seek reelection. He later pleaded guilty to misuse of public funds, serving a year of probation in 1995.
'Relationships, built one person at a time'
In an interview with MPR's Gary Eichten in 2014, Durenberger said he felt a need to get things done while he was in the Senate.
"I don't want to say I love the Senate, that's not that's not the appropriate expression," he said. "But I learned early on to appreciate what an incredible gift that office is. And you don't want to waste a lot of time, you know, in taking advantage of it."
And he said as important as the legislation was that he passed, the relationships he had with Minnesotans were what he found to be the most important part of the job. And he said he gave that advice to other politicians.
"You are going to be remembered for all those relationships, built one person at a time, one incident at a time, one problem at a time, one challenge at a time," Durenberger said. "And I really have little reason to doubt that that's the best way for anyone who wants to go into public service, whether it's the mayor of St. Cloud, or the county commissioner in Stearns County, or, it's a congressman or United States senator.
"You want to be remembered for how solid those relations were, and how faithful you were to the commitments that you've made."
The increasingly fierce division in Washington, though, saddened his father, said David Durenberger Jr., one of Durenberger's four sons and two stepchildren.
"The thing that I learned about just being around my dad my life is his ability to find that common bond with anybody, whether it's the king of a Middle Eastern country or a immigrant from a Middle Eastern country, driving a cab driving him to the airport, he was always interested in talking with people and learning from people and finding out what that common bond was that they all had."
While Durenberger continued a life of public service outside of elected office, he distanced himself from the Republican Party, yet noted that he could never consider himself a Democrat. However, he publicly endorsed Democratic candidates Hillary Clinton in 2016 and Joe Biden in 2020 for president.
"He was a counterintuitive policymaker who didn't follow the usual partisan cookbooks. You don't see much of that in today's politics," said former Gov. Tim Pawlenty, who served as in intern in Durenberger's office.
He served as the chair of the National Institute of Health Policy and various national health commissions and boards. He was also a senior health policy fellow at the University of St. Thomas.
"I think about the standard that Dave Durenberger set for policy making in Minnesota in the nation, that he always put public service ahead of everything else" Horner said Tuesday. "It wasn't about getting his name on a bill or program or policy. It was about doing what was right for the people of Minnesota."
Carlson recalled his last meeting with Durenberger at a St. Paul cafe the former senator frequented. "He seemed to know everybody, and people would stop by the table and shake hands and chat. And he thoroughly enjoyed it," Carlson said.
"He loved public policy, he loved people," Carlson added. "And he loved the overall debate on what is it that we in elected office can do to make life better for more people. He was engaged. I think people walked away with a sense that he liked them and they liked him."
Durenberger will be memorialized next week in Collegeville at St. John's, his alma mater.