Pain, joy, solitude share the trail in Minnesota's 'world's toughest race'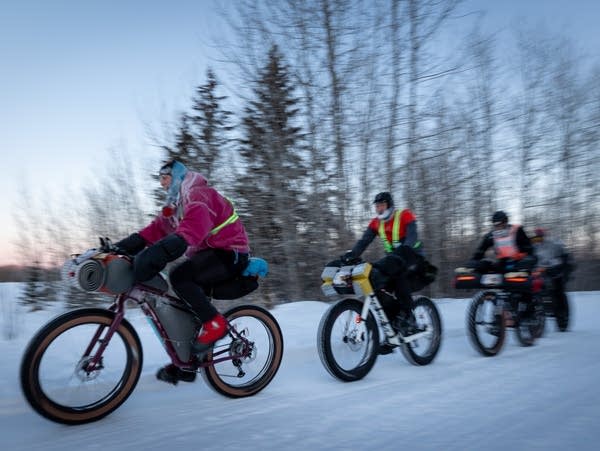 The Arrowhead 135 winter ultra race tests athletes like no other competition. Some run it to test their survival savvy. Others put their spirits to the test in the frozen, lonely North Woods. 
Wind chills hit 40 below Monday morning last week in International Falls as athletes set out on this year's race. Of the 149 who started on bike, ski or foot, 74 crossed the finish line at Fortune Bay Resort Casino near Tower, Minn., 135 miles later. It's typical that only about half finish.
Described in a new film documentary as the "world's toughest race," athletes must contend with frostbitten fingers and toes, while others struggle to keep their bike drive trains from freezing in the extreme temperatures.
All must complete the demanding route with minimal or no support, embodying the race's four core principles: Strength, endurance, solitude and survival.
MPR News is Member Supported
What does that mean? The news, analysis and community conversation found here is funded by donations from individuals. Make a gift of any amount today to support this resource for everyone.
8 of 8
1 of 8
2 of 8
Every competitor has a story.
'The day my son died'
"This is just the pre-race nervous jitters."
Biker Aaron Hagen of Hastings, Minn., stood outside just before the start of the race in 25-below zero weather to avoid sweating under his thick balaclava.
Hagen was lining up for his seventh Arrowhead attempt and was hoping for a third finish, but results weren't the only thing on his mind as he waited for the start at the Kerry Park Arena. As in years past, he'd also come to remember his infant son.
"January 25, 2013 was the day my son died," said Hagen, through tears. "His name is Alexander." 
The race, he said, "helps me focus on something other than pain and grief."  
8 of 8
1 of 8
2 of 8
'Constantly thinking about what comes next'
For some racers, just surviving the brutal conditions feels like a victory.
The night before the start, Arrowhead veteran Amanda Harvey had spread all of her race gear across two queen beds in her hotel room as she packed her bike. 
Having successfully finished Arrowhead in 2020, Harvey became eligible to race the unsupported category. Unsupported athletes must start with all of the gear and sustenance they need to finish and are not allowed to enter buildings or accept help from volunteers along the course. 
1 of 2
2 of 2
"The key is to be constantly thinking about what comes next," said Harvey. 
From heat management (it's just as dangerous to overheat and sweat as it is to be too cold) to scheduling calorie intake, riders must be prepared to address all issues that might surface on the trail.
Harvey dropped out with knee pain at mile 37 but she was proud of how she problem-solved in the bitter, early morning cold. She said she would focus now on treating her knee before attempting the 350-mile Iditarod Trail Invitational in Alaska at the end of February. 
9 of 9
1 of 9
2 of 9
By noon on the race's first day, a steady line of riders had made it to the first checkpoint at the Gateway General Store near Kabetogama, Minn. Steaming crock pots of soup and hot coffee promised a respite from the cold. The day's high temperature never topped zero.
Some racers, like bike leader Ben Doom of St. Cloud, Minn., resisted the prospect of a hot meal and pressed on toward the next checkpoint. With little more than a foot down to pause and shout his race number to the volunteers, Doom sprinted up the spur back to the main Arrowhead trail.
The toughest stretch of the course lay ahead — a seemingly endless series of short, steep hills that gave the route's elevation a distinct sawtooth profile. 
Shortly after 2 p.m., the leader in the foot division bounded down the trail to the checkpoint. Brian Cogard of Coon Rapids, Minn., spent only six minutes refueling at Gateway General Store before setting back out on the trail. His winning time put him nearly 90 minutes ahead of his closest competitor by the finish.
No skiers at the finish line
On the trail, the race's tenet of solitude becomes overwhelmingly apparent. 
After passing the first checkpoint, racers navigated the snow-laden trees of Kabetogama State Forest on their way to the halfway checkpoint at Melgeorge's Elephant Lake Lodge and Resort.
With riders trickling by in ones and twos, the silence was only occasionally broken by passing convoys of snowmobiles, but the rev of their engines quickly faded into the distance. 
4 of 4
1 of 4
2 of 4
Competitors had until Wednesday to finish. By the time the sun set on the first day of the race,  golden sunbeams cast pools of light that accentuated the faint tracks left by the 5-inch-wide tire treads. 
The fastest finisher of this year's Arrowhead 135, biker Ben Doom, completed the course in 15 hours and 20 minutes.
In the women's division, overall winner Kate Coward of Golden Valley, Minn., finished with a time of 19 hours and 10 minutes. Jill Martindale of Grand Rapids,Mich., was the first unsupported woman at just over 26 hours.
Corgard and Ellen Humberston of Wausau, Wis., finished first in their respective divisions on foot. 
None of the four skiers finished this year, with Angus Morison of St. Paul making it the farthest before dropping out at the Melgeorge's checkpoint at mile 72. 
A full list of this year's results can be found here.