Cold, sunny Wednesday; rain, snow, thunder Thursday into Friday
Severe storms possible in far southern Minnesota late Thursday
Expect cold sunshine Wednesday with temperatures well below normal. A complex spring storm brings rain, thunder and snow Thursday into early Saturday. Severe storms are possible in far southern Minnesota late Thursday.
Cold temperatures and sun Wednesday
It was frigid early Wednesday with lots of subzero low temperatures across northern and western Minnesota in the wake of Tuesday's clipper system, which brought an inch or so of snow to some places.
High pressure parked in the region Wednesday will keep things mostly sunny.
Temperatures will be well below normal Wednesday with highs ranging from the upper teens in the northwest to around 30 in southeastern Minnesota.
Grow the Future of Public Media
MPR's budget year comes to a close on June 30. Help us close the gap by becoming a Sustainer today. When you make a recurring monthly gift, your gift will be matched by the MPR Member Fund for a whole year!
Rain, snow, freezing temps in Thursday storm
Rain and snow showers and possibly freezing rain develops Thursday afternoon into Thursday night with thunderstorms even in southern Minnesota.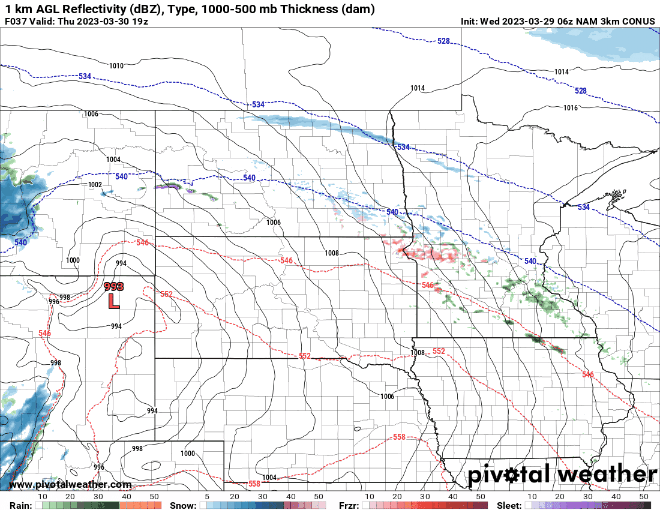 Ice accumulation will occur where temperatures remain below freezing as rain falls in north-central Minnesota.
Northern Minnesota will see snowfall Thursday night with widely variable amounts as we'll see bands of heavy snow develop.
There's a general risk of thunderstorms across southern Minnesota Thursday evening and overnight. Some storms along the Minnesota, Iowa border could contain hail.
There's also a marginal risk of severe weather along the Minnesota and Iowa border Friday with a greater risk south of severe storms.
Friday night is when we will see snow fall across southern Minnesota as colder air works into the back side of the system.
Rain and thunder Friday afternoon will quickly turn to heavy snow.
In addition to the wintry precipitation winds will really increase late Friday with 40 to 52 mph wind gusts possible.
Most of Minnesota will see at least some snowfall Thursday into Saturday.
Temperatures will then warm to near 50 degrees by Sunday and Monday making the fresh snow short-lived.