U of M graduate student workers win vote to unionize
The majority of eligible workers voted in favor of unionization in an election earlier this week.
Graduate student workers at the University of Minnesota have officially voted to form a union, according to an announcement Friday morning from the U's Graduate Labor Union — United Electrical.
More than 2,400 eligible workers voted in favor of unionization while only 70 voted no in an election this month, according to the union. This is the first successful unionization effort at the university for graduate students. Workers have to tried unionize five other times since 1974. 
Graduate student workers, who often have roles at the university as researchers, teaching assistants and instructors, are pushing for increased pay and benefits, anti-discrimination procedures and more support for international students, among other demands. The initial launch of the unionization campaign in February was met with widespread support from students.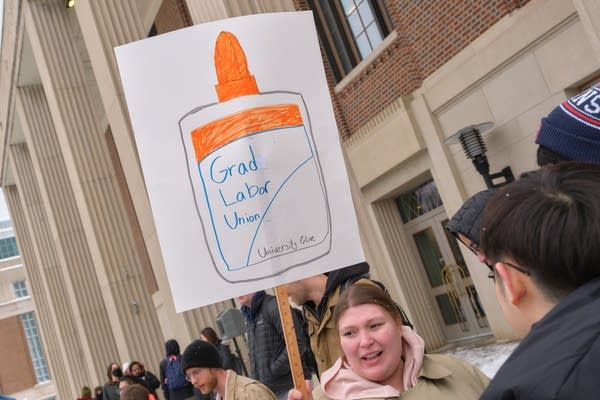 "The energy among grad workers this week was palpable," said Yusra Murad, a graduate worker in Health Policy and Management in a press release from the union. "We have completed the first step in building new infrastructure not just for ourselves but for all future graduate workers who choose UMN."
Graduate student workers at the U join others who have recently unionized at universities around the country, including Temple University and the University of Chicago. The same union working with graduate students in Minnesota has also had success with organizing students at Northwestern University and Johns Hopkins University.
Grow the Future of Public Media
MPR's budget year comes to a close on June 30. Help us close the gap by becoming a Sustainer today. When you make a recurring monthly gift, your gift will be matched by the MPR Member Fund for a whole year!