Heat advisory across Minnesota: Where to cool off with high Labor Day temps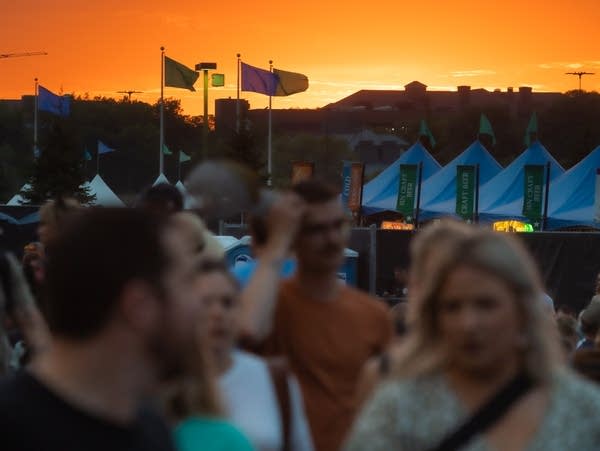 Updated: Sept. 4, 8:25 a.m. | Posted Sept. 3, 10:45 a.m.
The Twin Cities metro area and some counties in southeastern Minnesota and west-central Wisconsin are under heat advisories that will continue through 5 p.m. Tuesday. More areas, including Brainerd, Hinkley and Duluth, will be under a heat advisory Monday afternoon.
We could see heat index values up to 100 in the Twin Cities metro and a wide swath of the state from Duluth to Marshall.
"We're really not cooling down at night and potential for possibly some record setting temperatures again," Ivan Gumbs with the Sioux Falls, S.D., National Weather Service said.
Still, he says lower humidity makes for higher tolerability — at least compared to the heat wave a couple weeks ago.
Grow the Future of Public Media
MPR News is supported by Members. Gifts from individuals power everything you find here. Make a gift of any amount today to become a Member!
"It's looking like it's gonna be pretty cool for the next few days. After this is just getting through this one weekend of extreme heat again," Gumbs said.
Until things cool off, the NWS suggests warding off heat related illnesses by drinking water, staying in A/C and out of the sun, and taking extra precautions when outside.
Here's how:
Take it slow! Reduce, eliminate or reschedule strenuous activities for early morning or late evening.

Wear lightweight, loose-fitting, light-colored clothing.

Stick to the shade — avoid direct sunlight as much as possible.

Drink plenty of water, even if you don't feel thirsty.

Eat cool, easy-to-digest foods like fruits or salads. And if you're bringing lunch on the go, keep it in a cooler and don't let meat or dairy products sit out too long. Avoid using foods that require your oven as that will make your home harder to keep cool.

Vehicles can go from safe to unsafe temperatures in a matter of minutes. Don't sit in a hot car for long and never leave pets or children in a vehicle on a hot day — cracking windows is not enough.

Speaking of pets: Limit duration and intensity of your dogs' outdoor exercise. Make sure your pets have access to plenty of water and shade and don't let them stand on hot asphalt — try to time walks for early morning and late evening when it's cooler. Find more tips from the ASPCA.

Wear sunscreen. Sunburns are painful and detrimental to your health. Even if you don't get burned, prolonged exposure to the sun can cause skin cancer. Learn more about what kind of sunscreen to choose.
Staying cool indoors is important, too! Especially if you don't have any air-conditioning. Here are a few tips from renewable energy expert Jen Fuller.
Keep cool, wet cloths handy — "My go to inside and out has been a wet bandana wrapped around my neck, wrist, or ankle to cool the blood as it circulates," Fuller said. Shake your cloth around periodically to dissipate the heat and re-wet it as you can.

Keep your window shades closed during the day, and if you can, invest in some blackout shades.

If you do have AC, make sure it's working properly. "Vacuum your window AC filters! And open your AC's vent to pull in fresh air periodically, but close the vent once the air temperature is cooler than outside to recirculate cool air, prevent humidity, and lower your energy costs." Here's a troubleshooting guide.

"If opening windows to get fresh cross breeze isn't possible (like the past few days), close the door to rooms you're not currently using throughout the day to maximize cooling in spaces that have AC." Once it gets cooler outside, open your windows up again.

Turn on kitchen and bathroom fans to exhaust hot air.
Recognize the symptoms of heat related illness
Heat exhaustion is associated with:
Heavy sweating

Cold, clammy skin

A fast, weak pulse

Nausea and vomiting

Muscle cramps

Tiredness

Headaches

Dizziness and fainting
If you experience these symptoms, get to a cool place as soon as possible, sip water, loosen your clothes and put cold wet cloth on your body to help cool down. Seek medical attention if you start vomiting or if symptoms get worse or last longer than an hour.
Heat stroke is more serious and should be treated right away. Symptoms include:
High body temperatures — 103 degrees or higher

Red, hot skin — dry or damp

A fast, strong pulse

Headache

Dizziness

Nausea

Confusion

Loss of consciousness
If someone is experiencing a heat stroke, they should get medical attention right away. And in the meantime move them to a cool location, lower their body temp with a cool cloth or bath, and only give them water if the person is awake and alert enough to swallow.
Children, older adults, pregnant people and people with chronic illnesses are strongly advised to limit outdoor activities to prevent heat illnesses. Health officials encourage checking up on friends, neighbors and those without air conditioning.
Places to cool off around the Twin Cities
If you're looking for a cool place to wait out the hottest stretches, here are links to a few interactive maps identifying libraries, recreation centers, beaches and more for Hennepin County and Ramsey County.
Ramsey County also has individual maps for libraries, beaches and pools and recreation centers.