Minnesota flag panel frets that deadline may be too tight
Experts in design, marketing, history and community relations introduced themselves virtually during a kickoff meeting of the state emblems commission Tuesday. It didn't take long for budding disagreements to show through.
Two big challenges will confront them: The process and the product.
First the process. The Legislature outsourced the assignment to the new 13-member panel and directed it to finish up by year's end.
About half an hour into the initial meeting, commission member and Secretary of State Steve Simon broached the idea of petitioning lawmakers for more time.
Grow the Future of Public Media
MPR News is supported by Members. Gifts from individuals power everything you find here. Make a gift of any amount today to become a Member!
"I don't mean to sound pessimistic. But it seems to me that we have to be thoughtful and thorough about this. We have two big tasks ahead of us — a flag and a seal," Simon said. "Even one would make this an ambitious project by Jan. 1."
Simon said he was concerned about shortchanging public input. It might take a law change to push the deadline out, and barring a special session, the Legislature won't return to the Capitol until February.
Other panelists, including state legislators attached to the commission as nonvoting members, echoed Simon.
Community college history instructor Anita Talsma Gaul, appointed by Gov. Tim Walz, is among those open to asking the Legislature for more time. She was elected the commission's vice chair.
"As a teacher, I'm going to say I would rather get a quality piece of work after the deadline than a piece of crap at the deadline," she said. "So I am in support of, if necessary, maybe we should think about an extension."
But Aaron Wittnebel, a designee of Minnesota's Ojibwe communities, was troubled by the opening tone.
"One of the things we're tasked with is getting this done by Jan. 1. I don't like we're starting off with our first meeting, and somebody suggesting asking for an extension."
He urged colleagues to move ahead with the work and push quickly to get designs ready for the public to see.
"I don't want to be this cockeyed optimist about this. I'm really being a realist," Wittnebel said. "I think we can get this done if we desire to get it done. But if there are people here who don't, I would question why you're here, then."
As for the product, all commission members voiced degrees of support for swapping out the symbols in introductory remarks.
Kate Beane has a background in visual arts but also Indigenous roots.
"I'm really looking forward to this opportunity to engage and to talk about some really important imagery and legacy here in Minnesota," Beane said. "My grandfather, Seth Eastman, was the person who designed the state seal and flag and so I have opinions and I have perspectives and I'm looking forward to the conversations here."
State Rep. Bjorn Olson said members must also recognize that the current flag and seal matter deeply to some people, despite tweaks over the years.
"Something that's difficult for me is knowing that there were men who charged at Gettysburg with a flag that was very similar to the one that we're talking about changing," Olson said. "So that's tough for me. But I've come to realize that there's a change going to happen. That's why I'm on this panel: We're changing the flag."
The aim is to adopt designs that endure but also "respectfully reflect Minnesota's shared history, resources and diverse cultural communities." That's the specific charge in the legislation that ushered in the redesign process.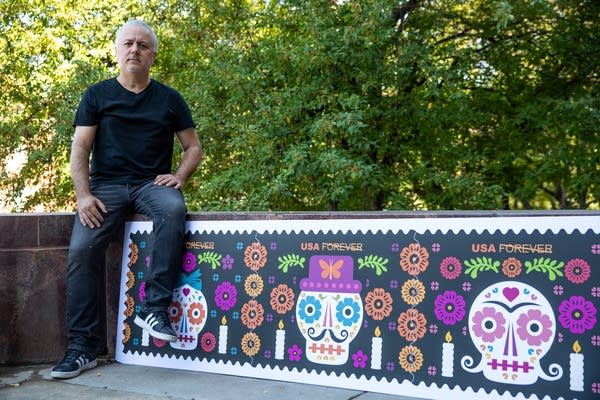 Luis Fitch of Minneapolis was elected to chair the commission. The design and branding expert who moved to Minnesota 25 years ago from Mexico said the official seal used on documents and the like might carry more detail. But he said principles around a flag are different.
"Keep it simple. Use meaningful symbolism," Fitch said. "No lettering or seals in the flag. Be distinctive."
The next meeting will happen sometime this month. The commission is figuring out a way for people to submit their own designs or otherwise provide suggestions before the process concludes.
The current flag and seal are set to go away by May 11 — Minnesota's next birthday — unless the Legislature steps in.