Roots of the Dancing Debutantes: Artist Russell Sharon looks back
Russell Sharon is broad and sinewy with arms veined from years of wrestling with large artworks in many mediums. He's constantly lighting cigarettes but rarely finishes one. He gets to talking about the past and they burn out.
"We're in rural Randall [Minn.] on the Todd-Morrison County line, we're standing next to my pond," he said, leading a tour of his property which is dotted with his sculptures. "There's lowland and one side with meadow grass and a field and primeval forest just to the south."
It's an eerie setting giving off a rural gothic feeling. It forms the backdrop to Sharon's exhibit "Roots: A Retrospective," which opens this weekend at his home.
The show embraces his lifelong obsession with nature, including repurposing tree branches into dancing sculptures he calls debutantes. He has upended excavated tree stumps, creating a strangely unsettling effect.
Grow the Future of Public Media
MPR News is supported by Members. Gifts from individuals power everything you find here. Make a gift of any amount today to become a Member!
It's a whimsical reflection of a journey starting when he was a boy on the family farm nearby. 
"I planted a bunch of elm along my parent's driveway, and it created a rock garden," he said.  "Fourteen-years-old and I remember when I planted those trees I thought, 'Oh, I hope I can live as long as these trees.'"
That didn't happen. Dutch elm disease killed them all.  
Sharon said back then he watched as locals cut down trees for projects, they seemed jubilant.
"I found it really depressing, even to be there," Sharon said. "I had this connection with the farm in that manner, but there was plenty of nature and abundance of nature, but very few people who conversed about anything other than local gossip, mostly the weather and crops and mostly minding their own business, which is very boring."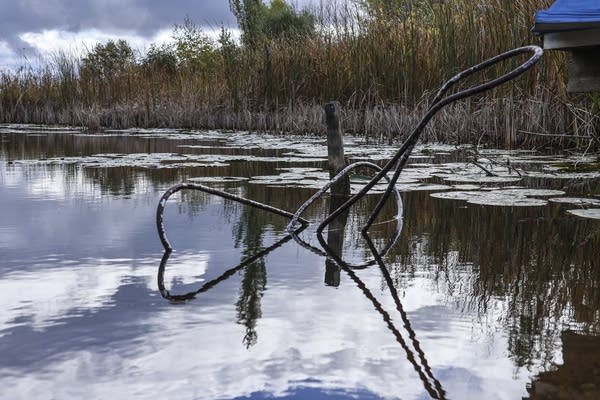 After high school, Sharon spent a year at Bemidji State University then went to art school at University of the Americas in Mexico City. 
"It really opened the door into heaven for me. I saw what was possible," he said. 
After moving back to the U.S., he spent some time in Boston. There he met Luis Frangella who would become his closest friend, partner and lover. The two relocated to the East Village in New York.
But he always maintained his connection to rural Minnesota, visiting almost every summer.
Sharon credits art gallery owner Hal Bromm with giving him his big break in the early '80s. Bromm says he was drawn to Sharon's three-dimensional works from the start. 
"They were very richly colored, and they were paintings on wood with collage and montage wood elements as part of the compositions," Bromm said. "And what they were depicting for the most part were landscapes, ponds, lakes from his Minnesota heartland home."
Bromm said Sharon quickly became a major player in the burgeoning East Village arts scene. "It was pretty instantaneous," he said. 
Then, like the Dutch elm invasion Sharon experienced as a boy, an unexpected invisible enemy changed everything.
Many of his friends began falling ill with pneumocystis pneumonia — a disease Sharon says at the time was known for mainly affecting elderly people with compromised immune systems. Little did he know, he was at the forefront of what would become the first wave of the AIDS epidemic in New York.
But through everything, Sharon says he never stopped creating. 
"I just worked, and I took care of my friend Luis, who had HIV and was in denial," Sharon said. "And he couldn't admit it. He thought he had the feeling that if you ignored it, it wasn't there."
Sharon said Frangella, who he described as "a brilliant painter and brilliant person," was given two months to live. He died two years later, unable to speak.
Soon after that Sharon himself was diagnosed with HIV. But with the advances in medication, he said it's been about 20 years since he's shown any sign of the disease. 
After New York, Sharon moved to Florida for a time teaching art. Then COVID hit and he moved back to Minnesota for good. His show this weekend is the culmination of a lifetime's work. 
Sharon hopes it will connect visitors with nature, "and somehow learn that it has a spirit of its own. The trees communicate with each other, they communicate with us. And if we don't respect them, they won't respect us and they'll all die," he warned. 
One of Sharon's next endeavors is a project he's doing about his late partner Frangella.  
But until then, Bromm said Sharon should be recognized for his accomplishments, especially in his home state of Minnesota. He said he was taken aback when he visited the Twin Cities last year.
"Of course, I went to Mia and the Walker and so many great galleries that are there. But I was astonished that at Mia, I didn't see any work of Russell's," Bromm said.
"And I thought, 'Boy, as his dealer in New York, I may be far away. But I have to try to remedy that.' Because here's a hometown guy born and raised in Minnesota, whose work is so full of life, energy and natural beauty. And he really ought to be in that collection."