Back to the 80s today; Sunday will be the drier day of the weekend
Many Minnesotans woke up to dense fog Thursday, but the high sun angle that we enjoy this time of year helped burn the fog off by around mid-morning in most locations.
Thursday will feel summery, with dew point temps in the 6os across much of Minnesota and warmer than normal afternoon high temps.
Temperature trends
Our average high temp is only 74 degrees this time of year in the Twin Cities. We hit 74 yesterday, although it felt warmer at times with the sticky dew points.
The metro area and much of the southern half of Minnesota will have highs in the 80s this Thursday afternoon, with 70s in most of northern Minnesota.
Friday highs will range from the 80s far south to 50s near Lake Superior:
Saturday highs will be mainly in the 70s south, with 60s north and some 50s near the north shore of Lake Superior: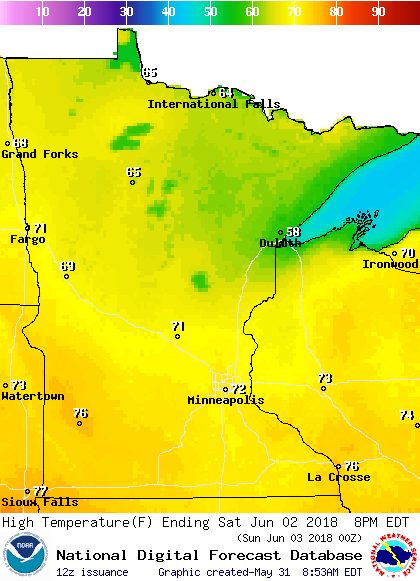 Sunday will feature a lot of 70s south and 60s north:
Twin Cities metro area highs are expected to be in the lower 80s next Monday through Wednesday.
Rain opportunities
Eastern Minnesota and western Wisconsin have a chance of a few very scattered showers and an isolated thunderstorm Thursday afternoon.
Friday should be rain-free in most of Minnesota, with  periods of showers and thunderstorms a good bet overnight Friday night and on Saturday.
The National Oceanic and Atmospheric Administration's North American Mesoscale forecast model shows the potential rain pattern Friday evening through Saturday evening:
The color chart to the right of the loop refers to the strength of the signal that returns to the radar, not to the amount of rain.
Sunday should be rain-free in most of Minnesota.
May stretch of 90s sets record
This is likely to go down as the second warmest May in Twin Cities weather records, which go back to 1871.
The Twin Cities official high temp at Minneapolis-St. Paul International Airport was 90 or warmer on six consecutive days from May 24 through May 29:
We set a new Twin Cities record for the most consecutive days of 90 or higher in May!
Although May of 1934 was warmer than May of 2018 in the Twin Cities, there were only four consecutive days of 90 or warmer in May of 1934:
May of 1934 delivered a total of eight days with a high of 90 or warmer in the Twin Cities, our total this May will likely stay at six days.
That's plenty!
Programming note
You can hear my live weather updates on Minnesota Public Radio at 7:49 a.m. Thursdays and Fridays, and at 7:35 a.m., 9:35 a.m. and 4:35 p.m. each Saturday and Sunday.