Summery today; steamy Friday through Sunday with thunder chances
Our average high temp is 79 degrees this time of year in the Twin Cities metro area.
Temperatures are expected to creep up to 80 or even the lower 80s in the metro area and many other spots around Minnesota this Thursday afternoon, but cooler 70s are on tap for portions of the northeast.
It'll become more humid later Thursday, with metro area dew points rising to the lower 60s.
Temperature trends
Friday highs reach the upper 80s to lower 90s in much of central and southern Minnesota:
The heat stays with us in southern and central Minnesota on Saturday:
And on Sunday too: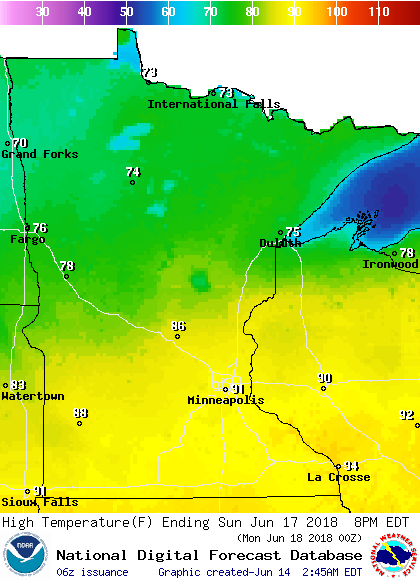 Dew point temperatures could be in the upper 60 to lower 70s in much of the southern half of Minnesota from Friday afternoon through Sunday.
That'll feel steamy!
Rain opportunities
Far southern Minnesota has a chance of scattered showers and isolated thunderstorms this Thursday morning, and central and northwestern Minnesota could see some scattered activity later this afternoon and this evening.
More numerous showers and thunderstorms could develop in parts of northern and central Minnesota overnight, then drift southward Friday morning.
The National Oceanic and Atmospheric Administration's North American Mesoscale forecast model shows the potential rain pattern overnight through Friday morning:
The color chart to the right of the loop refers to the strength of the signal that returns to the radar, not to the amount of rain.
A severe thunderstorm will be possible in northern and central Minnesota anytime from later this Thursday afternoon into early Friday morning.
The Storm Prediction Center of the National Weather Service shows a slight risk of severe weather in northwestern Minnesota from this afternoon through the overnight hours:
There's even a small area of enhanced risk for severe weather in the northwest.
The remainder of the northern half of Minnesota is in a marginal risk of severe weather, meaning that an isolated severe thunderstorm is possible:
Some periods of showers and thunderstorms are expected in Minnesota and Wisconsin this weekend, and there could be some severe weather warnings.
NWS warnings are issued by county, so be aware of which county you are in if you will be traveling.
Updated weather information can be heard on the Minnesota Public Radio Network, and updates are also posted on the MPR News live weather blog.
Drought update
The latest update from U.S. Drought Monitor shows a couple of very small areas in west-central Minnesota are in moderate drought:
Portions of northern and central Minnesota and the far north section of the Twin Cities metro area are abnormally dry, but not in drought.
Programming note
You can hear my live weather updates on Minnesota Public Radio at 7:49 a.m. Thursdays and Fridays, and at 7:35 a.m., 9:35 a.m. and 4:35 p.m. each Saturday and Sunday.