Flakes return late Saturday; chill continues on Sunday
The thermometer at Minneapolis-St. Paul International Airport hit 11 degrees early Saturday morning.
It was the coldest Twin Cities official temp since April 3.
Some of the Twin Cities suburbs reported single-digit low temps, and there were many single-digit lows elsewhere in Minnesota.  Bemidji and Long Prairie dipped slightly below zero.
It feels like January right now!
Temperature trends
Our average high this time of year is 45 degrees in the Twin Cities metro area.
We won't even be close to average this weekend, with our high temps only reaching the 20s.
Highs in the 20s are expected all across Minnesota Saturday afternoon.
Sunday highs will also be in the 20s: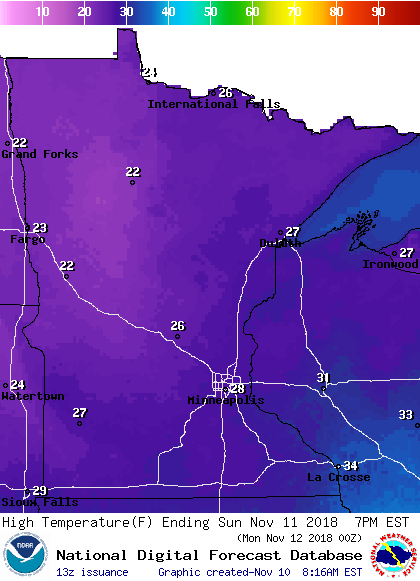 On Monday, we'll see 20s in the south and some teens in the north and west:
Twin Cities metro area highs are expected to be in the lower 20s Monday and Tuesday, followed by middle 30s Wednesday and lower 40s Thursday and Friday.
Some mild temps are expected next weekend and beyond.
The Nov. 17 through Nov. 23 outlook from the Climate Prediction Center of the National Weather Service shows a tendency for above-normal temperatures in Minnesota:
That would be a nice change from our current chilly stretch!
Snow chances
Snow is expected to spread eastward across Minnesota Saturday afternoon and evening, then continue into Saturday night.
Roughly the northern half of Minnesota, plus parts of northwestern/west-central Wisconsin, could see an inch or two snow by late Saturday night.
Snow accumulations in southern Minnesota are expected to be minimal.
Many spots in the Twin Cities metro area could get anywhere from a dusting to one-half inch of snow as we go through Saturday evening/Saturday night, but a few spots in the far north metro could be closer to one inch.
On Sunday, northern Minnesota has a chance of occasional light snow, with a few flurries at times in the south.
The National Oceanic and Atmospheric Administration's North American Mesoscale forecast model shows the potential snow pattern Saturday afternoon through Sunday evening:
The color chart to the right of the loop refers to the strength of the signal that returns to the radar, not to the amount of snow.
It'll probably snow in some areas that look dry in the NAM loop, but the loop illustrates the overall precipitation pattern.
Updated weather information can be heard on the Minnesota Public Radio Network, and you can see updated weather info on the MPR News live weather blog..
Programming note
You can hear my live weather updates on Minnesota Public Radio at 7:49 a.m. Thursdays and Fridays, and at 7:35 a.m., 9:35 a.m. and 4:35 p.m. each Saturday and Sunday.