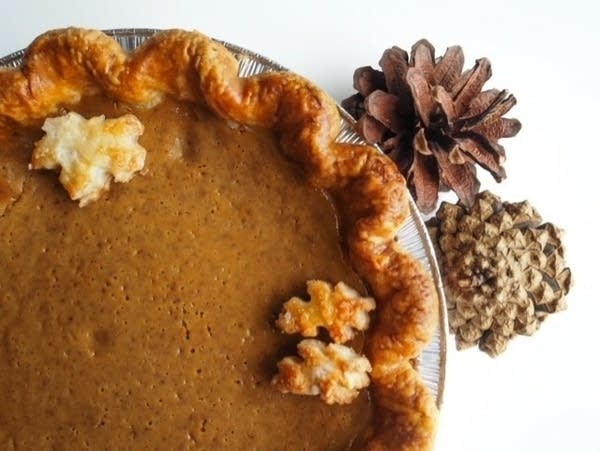 Are you looking forward to eating a slice of pie this Thanksgiving? Or two slices? Maybe you're planning to make one. Pie is a classic finale to a holiday feast, comforting and distinctly American. Do you like pumpkin or sweet potato? Pecan or apple?  
Many people discovered baking during the pandemic. But turning out that flaky pie crust can intimidate new bakers. 
Host Angela Davis got tips from pie experts and listeners and explored why eating and making pies nourish our family and cultural traditions.
Guests: 
Rachel Swan is co-owner and chief pie baker at Pie & Mighty in Minneapolis. After years working in the restaurant industry she started selling pies by subscription in 2016 and opened the brick-and-mortar shop in 2020.   

Ken Haedrich is founder of the online pie-making community thepieacademy.com and author of 16 cookbooks, including a comprehensive guide to pies for new and experienced bakers published last year, "Pie Academy: Master the Perfect Crust and 255 Amazing Fillings, with Fruits, Nuts, Creams, Custards, Ice Cream, and More." 

Lachelle Cunningham runs Chelle's Kitchen, a catering and food education business based in Minneapolis. She was previously founding executive chef at Breaking Bread Cafe, which opened in 2015 in north Minneapolis and still serves a variation of her uncle's sweet potato pie recipe. 
Use the audio player above to listen to the full conversation.
We also asked listeners to tell us about their favorite pie recipes. Check them out below and tell us about your favorite here.
Pumpkin Pie (with a kick!)
Mix these 8 dry ingredients together in small bowl:
1 cup sugar
1 tbsp. flour
1/2 tsp. salt
1 tsp. ginger
1 tsp. cinnamon
1/2 tsp. nutmeg
1/8 tsp. ground black pepper
1/8 tsp. cloves
In large bowl mix:
3 large eggs
1 1/2 cups pumpkin scant
1 cup light cream
Add dry ingredients to wet ingredients stir well, pour into a 9" unbaked pie crust. Bake 45-55 minutes at 400 degrees in the oven. Let cool, serve with whipped cream and grated nutmeg on top or with vanilla ice cream.
Karen's Pie Crust
Mix together until pea sized pieces:
3 cups flour
1 1/4 cups butter
1 tsp. salt
In one cup measure, mix:
1/4 cup cold water
I beaten egg
1 tbsp. white vinegar
Pour liquids into dry ingredients, mix to form a ball.
Put flour onto board, divide dough into four equal pieces. Each ball is enough for 1 crust.
The unbaked dough can stay in refrigerator for up to a week or freeze dough in small piece or in a rolled out pie crust.
Penny's 5 ingredient Last Minute Pie
I bring this when invited last minute. I stop at the store to pick up the items. When I arrive, I ask for a spatula and a mixing bowl. (I offer to do dishes in trade for my friends letting me in the kitchen for a few moments. ;-) )
10" Graham cracker crust
1 can sweetened condensed milk
1 package Lemonade drink mix
1 regular size Cool Whip
1 can blueberry pie filling
Put condensed milk in bowl, add lemonade drink mix. Stir until it starts to thicken. Add Cool Whip. Stir until completely mixed. Pour in crust. Top with berries. Put in refrigerator until after meal. Don't forget to do the dishes! (I use other drink mixes and pie fillings, too.)
Festal Golden Pumpkin Pie
Recipe by Marian Biersdorf, aka The Pumpkin Pie Lady!
1/4 (or 1/2) tsp. salt
1 tsp. cinnamon
1/4 tsp. cloves
1/4 tsp. nutmeg
1/4 tsp. ginger
3 eggs, slightly beaten
1 cup granulated or light brown sugar
1 15 oz. can pumpkin puree
1 cup evaporated (or regular) milk
1 9-inch deep-dish pie crust, unbaked
Preheat oven to 450 degrees. In a large bowl, combine salt, cinnamon, cloves, nutmeg and ginger, and mix. Add eggs and sugar. Mix well. Stir in pumpkin. Add milk and beat well.
Pour pumpkin filling into crust. Bake for 10 minutes at 450. Reduce heat to 350 degrees, and bake additional 40 to 45 minutes.
Test for doneness by inserting knife into pie center. The pie is done when the knife comes out clean. Garnish with choice of topping. (Marian reduces the salt to 1/4 teaspoon. She also says it's fine to replace the evaporated milk with skim milk, to reduce the calorie and fat content.)
Mixed Fruit Pie
A 9 inch pie — double crust.
1 and 1/4 of blueberries, raspberries, rhubarb of any variation.
1/2 tsp. of almond flavoring
1 and 1/4 cup of sugar — or less
1/4 cup of quick tapioca
1/4 tsp. of nutmeg
1/4 tsp. of salt
1 tbsp. lemon juice
Bake at 450 degrees for 10 minutes, then at 375 degrees for 45-50 minutes.
Variation on the 'Stir-N-Roll' crust
Submitted by Louise DiCesare.
I use a completely different way to make the crust from Betty Crocker's original cookbook called Stir-N-Roll.
Mix 2 cups sifted flour and 1 1/2 tsp. salt (I don't use any salt)
Next, pour 1/2 cup cooking oil (I use Canola) and 1/4 cup of milk into the flour all at once.
Stir with a fork. Wet countertop and put a piece of wax paper so the wax paper won't move. Put half the dough on the wax paper and put another piece of wax paper on top of the dough. Roll it out with a rolling pin. Lift off top sheet of wax paper and pick up bottom sheet with crust and flip onto the baking dish. Repeat with top crust. Make any filling and you can use a form to make the top crust to make it a lattice or separate top crust with a knife.
Subscribe to the MPR News with Angela Davis podcast on Apple Podcasts, Google Podcasts, Spotify or RSS.
Your support matters.
You make MPR News possible. Individual donations are behind the clarity in coverage from our reporters across the state, stories that connect us, and conversations that provide perspectives. Help ensure MPR remains a resource that brings Minnesotans together.