Minneapolis, St. Paul differ in approach to school enrollment decline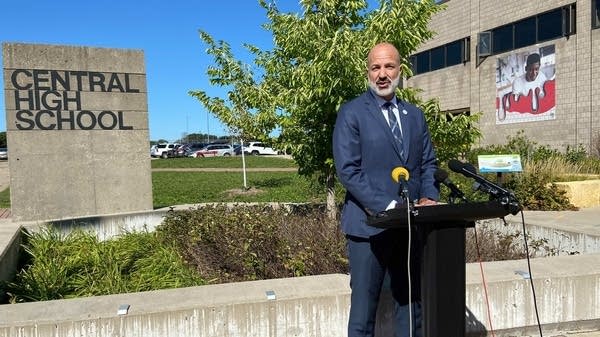 Minneapolis and St. Paul public schools are losing students. Enrollment has been declining for decades in the wake of falling birth rates and the rise of charter schools and open enrollment. It's one of the reasons the St. Paul School Board just voted to close five schools in the district. Minneapolis is taking a different approach.
With federal stimulus dollars on the way, why are these neighbors facing the same problem with different solutions?
Reporter Beth Hawkins wrote about this for The 74, a nonprofit news site that covers education in America. She broke the story down for host Cathy Wurzer.
The big picture
Public school enrollment has been declining across the United States for some time, and the COVID-19 pandemic has accelerated that decline. Since the start of the 2019-2020 school year, school enrollment across the country has fallen by 1.5 to 3 million, Hawkins said, which represents a roughly 3 to 5 percent decline in enrollment nationwide.
Grow the Future of Public Media
MPR News is supported by Members. Gifts from individuals power everything you find here. Make a gift of any amount today to become a Member!
The drop has been especially steep in the Twin Cities: Enrollment has fallen by 12 percent in Minneapolis Public Schools and 10 percent in St. Paul Paul Public Schools in that same period.
Most states tie school funding to enrollment numbers, so when enrollment drops, a financial crunch can follow. For example, MPS is facing a deficit of millions of dollars, Hawkins said.
The federal Elementary and Secondary School Emergency Relief Fund is distributing billions of dollars to school districts around the country to help them and their students recover from the pandemic. The money is only meant to be a bridge to the other side of the pandemic, Hawkins said, but enrollment continues to decline more sharply than expected as the pandemic drags on.
How is Minneapolis addressing enrollment decline?
MPS will receive $234 million in Elementary and Secondary School Emergency Relief funding, but it may not be enough to pull back from a looming fiscal cliff, Hawkins said.
Before the pandemic, MPS was already predicting it would become insolvent in 2024. It plans to spend half of its stimulus dollars to plug the budget gap it already faced before the pandemic, but the district estimates this will only push the date of its insolvency to 2027.
Unlike SPPS, MPS hasn't closed any of its buildings, so the district is still spending on excess classroom capacity and an overlarge, inefficiently distributed workforce, Hawkins said.
To try to attract some students back, MPS has pushed the enrollment boundaries of attractive schools further into the Minneapolis neighborhoods hit hardest by enrollment declines, home predominantly to families of color, who have left MPS in the largest numbers. Hawkins said MPS also hopes to integrate schools by attracting other families to these neighborhoods and balance enrollment across schools with the move.
What about St. Paul?
SPPS is set to receive $299 million in Elementary and Secondary School Emergency Relief funding, and it plans to use its stimulus money differently than MPS.
SPPS will spend the majority of its stimulus on helping students recover from the setbacks of the pandemic. SPPS's efforts to deal with long-term declining enrollment and its fiscal implications will not involve federal stimulus dollars to nearly the same degree as in MPS. SPPS has approved a plan to close and consolidate under-enrolled schools to save money.
Use the audio player above to listen to the full conversation.
Subscribe to the Minnesota Now podcast on Apple Podcasts, Google Podcasts, Spotify or wherever you get your podcasts.