New Interstate 35W bridge in Minneapolis opens
A steady stream of motorists crossed the new Interstate 35W bridge as it opened for traffic early Thursday, less than 14 months after the old one collapsed into the Mississippi River.
The procession over the bridge was led by squad cars from the Minnesota State Patrol, Minneapolis police and the Hennepin County sheriff's office, as well as a Minneapolis fire truck and matching sets of ambulances.
Hundreds of cars, trucks and motorcycles, mostly southbound, lined up for the bridge opening.
Before the bridge opened to traffic, motorists were out of their cars, greeting each other and exchanging phone numbers on the freeway.
MPR News is Member Supported
What does that mean? The news, analysis and community conversation found here is funded by donations from individuals. Make a gift of any amount today to support this resource for everyone.
When project manager John Chiglio gave the signal, traffic from both directions proceeded over the bridge at about 15 mph. It took only a minute to cross the bridge, and traffic was flowing freely by a few minutes after 5 a.m.
"It was wonderful. What a beautiful bridge. It's terrific," said Donald Brown, of Golden Valley, one of the first to make the crossing.
Brown, a retired truck driver, said he was the first motorist waiting on the Washington Avenue ramp onto northbound I-35W to try the new bridge.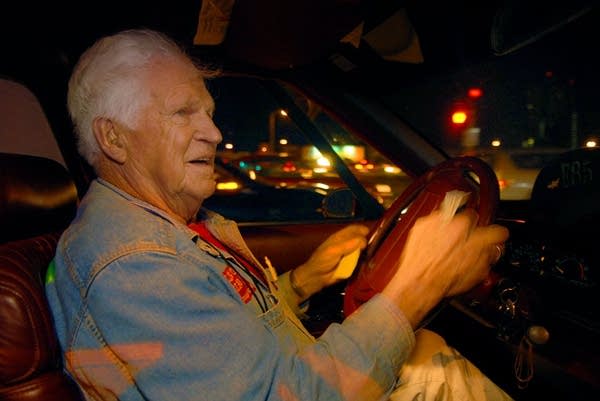 He said he used to drive the old bridge 12 times a week between his work and personal travel, and he was glad to have the crossing back.
The old bridge fell Aug. 1, 2007, killing 13 people and injuring 145 others. The state put the replacement on the fast track, and contractors had it ready for traffic in just 11 months.
"Remarkable," Brown said. "That they did it as fast as they did is unbelievable."
Orlando Lewis, who lives close the bridge, recalled crossing over the old bridge just 30-45 minutes before it collapsed, but said he had no worries about the new span. He said he had to slow down as he crossed just to take it all in.
"The first thing I noticed was the wide lanes," said Lewis, who explained that he was used to seeing wide lanes in cities like Miami and Chicago. "Now to have wide lanes in our city is a blessing. It's unfortunate that had to come this way, but going across that bridge now is like a luxury."
While traffic was initially heavy, it loosened up quickly and it continued to flow swiftly through the morning rush hour.
Few people could have been as happy as Steve Williams, owner of Bobby and Steve's Auto World, a gas station right off the south end of the bridge.
The old bridge carried over 140,000 vehicles per day. Williams said his store saw its gas sales drop 10 percent to 15 percent after the disaster, and in his business those last percentages are where the profit is.
So to draw customers back, Williams and his crew stood on the exit ramp across the street and handed out $25 gas cards to the first 100 drivers entering downtown via the new bridge.
"We attempted to think of a great way to welcome back people that we missed so much, and one of our team members came up with the idea of passing out gas cards for the first hundred people that crossed the bridge," he said.
The cards ran out in 20 minutes. The first 30 went to a group of motorcyclists who were among the very first across, Williams said. And while drivers didn't have to use the cards right away, many did.
Between them and other bridge-crossing commuters stopping in for fuel, food and coffee, the joint was jumping around 5:30 a.m. when it's normally fairly quiet.
But Garrett Ebling of Plymouth found it difficult to join in the celebration. He was one of the most severely injured survivors, and said the procession and all the honking horns seemed surreal when he watched them on streaming video.
He said Thursday was a harder day for him than the first anniversary, Aug. 1.
Ebling has returned to work public relations and gotten married since the collapse but said he's still dealing with the psychological and physical aftereffects. He wasn't sure when he'll make his first trip over the new bridge.
"It's not that I'm afraid to cross it, it's when I do it, it will be on my own time, and when I do it I'm sure it will be difficult," he said. "I'll have a lump in my throat and a twist in my stomach."
Ebling counts himself as "somewhere in the middle" between the survivors who wanted to cross the new bridge right away and those who don't want to go near the site ever again.
"For me and others who were on the bridge, life doesn't go back to normal just because the bridge is open today," he said. "We'd all like it to be, but that isn't the case."
The bridge was completed on budget and more than three months ahead of the Dec. 24 deadline. That means the contractors should get a bonus close to the contract maximum of $27 million, though the actual amount hasn't been determined.
Gallery
3 of 3
1 of 3
2 of 3