Homebuilders, suppliers have mixed reaction to stimulus bill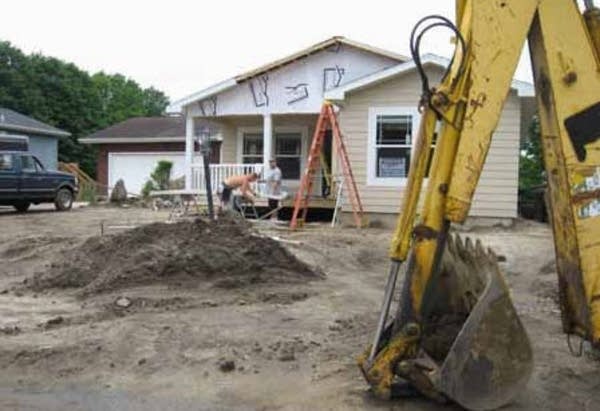 Call it the "industry formerly known as home construction." Nationwide, builders are framing up new houses at the lowest rate on record. That's due to anemic consumer confidence, still tight credit and the glut of foreclosed properties jamming up the market.
But some builders in Minnesota are cheering a provision in the $787 billion stimulus package, which gives an $8,000 tax credit to first-time homebuyers.
Mike Swanson is president of the Builders Association of the Twin Cities, and vice president of Rottlund Homes in Minnesota. He's already seeing a change in business due to the tax credit.
"We've already seen the public embracing that," Swanson said. "We've written deals as of yesterday, with people coming in."
Swanson said some of the customers had been on the fence over the past few months. The federal stimulus plan made the difference and when Rottlund agents explained the new program to them, which pushed them off the fence and into the office.
"We're in the middle of signing all the papers right now, getting preapprovals and all that stuff," said John Kline, one of the new buyers.
Kline, 19, works full time, goes to school full time and is buying a new condominium with a buddy. He took a break from signing the papers to talk about how the tax credit prompted them to move faster on the purchase.
"We both just heard about this credit about two or three days ago, and it definitely got us more excited about buying a house now," Kline said.
Mike Swanson, of the Builders Association of the Twin Cities, said that while the tax credit is the most meaningful new iniatitive for home builders, he also welcomes Obama's move Wednesday to give lenders incentives to restructure mortgage loans so homeowners can avoid foreclosures and stay in their homes. Swanson believes that will help stabilize housing prices and spark more demand for new houses. Right now, he said, too many buyers are waiting for housing prices to tumble further before they snatch up a home.
Between the homebuyer tax credit and the mortgage relief plan, Swanson expects homebuilding to get a boost -- as well as all the industries tied to it.
[image]
"That's right down to Caterpillar making more back hoes, to Ford and Chevy making more pick-up trucks," Swanson said. "We're going to have more contractors put back to work, they're going to need more of everything, [and] it's all the way through the supply chain."
Not everyone's convinced, though.
"I think the stimulus throws so much around that it doesn't cover anything," said Wayne Skoe, who runs a logging operation and lumberyard in Northhome, Minnesota. "I think it became a grab-all for everybody who wanted money, and I don't know if it's going to do anyone any good."
Skoe does not believe that the stimulus plan is going to be much help to people like him, who supply material to homebuilders. Skoe's especially doubtful that the new tax credit for first-time homebuyers will spur homebuilding and increase demand for his lumber.
"I've seen a couple people we've had that have tried to get a loan, they can't get any money," Skoe said.
But there are businesses that are banking on job gains as a result of stimulus measures. Richard Fuchs is with the Energy and Housing division of the non-profit Lakes and Pines in Mora. The organization helps low income families weatherize their homes, among other things. It stands to pull in funds from a provision in the economic stimulus package and Fuchs says that will mean his organization can weatherize more homes -- and put more people to work to do so.
"I'm expecting it probably is going to be a total of at least a half a dozen, maybe more," Fuchs said.
Statewide, the dollar value of grants for low-income weatherization projects will go from $10 million to $170 million. A Minnesota Department of Commerce spokesman said implementing that grant money will mean more work for energy auditors at the very least, though it's hard to estimate how many jobs that will translate to.
Meantime, home owners will get a tax credit for improving the energy efficiency of their homes, and some companies, like Minnesota window manufacturers, say that will ramp up their business.
Gallery
1 of 1