Petters gets 50 years in prison for fraud scheme
Disgraced business tycoon Tom Petters has been sentenced to 50 years in prison for running an investment scam that cost investors more than $3.5 billion.
U.S. District Judge Richard Kyle handed down the sentence in federal court in St. Paul Thursday morning. Petters' sentence could be reduced for good behavior. But even if that happens, Petters will spend at least 41 years behind bars.
Kyle also ordered Petters to pay more than $3 billion in restitution.
Before he was sentenced, Petters told the court he was filled with "pain and anguish" for the people who lost money. But he stopped short of admitting wrongdoing.
Grow the Future of Public Media
MPR News is supported by Members. Gifts from individuals power everything you find here. Make a gift of any amount today to become a Member!
"I'll try to repair, replace and repay what was lost," Petters said.
Federal prosecutors had asked for a life sentence without parole for Petters, who was convicted of operating a Ponzi scheme that lasted more than a decade.
The sentence was much more severe than the four years defense attorneys argued Petters should receive. They argued it would have been proportionate to what other white-collar criminals have received.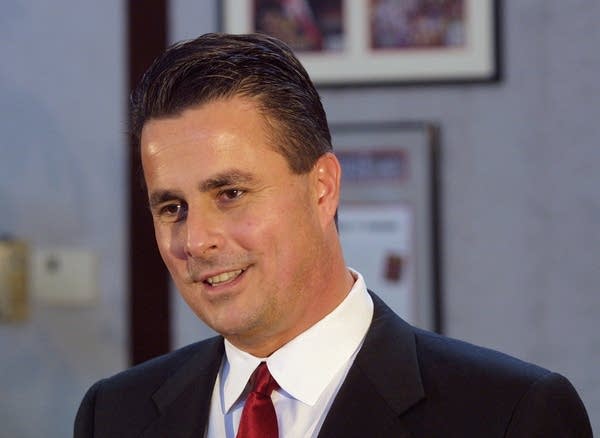 In court, defense attorney Paul Engh said violent criminals -- even those who have killed people -- have received shorter sentences.
"He's harmed people financially, but he hasn't laid a hand on anyone," Engh argued. "He'll start over and participate in the circle of life. He'd like to try again."
But Kyle said a long sentence was necessary to deter others, and he said he was not satisfied with defense attorneys' arguments that Petters wouldn't commit more crimes if he were released.
Kyle described Petters' testimony as "unbelieveable," and said it was hard to imagine the scenario defense attorneys had tried to establish -- that Petters didn't know about the fraud going on in his own organization.
Standing with his hands clasped, with Engh and prosecutor Joe Dixon on either side, Petters showed little emotion as Kyle handed down his sentence.
Petters has 10 days to appeal his conviction and sentence, and his attorneys have indicated they plan to do so.
"The defendant has asked for mercy, but he takes no personal responsibility for what happened."
U.S. attorney B. Todd Jones said he was satisfied with the 50-year sentence, which he said was effectively a life sentence for the 52-year-old Petters.
Jones said the sentence should send a clear message about how seriously white-collar corporate crime will be punished these days.
"If you engage in this kind of conduct, particularly in these troubled times and with the emphasis the Department of Justice has on financial fraud, these days you're going to get the full treatment," said Jones.
In court, prosecutor Joe Dixon said Petters deserved a long sentence because he hasn't admitted he's done anything wrong.
"This is the largest fraud in Minnesota history. Its importance can't be overstated," Dixon said. "The defendant has asked for mercy, but he takes no personal responsibility for what happened, and that continues today."
Petters took from investors who thought their money was financing the purchase of consumer electronics to be sold at a hefty profit to retailers. But the deals were shams. The goods didn't exist.
Hardest hit were big hedge funds, run by professional investors. Some lost big. But others managed to make lots of money, over $100 million in some cases. They got out before the scam collapsed.
The losers also included ministers, retirees, nursing home residents and other regular folks who lost their life savings.
The lawyer overseeing Petters' bankruptcy figures investors might get back about 30 percent of their losses, if they're lucky.
Three jurors who convicted Petters in December attended the sentencing hearing in St. Paul. Two of them who spoke afterward said they were satisfied with the sentence.
Michelle Entsminger of South St. Paul said she felt she had to attend the sentencing.
"I just came to get some closure, and see if I could see some remorse from him. And again, I didn't," she said.
Juror Chris Harbaugh of Big Lake said it was clear Petters still wasn't admitting to the crime.
"It was pretty much the same as the trial," Harbaugh said.
Kyle is recommending Petters serve his sentence in Minnesota. It'll be up to the Bureau of Prison to determine where Petters goes. If he stays in Minnesota, he could be jailed in Duluth, Rochester or Sandstone.
He will also have to work in prison, if he's medically able. His lawyers say Petters has a tumor that could kill or blind him.
"[Prisoners] typically work seven and a half hours per day. And they can earn anywhere from 12 cents an hour to 40 cents an hour," said Felicia Ponce, a spokeswoman for the federal Bureau of Prisons.
At that rate, Petters won't make much progress working down the $3.5 billion he owes investors.
Before his empire crumbled, Petters had a reputation as a savvy businessman. He had saved companies like Fingerhut and Sun Country Airlines. Meanwhile, he was giving millions of dollars to schools and charities.
But Petters faced plenty of personal struggles. He went through a divorce, and defense attorneys have said he's gone through rehabilitation for substance abuse. In 2004, Petters' 21-year-old son John was stabbed to death while in Italy for spring break.
At his sentencing on Thursday, Petters said the worst day of his life was when he learned of his son's death.
Despite his personal struggles, the demise of his financial empire didn't happen until more than four years later, in September 2008. That's when Deanna Coleman, a longtime Petters' employee and former lover, told the FBI about Petters's fraudulent business practices.
Coleman secretly recorded conversations with Petters, including this one:
"We might as well give up right now if any of us break rank from each other," Petters said. "Because living the lie is worse than anything. It gives us all fear and anxiety."
Law enforcement authorities raided Petters' home and businesses soon after Coleman tipped them off.
At the time, Petters' scam appeared to be the largest Ponzi scheme in history. Only Bernie Madoff pulled off a bigger con, masterminding a $65 billion scam. Madoff was sentenced earlier to 150 years in prison.
(MPR reporters Tim Nelson and Elizabeth Dunbar contributed to this report.)
Gallery
1 of 2
2 of 2