State wants dairy farmer Hartmann held in contempt
State officials say a southern Minnesota dairy farmer accused of selling E. coli contaminated unpasteurized milk is in contempt of court.
The Minnesota agriculture department says Michael Hartmann has ignored department and court orders banning the sale or use of hundreds of food items at his farm.
When inspectors went to the Hartmann farm near Gibbon, Minn. last week they had a big surprise. Most of the embargoed food which Hartmann was supposed to be storing, had disappeared. A district court judge had upheld the embargo just last month, and ordered the food be destroyed.
In an affidavit filed in Sibley County District Court, state food inspection supervisor Greg Pittman says he went to the farm on Jan. 3 to carry out the judges order.
Pittman said he found only 2-1/2 gallons of milk, even though several hundred gallons were embargoed and were supposed to be in storage at the farm.
Gain a Better Understanding of Today
MPR News is not just a listener supported source of information, it's a resource where listeners are supported. We take you beyond the headlines to the world we share in Minnesota. Become a sustainer today to fuel MPR News all year long.
Pittman also said he found no embargoed butter or ice cream, and all of the embargoed meat was gone.
The state says the missing food is reason enough to find Hartmann in contempt of court. In the state's filing, they ask that Hartmann account for the missing food. He could also be fined.
Hartmann did not respond to a request for comment. No court date has been set yet on the contempt allegations.
Hartmann's latest round of problems began last spring when the state traced an E. coli outbreak to his farm. The state alleged Hartmann's unpasteurized milk and other dairy products sickened eight people.
When the state searched the farm they found unsanitary conditions and embargoed the milk, cheese, yogurt, butter, ice cream and other food products there.
Under the terms of the embargo Hartmann could not sell the products. Hartmann challenged the embargo in court. He lost his case last month when a district court judge ordered the food items be destroyed.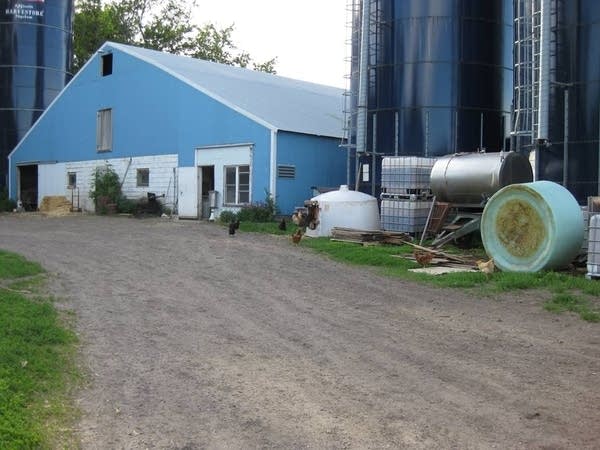 Also last month, Hartmann's brother Roger was caught selling raw milk in the Twin Cities, something the state says is against the law.
In a related matter, Hartmann also has lost his attorney. Zenas Baer filed notice with district court that he has withdrawn from the case. Baer did not say why.
In addition to the E. coli cases, the Minnesota Department of Health has linked at least seven other illnesses to Hartmann products.
The state's filing says Hartmann has a long history of ignoring state law, dating back as far as 2001 when he lost his Grade A permit for failing to clean up unsanitary conditions in his dairy barn.
The document goes on to say it is clear that nothing short of a finding of contempt will induce Hartmann to comply with the law.
Gallery
1 of 1