For one Minn. economist, stadium debate more than academic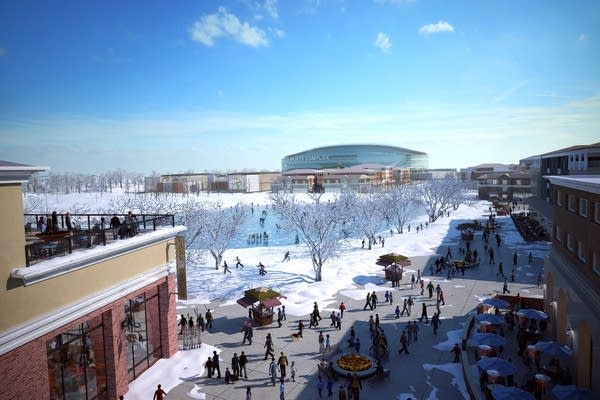 When the economics professor wanted to emphasize the heart-versus-mind conflict that typically plays out when subsidies for stadiums come up for debate, he showed his students a clip from "Field of Dreams," a classic feel-good movie.
On screen, Iowa farmer Ray Kinsella hears a voice tell him "People will come, Ray. People will most definitely come," which he takes as a sign that he should build a baseball field on his farm.
With the Legislature edging toward a decision on public financing for a new Minnesota Vikings stadium in the upcoming legislative session, there's no shortage of talk around the state about the merits of subsidies for professional sports.
But there may be no discussion quite like the one in the classroom in St. Cloud, where budding economists weigh theory against their own fan allegiance, and where the professor — state Rep. King Banaian — may ultimately cast a critical vote on the issue. For him, "Field of Dreams" has a symbolic message.
"People will go to this little corn field in Iowa for the purpose of seeing a game that reminds them of their youth," Banaian said of the movie. "And that in fact is that emotional appeal that people have to sports and to stadiums."
But Banaian, who holds a PhD in economics, said the emotion on display in "Field of Dreams" isn't as compelling as research that shows few, if any, widespread economic benefits from publicly financed stadiums.
MPR News is Reader Funded
Before you keep reading, take a moment to donate to MPR News. Your financial support ensures that factual and trusted news and context remain accessible to all.
[image]
Like many economists, Banaian, a professor in the economics department of St. Cloud State University, believes money fans spend on sports entertainment would get spent elsewhere in the region in the absence of a team.
"The economics of it are pretty clear in my mind that most public stadiums do not provide enough benefit for the cost that we put in," he said. "For the most part the costs are pretty substantial. They've risen recently ... and the public benefits are often quite overstated by the proponents of stadiums."
But in at least one respect, Banaian isn't like most other economists.
As a first-term state lawmaker, he could have to vote on a stadium-financing bill in the upcoming session. That means he'll also have to weigh the views of constituents, even those swayed by emotion.
"When you're actually a state representative as well, you get letters from people ... about how they spent time with their parents and grandparents going to games at the old Met stadium and so on and how important it is," he said.
"That has real value," he said. "Honestly any economist that thinks about that has to say that's somehow a value that you have to capture that's difficult to capture with just looking at ledgers and balance sheets and so on."
The real-world complexity of the issue was recently on display during a lively discussion in Banaian's classroom.
Graduate student Jared Magsam, one of Bananian's students, understands the economics behind stadiums and even agrees with a lot of it. But he also said a team like the Vikings is part of Minnesota's culture.
"Despite the fact that I'm an economist, aspiring to be, I still think that you need to take a loss in some instances to better, better the people and better our state," Magsam said.
Jan Johnson, who sat in on Banaian's class, lives in South Haven, about 60 miles northwest of the Twin Cities. Johnson, who just returned to the area from Indianapolis, is a Vikings season ticket holder and used to fly back to Minnesota for every home game.
Johnson said she spends about $2,500 per year to attend Vikings games — on everything from tickets to parking and all the other expenses that go into being a diehard fan. For her, public support for a new stadium makes economic sense.
"I have a little bit of a problem with the idea that people would just transpose their money and spend it within the city in other ways," Johnson said. "I can tell you that the thousands of dollars I spend every year on my tickets, I would not spend that money to go to Minneapolis 10 times a year to visit, to do something else. I'd take that money and go on a trip and spend my money someplace other than Minnesota."
If such feedback doesn't exactly upend economic theory, it can affect how lawmakers respond. And while Banaian the professor and Banaian the politician aren't at odds over the stadium issue the politician said he's willing to keep an open mind on funding proposals.
"I believe the costs are a little too high," he said. "There are some examples where it may have made some sense, but none of them have happened recently."
At this point, it's unclear what Banaian and his colleagues might have to vote on. With a month to go until the Legislature convenes, lawmakers still do not have a definitive site or financing plan to consider.
Gallery
1 of 1