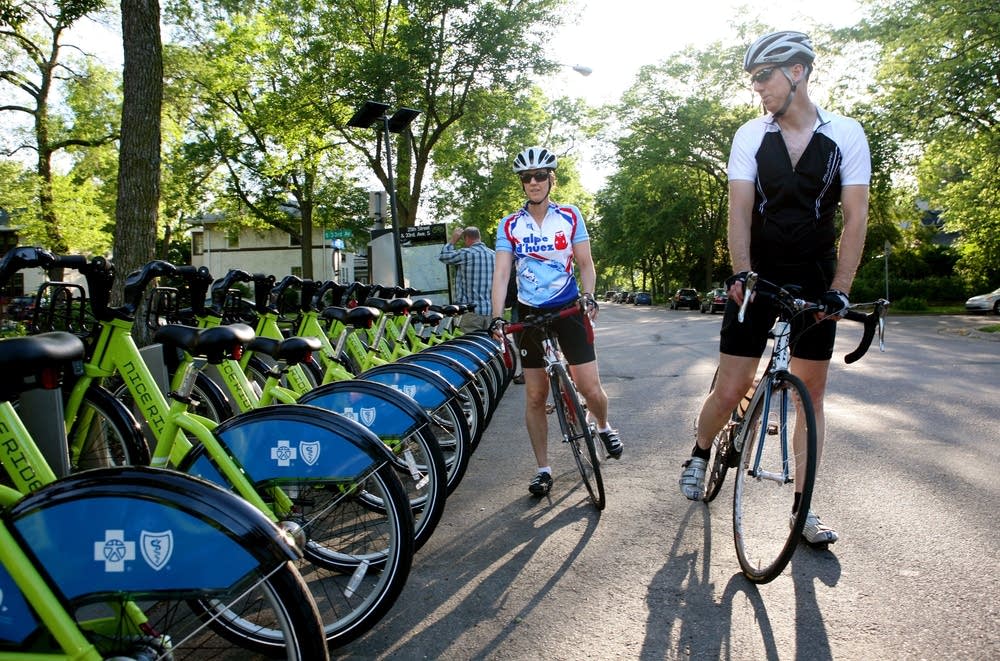 The bike-sharing program Nice Ride Minnesota kicked off its new season Tuesday and announced plans to open 30 new stations this spring.
1,200 bicycles are available at 116 stations in Minneapolis and St. Paul.
"Last year we added 51 stations and that's what got us to 116 and that expansion was both in Minneapolis and in St. Paul," said Nice Ride Executive Director Bill Dossett. "This year, we're going to be adding 30 more stations, and 26 of those are going to be in downtown St. Paul."
Bike sharing is designed to be a transit option, and 90 percent of subscribers' trips are for transportation rather than recreation, Dossett said. Most trips are about 20 minutes, he said.
"They're going shopping, they're going to a meeting, they're going to work," he said. "Our pricing is really set up to encourage those short trips because we want the bikes either to be being used, or back in the station ready for somebody else."
Nice Ride is eliminating the security deposit this year. Dossett said current bike-sharing technology is more rugged and prevents theft, and Nice Ride has never lost a bike.
User fees cover about two-thirds of the non-profit' operating costs, and sponsors cover the rest. Blue Cross Blue Shield will be donating 10,000 helmets to Nice Ride users this year.