Mark Wilf: 'In it for the long haul'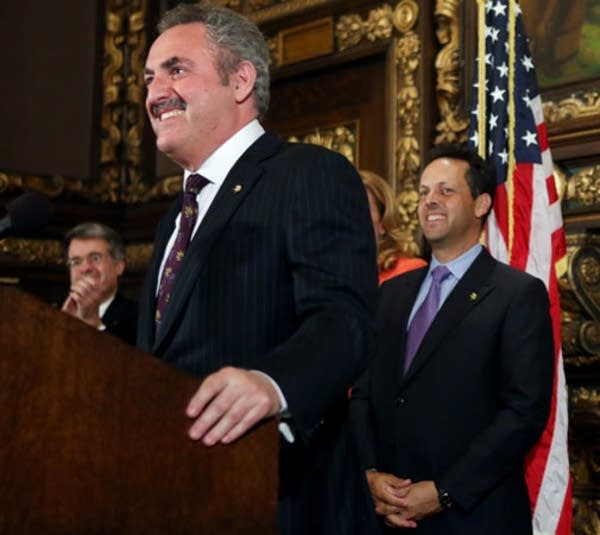 The Minnesota Vikings stadium plan was the result of years of lobbying in St. Paul by the Vikings.
One of the team's owners, Mark Wilf, spoke to Tom Crann of All Things Considered about the stadium deal on Friday.
An edited transcript of that discussion is below.
Wilf: We were excited and grateful. We're excited that we're going to be undertaking this new venture with the public in what's going to be a first-class facility, and just grateful to the fans, to the governor, to the legislative leaders, labor and business that's coming together like this. It's very humbling for us as owners to be stewards of this great franchise, and I couldn't be more excited for our fans.
Grow the Future of Public Media
MPR News is supported by Members. Gifts from individuals power everything you find here. Make a gift of any amount today to become a Member!
Crann: In the end, the Vikings ended up contributing $50 million more, and I'm wondering what was the tipping point there for you?
Wilf: I think the tipping point was groundswell of support from the fans and the public, that last week or ten days. Where as much as we knew we had the greatest fans in the country, just to feel that in a very visceral way got us out of our comfort zone in our investment and allowed us to move that $50 million to get the deal done.
Crann: Were you worried that the deal wouldn't get done if you didn't make the contribution?
Wilf: Sure, there's a lot of ups and downs on it. We had concerns from time to time. We were focused on something we'd been focused on since day one of our ownership, and that's making sure the Minnesota Vikings have a new building and can stay in this community for generations to come.
Crann: There was a lot of talk, admittedly not from your family or the Vikings officially, never explicit, but there was a lot of talk that there might be a very real threat here that the Vikings would pick up and leave and maybe go to Los Angeles or somewhere else. How real was that?
Wilf: We weren't focused on any of that talk. We were focused on getting the job done. Lester Bagley and our team did an outstanding job in terms of keeping their eye on the goal of a new public facility. The governor's staff, the legislative staff — all tremendous hours over the weeks, months and years to make this happen. We just kept focused on that, and didn't pay attention to that static.
Crann: You also must know that obviously Vikings fans are very excited about this, but a lot of the public still, while they have positive feelings about the Vikings, may have misgivings about this sort of public investment from the state of Minnesota and the city of Minneapolis. What is your argument to skeptics about what they're going to get out of this deal?
Wilf: We're respectful of that viewpoint. But it's been proven in previous buildings like the Metrodome, and it will be proven in this first-class facility, that it's a good investment for the public. The return on the dollars in terms of what the team and other events will provide... We would counter that and say that this is a good investment for the public and the people of Minnesota.
Crann: Now that this deal is done, is your commitment as one of the owners of the team, to continue owning the Minnesota Vikings, or now that the team's value will likely have gone up quite a bit, might you turn around and sell it?
Wilf: From day one we bought this team because we love football and we want to win, and that's our number one objective. There's no motivation or interest to sell because of this, it's about winning and that's what we want to do...The Wilfs are in it for the long haul with the Vikings.
Interview transcribed and edited by Jon Collins, MPR reporter.
Gallery
1 of 1